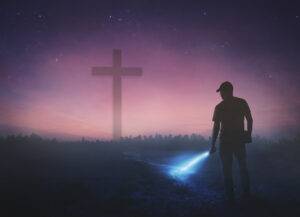 We get to look into the bride-to-be's mind as she is dreaming. Her dream starts as a nightmare but ends in beauty. She FINDS him!
I can relate to the fear we hear in the woman. Her greatest fears are being played out in her dreams. She can't bare the thought of losing the man she loves so much. But it's there in the back of her mind. "What if he leaves me!" Her fear sends her dream-self running through the streets in the dark of night. She is unable to find him, no matter how hard she searches. Only after she asks for help does he appear before her. Unwilling to lose him again, she takes him home to meet her mother.
When I said I could relate to her fear, I was speaking of a fear I faced at my own wedding. On the day of my wedding, I was terrified my father would forget to get me and walk me down the isle. It didn't matter how many times I was told this was an irrational fear, the thought wouldn't go away. It got worse as the moment approached. I don't remember if there was any kind of delay in starting the ceremony but if there was I couldn't have been any more afraid than I already was. Needless to say, he didn't forget me. He was there right when I needed him to be. He brought great relief in his wake and I was able to face the rest of the day without a care. The woman finding her beloved melted her fears just as surely as seeing my father's face did for me.
When I was thinking about this story as it relates to Jesus, I'm reminded of something my oldest son once told me. My oldest son was an expert at remembering bible stories. He independently read through his bible at least twice as a child/young teen. You could ask him anything about what he read and where to find it. He seriously impressed me with his knowledge, as well as his Sunday school teachers. He never complained about going to church. He even chose to be baptized. To this mom, he was a model Christian child and I couldn't be happier.
After leaving home, he changed. He no longer was interested in church. His bible was left on the shelf and he didn't even want to talk about Jesus. While visiting him one day, I noticed a nook in his apartment that had what appeared to be an altar with candles sitting on it. I asked him about it. He told me that he had changed to Wicken as his religion. I questioned him about his past relationship with God. He told me that he had "tried for years to get God to notice [him] but never felt His presence."
He was the woman running the streets chasing what he wanted for his soul, but he was looking in the wrong places. I didn't see that he was searching. I believed he had already found, and therefore never offered the 'help' of the night watchman. Twenty years or so later, I still see his little boy's heart and PRAY that God answers that search for him. That he turns the corner and runs smack dab into the love of God he is still searching for through other means.
Are you looking in the wrong place? Are you believing that your works will let you find God, or help God find you? Let me be the watchman for you for a moment. Jesus is standing right there. He PROMISES that if we will seek Him, He WILL be found. Don't give up! And once you find Him NEVER LET GO!!!
As a teen I realized I had been looking in the wrong places. I was trying the "if I'm a good enough girl" routine to try and impress God. Problem was, I was NOT a "good enough girl." When I finally realized that He wasn't looking for me to be perfect but to open my heart to His love, I FOUND HIM. When I sought relationship instead of religion, I never doubted again. I 'took Him home to my mother' as it were.
Lord Jesus, You LONG to be found. You aren't playing a game of hide and seek. You are standing in the same place You always have been. All it took was realizing that where I was searching wasn't where You were waiting. Thank You for my 'night watchman' who redirected me. Thank You for the courage to ask for help. Please bring a 'night watchman' for each of my children. They are all searching in the wrong places. Only YOU can fill that longing they are all experiencing and expressing. I LONG for them to experience the joy that the woman did when she found her beloved. They at the VERY LEAST knew enough of You to search for You as children. Rekindle that desire withing each of them.
Fan my flame Holy Spirit. I have found Him whom I love, but I want to experience an even deeper relationship than before. I want to grow more deeply in love and wrapped in our relationship every day. Clean all the darkness from me, wipe out any cobwebs, and let me find that joy of finding You again. Create in me a clean heart!