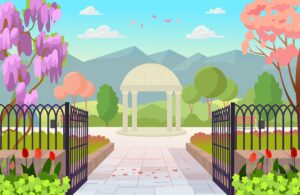 Some time has passed but not the desire of the woman for her beloved. "He comes" she cries and watches as he approaches. And then he calls to her to come.
We start off with the man coming to the home of the woman. It's not a slow progress or a drudgery. He comes "leaping over the mountains, bounding over the hills" (verse 8b). It is a joy for him to come. But he is a gentleman and will NOT enter until he is invited. He stands behind the wall and gazes through the windows and watches through the lattice.
Jesus came 'running' to His people. He crossed even GREATER divides than mountains and hills. Noting could keep Him away. Personally, He comes 'to the wall' of those who seek Him. He waits to be invited in. He watches through the window and sees what is in the heart that is turning to Him. He is not surprised by what He sees or repulsed, no matter the condition He finds us in.
He calls out to her from behind the wall. She heard his voice while he was on the way. Maybe he was singing as he came. Now though, he beckons her to come away with him. Come, because new life is springing forth. Love is in the air! He wants to start that life with her, to see her face daily, to work beside her in their vineyard, to plan a life together.
Jesus calls to us to come away from our sin and begin a new life with Him. To walk beside Him, to learn of His love, to build a 'new thing' together. Something special created just for each of us.
The woman is content to spend the day with her beloved, but it's not time yet to make that final commitment yet. She is close to it and has a sincere desire to do so, but it isn't time yet. In their relationship there is a time and order to things. They both have tasks to complete before their union will be possible.
Jesus continues to call out to us and wait for us to invite Him in. He doesn't walk away. He requires very little from us before our relationship can begin. On His part, He has already completed ALL that is required. He is simply waiting for us to say "Yes" and "Now please." He is ready and waiting. What are you waiting for? He isn't requiring you to clean up your life first. You will do that together. He isn't requiring you to make any commitments to specific actions. All you have to do is open your heart to Him. He will walk with you while together, you do the rest.
Father God, THANK YOU for never giving up on me! Thank You Jesus for doing all the work. Thank You for running to me even before I knew much about You. I cannot imagine my life without You! I'm SO GLAD You are walking with me the rest of my life.