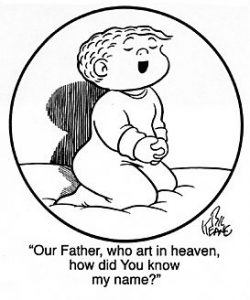 We join Jesus and His disciples today at the end of His prayer time. Luke tells us that Jesus "was praying in a certain place" (verse 1) and had just finished when one of His disciples asked Him to teach them how to pray. Jesus gladly complied with this request. I want to look at the prayer itself today, then go into Jesus' teaching concerning prayer tomorrow.
I'm curious as to when this event happened in Jesus and His disciples' relationship. Matthew shares Jesus teaching this prayer to the people in the middle of His Sermon on the Mount. We looked at His teaching in the blog titled "Jesus Teaches Us to Pray." I've linked it for you, in case you wanted to look back.
Back to my question of 'when' Jesus shared this lesson. Luke just finished sharing with us about Jesus sending out seventy two 'missionaries' to the towns He was planning to visit. Luke also shared with us the success these men encountered when using Jesus' name. So to me, I would think they MUST have known how to pray before they went out. But was that a different type of prayer they used then compared to what Jesus is teaching them now?
The prayer used 'in the mission field' was a prayer for others. For their healing or release from bondage. But the prayer Jesus shares seems more personal. For our individual growth but also for God's work and plan. The working out part starts in our hearts first. I would assume that for the first type of prayer mentioned to be effective the second kind would need to also be implemented in the originator's life. So again, which came first?
So what does this prayer mean? Before I go any deeper, let me state once again for the record, that I am NOT an expert! I will only share what I have received through teaching or personal insight. A lot of times the 'insight' simply flows out onto the keyboard. God gets ALL the credit for that! With that said, let's dive in and see where He takes us. One quick note; I'm using my ESV study bible for my quotes for verses 2-4.
"Father, hallowed be your name." Simply put, I am acknowledging that God is supreme in all things. Even His name is holy and I treat it with respect.
"Your Kingdom come." I want what God wants in me and in my world. His plans are perfect. I eagerly await Jesus actual return where He sets up His Kingdom here for a time too. But in the meantime, let me get as close to His plans for my life as I can.
"Give us each day our daily bread," Not only am I asking God for my physical daily provision but my spiritual provision as well. God knows how to provide physically for His children. I may not have everything I want but He makes sure I have everything I need, when I turn that aspect of my life over to Him. To get to the place where I can turn my physical need over to God, I have to first turn my spiritual needs and growth over to Him. I come to Him daily and learn of Him. I spend time growing our relationship every day. When I let Him, He gives me His bread every day. But I can't get it if I don't come to His table. How ridiculous would it be if I sat in the living room crying out in hunger while a full meal waited for me on the kitchen table? He has the table set, I simply need to go to it to be filled.
"And forgive us our sins, for we ourselves forgive everyone who is indebted to us." I'm not sure I like the phrasing my bible uses here. The way it is stated is backwards. I am asking God to forgive me of my sins. My bible's wording makes it appear that I'm asking for forgiveness because I have forgiven others. But I believe that the reason I forgive others is because of the forgiveness I have been given from God. I wouldn't know how to forgive, or even want to in many cases, if it wasn't for the example He set for me. Even before I knew Him He forgave me. Jesus paid the price for my sins LONG before I was even born. God set His plan of salvation in motion the moment the first sin entered into the world. He knew what it was going to cost Him personally before He even spoke the first word to bring our universe into existence. Because He forgave me, I can, and an expected to, forgive others who have wronged me.
"And lead us not into temptation." My bible ends Luke's account of Jesus' prayer with this phrase. Other translations also add "but deliver us from evil" in their recounting. These phrases could be one in the same. Temptations bring us to a decision point. That point is more often than not a choice between good and evil. I am asking God to walk so closely with me that I don't even see the temptations lying around and that if/when I do notice one that the choice will be easy. That I will choose Him and our relationship over anything else. That I won't want to do anything that would put a kink in our relationship. The wrong choice is not worth the price.
OH how I would love to say that I exemplify this prayer in my life, but then I would be LYING. I want to BADLY! I guess now I see how tomorrow's lesson connects up. I was a little confused until now.
Thank You Father for steering me in the right direction again and for revealing to me the truths in Your word. I want to please You with all my heart. I have to keep coming to You every day. I want to spend time on Your lap and at Your table. Remind me how sweet our time is together when I get so busy that I "don't have time" for us. I love You Lord. Thank You for loving me.