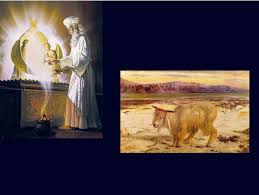 Today we look at the Day of Atonement. God reminds the people of what is expected in the way of offerings and behavior.
The Day of Atonement is one of Israel's most holy days. It also signifies THE greatest gift ever given. I'm curious why God didn't have Jesus' crucifixion on this day. Is it maybe because the religious leaders would have feared acting out during the ten day self-examination period? Would they have been in fear of having their names blotted out in the Book of Life?
The Day of Atonement is the final event for the personal introspection period. The day to conclude and finalize all the work being done on the individual's heart. A time to lay it all before God and ask "Is this enough?" The saddest part to me though when looking at this yearly sacrifice is the idea that Israel is STILL trying to "be worthy enough" to earn their spot in the Book of Life for "one more year."
"Search me, God, and know my heart; test me and know my anxious thoughts. See if there is any offensive way in me, and lead me in the way everlasting" (Psalm 139:23-24).
There is a lot of symbolism linked with Jesus' work of atonement and this day's events. Jesus' blood cleanses our sin where this sacrifice only covered it. Jesus did the work that ALL the animal sacrifices couldn't do. But for Him to apply His blood to our hearts we have to search our hearts and KNOW that we have need of Him. We have to recognize that we WON'T EVER be worthy enough to earn a place in His Book of Life. Asking Him to be my personal Savior is accepting His atoning work in its fullness.
Just like the promises made on the Day of Atonement, the promises made to Jesus need to be honored. For the Jew without Jesus, those promises help him limp through another year. They don't offer true hope. They offer a shadow instead. For the new believer those promises signify a truly changed life. A new beginning in Him.
We can't make the changes of this new life on our own. Only through feeding that new relationship with Him can we expect to change. Moving day by day closer to the person God wants us to be. This is daily afflicting of oneself. So the Day of Atonement leads to a lifetime commitment to "affliction."
I looked up "afflicting" oneself on line. One of the widely held beliefs is that it refers to fasting. But that is not the end of its meaning. It also means self-denial. This is exactly what we engage in when we are at war with our sin nature. We deny the flesh the pleasures it seeks that are against God's word.
It also carries the meaning of helping others in their time of need, even when it is uncomfortable to you. Care for your neighbors by carrying their burden with them. Not just praying for them but putting physical feet to your words of encouragement. Feed them if they are hungry. Clothe them if they are naked. House them if they are homeless. And love them when they are unlovable, even to themselves. Listen to the Holy Spirit speak to you and DO what He tells you to do.
One of the hardest things to do in response to the Day of Atonement is to HONESTLY look at your own state. Am I where God would have me be? Am I doing the things He would ask of me? Am I holding someone in bondage through unforgiveness? Do I need to ask for forgiveness for my actions towards another? If you are human you probably to some degree need to answer "yes" to the last two questions. Don't wait for the calendar to tell you it is time to address these issues. Address them as SOON as the Holy Spirit brings them to you. It will bring you closer to answering "yes" to the first two questions.
There is always room for improvement but that only happens when we give charge of those improvements over to the Spirit. Let the Spirit lead the way. You be willing to get up and follow. Me too!
Father God, thank You for Jesus' atoning blood. I cannot begin to express how glad I am that my name in Your Book of Life isn't dependent on my worthiness. I would NEVER be good enough. I can hear the words already of those who find out too late; "But I was a good person." My heart breaks for Israel that they are still trying to be good enough to make it one more year.
Thank You Jesus that when You wrote my name in Your Book that You used Your blood. It cannot be erased or covered over. It is a permanent piece of Your work. Help me live a life reflecting the glory of that gift. No more blood needs shed on my behalf. Yours is sufficient.