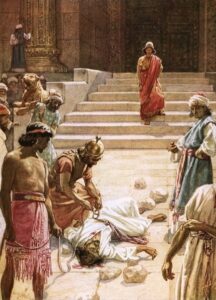 Jehoiada is dead and Joash is following after idols. God warns him again and again but he doesn't listen. His last warning ends with his own treachery against the Lord.
When we met last time we looked at the falling away of Joash. All it took was the death of Jehoiada. Why there were no safeguards in place is anybody's guess. If all that was holding Joash faithful to the Lord was Jehoiada's presence then maybe he didn't have a true relationship to begin with. Or is it possible that Joash blamed God for Jehoiada's death? Many people fall away when a loved one is "taken" from them. But Jehoiada was 130 years old when he died! Surely he had lived long enough and deserved his rest.
Joash was without direction, until the "princes of Judah" provided him with a new direction. And that direction DID NOT line up with the will of God! God tried repeatedly to bring Joash back from his current path. But Joash refused to listen and he brought Judah along with him into idolatry.
God sends one last prophet to Joash. One Joash surely would listen to. Zechariah, Jehoiada's own son, came to stand before Joash. He was clothed in the Spirit of God as he stood before Joash. He spoke the very words of God to Joash and all those assembled. "Thus says God, 'Why do you break the commandments of the Lord, so that you cannot prosper? Because you have forsaken the Lord, He has forsaken you'" (verse 20b).
Instead of opening Joash's eyes to his sin, God's words did the opposite. They hardened the heart of Joash even farther. He ordered Zechariah stoned in the court of the House of the Lord. Even though Joash KNEW Zechariah was the son of Jehoiada, he did not listen or spare him. The son of the man who watched over Joash from the moment he was brought to him as an infant had NO protection or standing any longer with the king.
Something I have been trying to find out is how long Jehoiada lived into Joash's reign. Did he live into the latter years? Was his absence only a few years old by the time Joash meets his end? Or was Jehoiada gone for some time, thus giving Joash years to harden his heart towards the Lord? Was Joash's walk away from the Lord a 'slow fade' or the 'earth dropping away beneath him' experience? However long it was, it was long enough for Joash to BURN all bridges between himself and Jehoiada. To dismiss all Jehoiada had been to him. HOW?!
That was Zechariah's question and God's too. As Zechariah lay dying he called out to the Lord to avenge him on Joash. This cry would be answered. For Joash had earned the wrath of God, on himself and his kingdom. The princes of Judah corrupted Joash and Joash corrupted them in return.
This story is heartbreaking. HOW could Joash be so callous towards Zechariah? HOW could he be so easily led away from the Lord?
This story also reminds me of one of Jesus' parables. The one about the landowner and the unfaithful servants. The landlord sent for his portion of the harvest several times and all his envoys were killed. Finally he sent his son, expecting the tenants to respect him. Instead, the son was killed in order to gain the property. God sent Jehoiada's son to Joash expecting him to listen. Joash did the same as the tenants. And he would receive the same judgment.
I suppose the thing to learn from today's story is to not base your relationship with God on your relationship with one other person. No one belongs on a pedestal showing you the way to God. We ALL have faults. We ALL are human, NOT gods. When we, or others, base their relationship with God on a human example there WILL be a BIG fall! A personal relationship with God through His Son and Holy Spirit is the ONLY relationship that will stand. Yes, others can point you towards God but they cannot be your sole connection to Him; IF you want a lasting relationship at least. From our story, it sounds like Jehoiada became Joash's god.
Father God, forgive me for ANY time I put anyone or anything in Your place. YOU are my God! NOTHING and NO ONE else! Remind me of this lesson if I start to idolize another person. I'll take all the godly role models You want to send my way though. Keep us all (me and the role models You provide) humble and standing as a pointer to You instead of standing in You place.