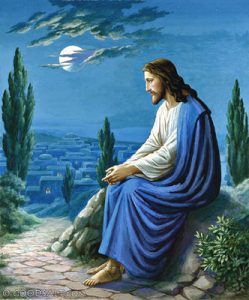 We see Jesus heartbroken today. He knows the plan and He knows the people, but if only…
In my mind's eye I see Jesus standing on the side of one of the mountains surrounding Jerusalem. He is looking over the whole of it as He sits on a rock. His eyes are full of tears as He cries out for the people in the city. If only they would listen! If only they would have tried to understand! He knows that God has hidden the fullness of His plan from them, but, as a people, they didn't even try to understand. Oh, they came to Jesus in droves when He had something they wanted. They came for the healings and the blessings, but when it came time to dig into His teachings, many of them were "too busy" to listen with their heart.
Jesus' message wasn't impossible to understand. There were many who followed Him that were privy to the deeper things He was sharing. But those who got this special help had to seek it out. They had to be willing to drop everything else and follow Him wherever He went. There was no predicting when He was going to share a little extra insight with those close to Him. They simply needed to be ready to receive at any time. They also needed to be willing to ask for that insight.
The people Jesus is weeping for are the ones who have refused to listen, like the Pharisees and other religious leaders. He is also weeping for the common man whom the religious leaders have led astray. The ones convinced that their priests have all the answers. The ones who will join in any group and go along with whatever is asked of them. The ones who will cry out "crucify Him" in a matter of days.
Jesus loved each and every one of them. He knew what was to come and at whose hands it would come, but He loved them none the less. This reminds me of watching my children make mistakes I had warned them about. How I wished that I could have scooped them up and prevented them from making those mistakes, but knowing that I had to stand by and watch as they suffered the consequences instead. I would have done anything to save them from that hurt. But I was powerless because the choice was in their hands.
In Jerusalem the same thing was playing out. Each person was making their own decision. Jesus CHOSE to stand by and let them make their own choice, including reaping the consequences of that choice. He cries just as fervently over the "lost" today. He loves us so much that He WON'T force us to choose Him, but that doesn't mean He isn't hurt when we don't. He also rejoices when we make the right choices.
Father God, thank You for Your heart towards us. Without Your love first You wouldn't even have considered the sacrifice of Jesus. Your love is AMAZING! I'm so sorry for the tears I caused You to shed while waiting for me to make the right choice. Thank You that, no matter what our society says, there are right and wrong choices. Help me make the right ones Jesus. I know I won't always make the perfect choices, but even then You use my mistakes to work on our relationship. Thank You for providing me with an example that I can use with my children too. Please make the RIGHT choice so obvious to them that they can't miss it. The most important choice I want for them to make is to return to You. Once again Father, I place them in Your hands.