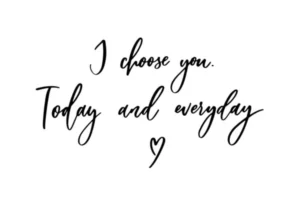 David's psalm is not a lament today. It is a proclamation of joy. "My chosen lot is to follow the Lord." The heart of every prayer and praise starts here.
This psalm starts out as a prayer, like so many of David's psalms to God. But it quickly changes to one of praise. All David's psalms eventually become songs of praise but this one does it quick, fast, and in a hurry.
David is completely happy with his choice to follow the Lord. He sees the alternatives and what happens to those who choose otherwise. He knows the consequences are not always immediately obvious but they WILL come. "The sorrows of those who run after another god shall multiply" (verse 4a). Of this he has no doubt. He is so strongly convinced of this that he won't even 'utter their names', those he knows to be doing such things. He leaves them in God's hands to deal with, unless God instructs him to deal with them in war.
When David writes this psalm he appears to be in a place of rest. It sounds to me like he may be writing it after he has become king; in between troubles. He says, "The lines have fallen for me in pleasant places; indeed, I have a beautiful inheritance" (verse 6). Things don't always look this way in David's life but the source of his hope never changes. Whether he is running from Saul or Absalom, paying for his sin against Uriah or his sin in counting the people, going out on his numerous campaigns to vanquish the nations God told Joshua to deal with, tending his father's sheep or enjoying a quiet night in his house that King Hiram built for him, his hope was always in the Lord. The Lord was David's 'chosen lot' and because of this, God chose a lot for David.
God chose David even before he was born. David speaks of this is several of his other psalms. David began learning of God right away. He says it was, "at my mother's breast" (Psalm 22:9b). His parents taught him from birth of the God of Israel. And David held fast to that faith throughout his life.
Believe it or not, God chooses ALL of us. John 3:16 tells us so. "For God so loved the WORLD…" Not just David, Moses, Joshua, Adam, Noah, Isaiah, Ezekiel, Daniel, Jeremiah, and the rest of the men featured in the Old Testament. Not only John the Baptist, Peter, James, John, Matthew, Mary Magdalene, Jesus' parents, Paul, Timothy, Titus, Philemon, and all the people featured in the New Testament. But God ALSO chose Pharaoh, Herod, and even Judas. They just didn't choose Him in return. There is not a person living, dead, or not born yet that God did not choose to be His own. He also sent Jesus for EACH AND EVERY ONE OF US to reconcile us to Himself. We just have to choose Him to complete the work.
God has good things in store for each of His children. He also has lessons along the way for us. Those lessons are to bring us even closer to Him. He longs for each of us to sing, "The Lord is my chosen portion and my cup; You hold my lot" (verse 5). This is a choice with a future. One I pray, and fully believe, you will never regret. You may have doubts along the way and even struggles to hold fast, but if you truly make this choice, you will NOT be disappointed. He doesn't regret His choices one bit! And He chose YOU!
Father God, thank You that I learned of You from my youth too. I know not everyone had parents who shared Your love with their children. Some didn't learn of Your love until much later in life and it probably impacted their 'trust quotient'. Thank You that You chose me even before I was formed. You chose me from the foundations of the world! That is an AMAZING thought to me. Did You see my face at that time? Did You know the path I would walk? Did You know it would be three days before my parents gave me a name? Did You see me sitting here today? Did You see the day when I finally FULLY chose You? Did You smile at all the times I leaned on You as a child with childlike faith, even before I knew You personally? Someday I would like to sit with You and see the 'scrapbook' You have for my life. And look FULLY at the path You led me on to where I TRULY have You as my ONLY lot and choice.
Life is NOT a lottery where only a few luck pick the right numbers. Nor is it like a court settlement where the whole 'reward' is split by all and therefore they receive only a portion. God CHOOSES ALL of us and gives us His WHOLE self. He is NOT diminished by how 'thinly He is spread' nor is He oblivious to a portion of people while He tends to others. There is NO limit to His love or His attention. There is NOTHING in this world that escapes His notice. Even the evil that goes on here. He will NOT force ANYONE to choose Him and because of that, there will be evil. One day that evil will be gone. Hold fast to Him as you travel from now to the, even if your personal 'then' is beyond your lifetime here on the curst of this world He created and fashioned. "I have a beautiful inheritance" (verse 6c). David spoke this truth for himself but it is for ALL of us too!
I will Praise You Father for that promise!