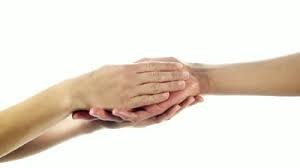 Jesus just finished His mountain top sermon. Matthew tells us that great crowds followed Him. It is not surprising after hearing what He had to say. Matthew doesn't say Jesus healed anyone while on the mountain. I wonder why? Did Matthew simply not mention any healings or did Jesus concentrate on the message and no one approached Him for healing? I can't imagine Jesus turning down anyone who approached Him in need.
I wonder how long it was between Jesus' message and His meeting with this leper. The man obviously had heard of Jesus' healing power. Was he on the mountain when Jesus was teaching? He couldn't have been in the crowd because of his condition, but could he have been hiding on the outskirts of the crowd?
Wherever he had been he had to have courage to approach Jesus. Lepers were not supposed to approach anyone. They were supposed to warn anyone from approaching them too. This man didn't. He broke all the rules to get help. Even in his desperate search for help he didn't presume Jesus would heal him. He didn't assume he was worthy of Jesus time and effort. He asked Jesus for his help. He recognized Jesus ability to heal and asked about His willingness to heal him.
Jesus was not put off by the man's condition. He also didn't tell the crowd or His disciples to back off while He addressed the man's needs. He first answered that He was willing, then reached out and touched the man. Jesus wasn't the least bit afraid of catching leprosy either. No one else would have even considered touching him. That alone was a gift. This man had done without human touch since he became sick. As humans, we thrive on touch.
I'm wondering how big the crowd was when this man approached Jesus, because after reaching out and healing him Jesus told him not to say anything to anyone. Did Jesus mean not to tell anyone Who had healed him, that He physically touched a leper, or that he had been healed?
Jesus did tell the man to go show himself to the priest and offer the required sacrifice. Jesus had not completed the law yet so He made sure that this man respected the law he was still under. By fulfilling the law, the man would be accepted back into society. Jesus was looking at his immediate healing and his long term overall health. Jesus dealt with the man's whole situation even without being asked.
Thank You God that You care for my whole situation, even when I don't see all of it myself. You plan in advance for my needs. You meet me here and now while preparing me for what You have for me in the future. Thank You for Your healing hands. For Your gift of love. For listening to my needs. For holding me when I cry. Please give me the courage to bring all my needs to You and the faith to trust You to meet them how You know is best.