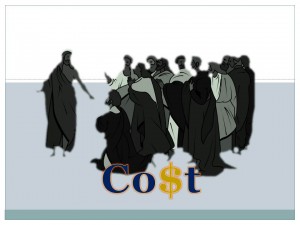 Jesus had been busy all night healing those who came to Him in Capernaum, probably at Peter's house. The people didn't come, get their healing, and then leave. They stuck around. More and more people were coming. Jesus could have probably stayed where He was and taught them for days before they all decided to leave. But Jesus was physically tired and needed to get away to take a breath. He also wanted to share His message and His healing presence with others in different areas. These were not the only people He came to help. There were other people out there who also needed to hear what He had to say. So He told His disciples it was time to move on.
Jesus decided to travel by boat. What better way to guarantee some alone time than to surround yourself with water. On the way to the boat He was approached by a scribe. I don't know if this man received healing from Jesus earlier that night or if he had just joined the crowd, but he boldly said he wanted to follow Jesus wherever He went. Jesus knew this man's heart. By Jesus' answer I'm guessing that this man was used to easy living and lots of luxuries. Jesus didn't have any of that to offer him. The road Jesus was traveling was to be filled with sleeping out under the stars as they journeyed between towns, daily dusty roads, and MANY run ins with the Jewish leaders. Nowhere a soft person would want to be. I wonder what the man did with that information. Did he feel offended by Jesus' statement? Did he return to his regular life? Did he follow Jesus anyway? Was Jesus' statement made to prepare the man for what lay ahead or to discourage him from accompanying Jesus?
I was just thinking about how much more detail we would have had if someone who was trained in the art of writing and documenting had accompanied Jesus on His earthly walk. But then they would probably be so busy trying to make their manuscript perfect on their own that there would be no place for the Holy Spirit to direct the final accounting. God's word is Spirit breathed, not newspaper edited.
Another person approached Jesus while on the way to the boat. This man is referred to as one of Jesus' disciples. We are not told this person's name but he was apparently already committed to Jesus' teachings. I don't know if Jesus had "formally" called him to this role or if he was a disciple because he had already been walking with Jesus for a while. Whatever the case, he had acquired the status of disciple.
Dictionary.com defines a disciple as:
Religion.

one of the 12 personal followers of Christ
one of the 70 followers sent forth by Christ. Luke 10:1.
any other professed follower of Christ in His lifetime.

any follower of Christ.

(initial capital letter) a member of the Disciples of Christ.

a person who is a pupil or an adherent of the doctrines of another; follower:
This disciple, whomever he was, wanted to take a break to deal with family matters. I have heard it taught that "burying his mother and father" didn't mean they were dead or close to death, but that he wanted to tend to them and spend time with them while they were still alive. I'm wondering if Jesus' refusal to grant him permission to do this was because Jesus knew His own mission would be completed before this man's parents actual death occurred. Was Jesus implying that there would be plenty of time afterwards? Maybe Jesus was referring to this man's brothers and sisters as suitable substitutes for caring for the man's parents in his absence. Whatever Jesus' underlying motive was, He "formally" called this man into discipleship that day. Did he become one of Jesus' closest 12? I'm pretty sure he hopped into the boat with Jesus that day when they reached the shore. Boy was he in for a surprise a little later!
Jesus' response brings to mind one of my questions yesterday. I was wondering what happened with Peter's house and his mother-in-law while he was following Jesus. God knows our needs before we even ask. He told this disciple that there would be others caring for the needs of his parents; "leave the dead bury their own dead" (verse 22). He had need of, and a purpose for, His followers that took precedent over all of their other concerns. Jesus' time was short and there would be plenty of time to deal with the rest of their responsibilities once He was gone. Their lives would forever be changed after choosing to follow Him, but they would eventually return to their homes once He was gone.
Father God, when You call us to do Your work we can trust You to look after our needs as we follow Your plan. Just like Jesus said to the scribe, it won't be an easy road, but You are still faithful. It amazes me how You chose everyday men to be part of Your extraordinary story. During Jesus' last days on Earth He said You gave these men to Him. I believe that You cared for their homes and families as they were called into service. Thank You for Your provision. I understand the strain that worrying about what you are leaving unattended can have and how it can impact your focus. Thank You for allowing them to focus their whole heart on Your assignment. Without their accounts we would be so much poorer.
I love reading the firsthand accounts of Your Son's life. I'm sure You would still have found a way to share Your message but the "front row seat" is SO much better than any other place in the theatre. Thank You too for allowing me to envision what it must have been like to actually walk the dusty roads with Jesus. Thank You for gifting me with imagination and curiosity. Thank You for inspiring questions in me and for answering some of them during our time together. I can hardly wait to sit down on a bench beside Jesus in Heaven and have Him answer all the others questions. I can just see the animation on His face and in His hands as He shares each story from His life with me. I can also imagine the sorrow I will see there with a few of those tales. Thank You Jesus for living those stories out to the end. I pray You will have some stories of our time together that You want to share too. Some that make me see areas from our walk in a new and different way. I wonder what questions someone would come up with if they read all our diaries. Thank You again for the freedom to ask any question and Your grace in answering them.