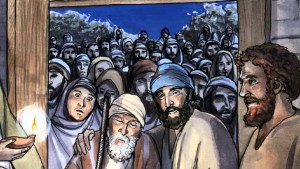 Jesus goes to Peter's house while He was in Capernaum and finds Peter's mother-in-law sick with a fever. Mark's account says Peter and Andrew told Jesus about her condition. He helped her without even needing to be asked. Jesus reacts immediately and with compassion towards her. He reached out and touched her hand and she was healed. She got a personal touch from Jesus. She got up right away and started ministering to their needs.
Peter opened his home that night to people coming to receive healing from Jesus. He healed "all who were sick" (verse 16) with a word. They also brought those "who were oppressed by demons and He cast out the spirits" (verse 16). In doing this He was again fulfilling prophecy about the Messiah.
Ok. I know that was short and sweet, so let's back up and look at the characters and the setting. The setting is Capernaum, at the home of Peter and Andrew. I believe they were still in Capernaum because in Matthew 4:12 Jesus moves His home base into Capernaum. He calls Peter and Andrew to be His disciples while walking by the Sea of Galilee. I'm assuming their home was nearby where they were working that day. Capernaum is located on the Sea of Galilee.
This information also brings a little more insight into yesterday's lesson of the encounter with the centurion. This centurion had probably seen Jesus about town on several occasions as Jesus had made Capernaum His home base for a short time. He had ample opportunity to see Jesus in action and hear Him speak before coming to Him for help.
Back to today's events. When we enter Peter's home there is no mention of Peter's wife. What happened to her? Why is she not mentioned in the story? Why was Peter's mother-in-law living with him? Peter's father-in-law is not mentioned either. I'm assuming he is not mentioned because he is dead. Peter's mother-in-law would have been living at home with his father-in-law if her were still alive. Peter probably provided a home for her after her husband died. Was there an illness that went through the town at an earlier point in time that took the lives of both these two absent figures?
Once Peter's mother-in-law is healed she gets right up and starts serving everyone. The bible says this is her custom, so she must have been the one who ran the kitchen on a daily basis. This leads me to believe even more firmly that Peter's wife was dead. When all the sick came to Jesus that night did she serve them too? I wouldn't be surprised if she did. She sounds like she had the gift of hospitality. I may be mistaken though in thinking that they came to Peter's house. The next section of Matthew's narrative puts Jesus on the shores of some unnamed body of water. Maybe Peter's house had lake or sea front access but we are not told for sure.
I have another question. What became of Peter's mother-in-law and his house while he was on the road with Jesus? Was she one of the women who accompanied Jesus and His disciples? Was she who Paul was referring to in 1 Corinthians 9:5 when he mentioned believing wives traveling with some of the Lord's disciples? She was not Peter's wife but was the one who cared for Peter's daily needs. I feel pretty confident that she was a believer, especially after Jesus pulled her back from the edge of the grave.
I also want to look at the people who came to Jesus that night. Jesus had just healed a leper and the centurion's servant. These the first healing miracles reported by Matthew. Were they the first ones Jesus had done in Capernaum? Whether they were the first or not, the word was out now and Jesus was in high demand. People flocked to Him that night for His healing power.
I noticed when Jesus healed these people He "spoke" to the demons or illnesses. But in the account of the leper and Peter's mother-in-law, Jesus reached out and touched them. When He touched Peter's mother-in-law's hand it appears tender and caring, like you would do to offer comfort to a friend. Jesus also had to observe the Jewish customs governing touches between males and females who were not related. Touching her hand was probably about as intimate as He would have been allowed to be, under these circumstances. Jesus took on the role of comforter as well as physician for Peter's mother-in-law.
When He touched the leper He took on the role of the priest and physician. When someone had, or suspected they had, leprosy they had to be examined by the priest. The priest would examine their lesions over a period of time to see if they were spreading. In doing this the priest was actually touching the person while marking the size and locations of their sores. The priest is the only one who was allowed to touch them at this point. Once diagnosed, they were not to be touched again, or even approached by anyone. I don't know if this included other lepers or not, but it was an isolating disease. Jesus broke this man's isolation by physically touching him. He took on the role of priest and physician in this man's life.
Father God, I know You know what Your Son has done, but I want to point it out to You anyway, like I would to another parent, the AMAZING things Your Son has done. "Did You see how gentle he was with Peter's mother-in-law? Did You notice how deeply He cared for what she was going through? Did You notice how it touched Peter's heart to have his only connection to his beloved wife restored? Did You see the look of longing in the leper's eyes when he approached Your Son? Did You see the compassion and fearlessness with which Your Son reached out and actually touched this untouchable person?!? He is AMAZING! Any parent would be proud to call Him their Son."
Now I see how He did these same things for me. When I was hurting He took my hand. When I am untouchable because of my sin He reaches out and washes me. All of me. When I get dirty again, He patiently and lovingly washes me again. Not because I have earned it but because of His AMAZING love. I will never be "worthy" of all He has done for me, at least not in my own eyes. I want to follow His example and love the way He does. Help me to reach out to others with compassion and tenderness. Help me willingly and lovingly touch the untouchable. I'm a little afraid of what that last line will look like, but I believe You prompted me to put it there for a reason. Thank You God and thank You Jesus for ALL You have done and continue to do, in me and in this world. Holy Spirit, lead on!