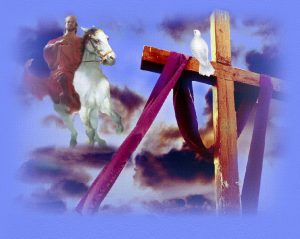 We are continuing on with Jesus as He shares what is to come. It's amazing that He takes the time to prepare His disciples for what lay ahead for them while walking through the most eventful week in His own life. But, that's Jesus; always caring for others. Got a little sidetracked there.
Jesus shares the cosmic events and the signs of what heralds the end of this age and the beginning of His Kingdom. His disciples asked and He answered. We are still having trouble understanding all that His answer entailed. Matthew and Mark also included Jesus' answers to His disciples, including the portion of His answer we are looking at in Luke today. When we looked at Matthew's account I focused on the sequence of events that led up to Jesus second arrival. With Mark's account, I focused on the difference in the manger appearance and Jesus coming in the clouds. Today I want to look at the human side of these events.
There are going to be two diametrically opposed reactions to what is going on in the end days. The group who doesn't know Jesus is going to be distressed, while those who know Him will feel blessed.
On the human side, who wouldn't be expected to be "fainting with fear and with foreboding" (verse 26) with the signs that Jesus mentions happening before their eyes. "And there will be signs in sun and moon and stars, and on the earth distress of nations in perplexity because of the roaring of the sea and the waves" (verse 25). EVERYTHING will be out of whack! The moon will cause the ocean tides to go haywire. The sun will change. Even the stars will show problems. I'm wondering if "Global warming" is an early warning sign to this.
Jesus accurately predicts that there will be fear at that time. But then He tells His followers to take a different attitude. He tells them that, "when these things begin to take place, straighten up and raise your heads" (verse 28a). "But all this is scary stuff! I'd rather run and hide with the rest of the population!" Then Jesus told them WHY they should perk up. Jesus said that when we see these things beginning to take place that our "redemption is drawing near" (verse 28b). I think that is an excellent time to celebrate!
Those running around in fear have not put their future into His hands. Their hope is in themselves and their Earthly government. They don't have the eternal hope we do. Not because it is not available to them, but because they flatly refuse to take Jesus at His word. They believe they don't need Him and that they can handle "it" on their own. News Flash: THEY CAN'T!
To everyone who trust in Jesus, our future is secure. Weather He takes us in the beginning, middle, or last timeslot in the resurrection, it won't make a difference. Trust Him to get you in the perfect time. He will care for us in the midst of trouble if He has us remain here during this time of tribulation. And He will certainly care for us in Heaven if He brings us out earlier.
Personally, I like seeing the signs happening in our world. It reminds me that we are that much closer to the beginning of the end. And the end is when Jesus steps out of the clouds to be seen by all! This is a day I'm waiting anxiously to take part in! To see my Savior face to face. My King is Coming!!
Father God, thank You that I don't have to fear. Thank You Lord Jesus for the warnings and the preparation you provided. I know I still don't understand everything You included, but what I do understand is enough to point out what is just up ahead. Help me point others to the facts of what lies ahead. I want to warn as many people as possible, including my children and grandchildren, about what lies ahead. It will be impossible without You! Please help my family see that time is running out and they NEED You! Bring them ALL home Lord.