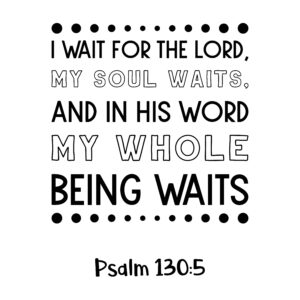 "I'm waiting for You O Lord to bring about Your good works in my life and in my nation." This is the heart of the psalmist today. It is my heart also.
I am STILL blown away by how God seems to know exactly what I'm going through at talks to me directly with the section I'm reading each day. I am currently waiting on His hand in the lives of two of families/people I hold dear. And the BEST part of that wait is KNOWING I can trust Him with their future. I have never been very good at waiting but right now, He has given me peace.
Our psalmist is in dire straits, from the tone of his cry. It sounds like he may feel responsible for some of the mess he is in. He is banking on God's forgiveness and His mercy. Is his cry related to Israel's captivity?
Whatever his plight, he knows that God's steadfast love is still his ONLY hope. He is putting his trust in the promises he has been given by the Lord. Promises to lift him up. Promises of a good plan for his life and for Israel's. For I know the plans I have for you, declares the Lord, plans for welfare and not for evil, to give you a future and a hope" (Jeremiah 29:11).
I was listening to a video expounding on this verse and the presenter was sharing how Jeremiah had written his words to the whole community of Jews that were in captivity, not to one specific individual. He also spoke of the fact that not all the Jews in captivity would see the "good plan" or "prosperity" God was referring to. God still had a lesson for His people to learn before their good future became fact. But His promise gave them hope. They KNEW individually and corporately that God had their lives in His hands. And they trusted Him with their future, whatever it would look like.
This is the same promise by the SAME God for us today. He doesn't elaborate on exactly what His plan is for each of us or how long it will take us to arrive at and join His plan. What He does say though is that His plans cannot be derailed and that He continues to care for His children.
In the natural world, to get from mountain top to mountain top you have to go through the valleys. The same is true in the spiritual world. Yet even in the valleys we are NOT alone! "Even though I walk through the valley of the shadow of death, I will fear no evil, for You are with me; Your rod and Your staff, they comfort me" (Psalm 23:4). There is NOWHERE that we walk alone! We have hope and comfort even in the valleys.
I trust God with ALL my concerns. I don't expect to have a perfect and carefree life but I KNOW He has me and my cares in the palm of His hands. And I trust Him to work out HIS perfect plan in all of them.
Thank You Father that You do care for me and care about everything/everyone in my life. If it touches me, it touches You. I bring my cares to You Lord and lay then once again at Your feet. I trust You to work out YOUR perfect plan in all of them. I leave those I love in Your hands Father. I will not worry for it does no good. I will simply bring my requests to You and rest as You work it all out how You planned it.