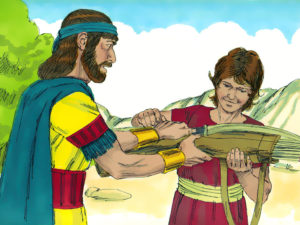 This is the official beginning of the story of Jonathan and David. They have certainly met before but this day they become more than acquaintances. They become soul brothers; knit together by God.
David had spent some time in Saul's service as a musician to sooth his troubled soul. I have no doubt that he and Jonathan's paths had crossed during that time but the two hadn't developed a deep abiding bond until this day.
'This day' is the day where we left off in our story last time. David is standing before Saul and Abner. Saul asks him, "Whose son are you, young man?" (1 Samuel 17:58a). We left off right after David answered him. But Saul, Abner and David weren't the only ones present during this questioning. Jonathan was in attendance. He heard David's answer. He saw David's valor on the field. And he knew David's daily character from observing him in Saul's service.
We met Jonathan earlier too. He was introduced to us in Saul's bio. He is Saul's oldest son. The one who would naturally inherit the kingdom of Saul. But Jonathan believes Samuel's words regarding the kingdom being taken away from Saul and he doesn't fight it. Jonathan is nothing like his father. We won't see that today but it will become apparent very soon.
Jonathan is also an accomplished warrior. He destroyed a Philistine garrison and started the ball rolling on a previous Philistine confrontation. The people loved him for his bravery and dedication to the Lord.
Our story today is short and heart-warming today. It brings together two men who will protect one another to their dying breath. Let's jump in and see where the Spirit takes us.
♥ ♦ ♥
David is standing before Saul being questioned as to whose son he is. "Surely father recognizes his own servant David" thinks Jonathan. David's immediate humble answer changes something deep within Jonathan.
David didn't bristle at being called a 'young man' after having just done mighty deeds in battle. David doesn't question why Saul doesn't recognize him. David doesn't tout his own story. He humbly presents himself as the son of Jesse of Bethlehem. David doesn't even mention his own name! Jonathan is blown away by this lad's humility!
Saul turns to Abner. "Send a messenger to Jesse of Bethlehem. Tell him that David, his son, has found favor in the king's eyes. Inform him that I have need of him. David is to remain in my household and will come under my protection. If there are any possessions that remain at his father's home that he may need, have the servant bring those to the palace."
Jonathan feels as if he is gaining a brother with David's presence. He is MUCH MORE than a servant in Jonathan's heart and he intends to communicate this to David. Until this point Jonathan has remained silent and unobserved. Once Abner leaves on his mission Jonathan steps into the presence of the king.
He locks eyes with David. Then he removes his robe from his shoulders. He holds it out towards David. David stretches his arms forward and Jonathan drapes his robe across both David's arms. Next Jonathan unbuckles his breastplate and places it on top of his robe. He moves onto his graves and helmet. These he places again into David's waiting arms. Jonathan next unties his sword from his side and lays it on David's arms. Next Jonathan places his bow and quiver on the waiting arms of David. And last Jonathan takes his belt from about his waist and places it too into David's outstretched arms.
No words were spoken during this demonstration of Jonathan's deep abiding love for David. Both men understood the significance of this gesture. Jonathan has given his life into David's hands. David will be at Jonathan's side. To protect Jonathan from the side and back. To complete what Jonathan begins. They will think in battle as one. They will be united together in triumph and defeat.
David accepts that his life is in Jonathan's hands. He will follow where Jonathan leads. He will trust that Jonathan takes his safety seriously. Jonathan will not abandon him when things get rough. They are bonded tighter than any brothers. 'Sibling rivalry' will NOT enter their relationship. Their hearts will beat as one, especially during times of difficulty.
Saul watched this exchange take place. He was pleased to see his son choose David. The two of them would do many glorious acts in battle for Israel and for the Lord.
As time went on, David moved beyond the role of armor bearer. He became a fellow in arms with Jonathan but they never lost that deep abiding bond. They could always count on one another, regardless of who the 'opposition' was.
♥ ♦ ♥
We see into David's future at the end of our story. "David went out and was successful wherever Saul sent him, so that Saul set him over the men of war. And this was good in the sight of all the people and also in the sight of Saul's servants" (verse 5).
David doesn't remain an armor bearer. He becomes Saul's 'go to guy' when things get rough. Saul will eventually send him out in dangerous places TRYING to get him killed but God intervenes and so will Jonathan. David NEEDED this friend and he needed him at THIS TIME in his life. On the way home from this battle Saul's attitude begins to change towards David. If it weren't for God providing David with Jonathan's DEEP friendship, David may have been killed.
Jonathan was a 'friend for a reason' and a 'friend for a season.' God placed him in David's life to help preserve it. And Jonathan remained David's friend until his dying breath, where David would have to continue on alone afterwards.
Father God, thank You for the people You bring into my life. There have been many who enter for a short season. I often feel envious of people who have friendships that last DECADES and beyond. Those that have DEEP abiding friends. I don't believe I've ever had that in my life beyond my husband and my family. Maybe the love of my family is so deep I don't need it from another. There was a season I sought it outside and You provided it for me. Thank You for knowing exactly what I need and how to get me to open my arms and accept it. I wonder if that last part right there is why I don't have the 'friends for decades' kind of relationships. It could also be the fact that I moved around so much in life that I couldn't keep one friend. I'm going to leave this open ended Lord. You know my future and I trust YOU to bring into it the people who will fill me up with Your love and that I can do the same in return.