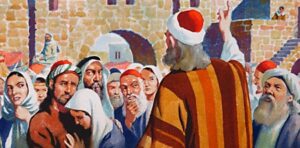 Ezra and the Jews who want to leave have assembled. After counting and registering the people Ezra notices the absence of Levites. He calls to them to come.
We have been with Ezra as he prepares for this journey throughout his whole life. He didn't start out knowing that God would call him to this but his life's path put him right where he needed to be for it to happen. He learned well the lessons of the Lord. He served faithfully and garnered the favor of the king. He shared his faith with the king. And he was obedient to ask for permission when the Lord prompted his heart. I wonder if he KNEW in his heart that this was his purpose in life.
When we left Ezra he had just finished going through the group of people gathered to go with him to Jerusalem. While recording those present he noticed a group that was conspicuously absent; the Levites. Let's see how he addresses this.
♥ ♦ ♥
Those waiting to be counted and recorded from the camp are only a few small groups. Ezra has been meticulously entering names and family associations for everyone. He wants a true and accurate record for the archives.
He looks up from his work again and scans the faces of those still waiting. None of these faces are especially familiar to him. They are not unknown as they carry several of the traits common to the Jewish people. The shape of their heads, the width of their noses, even the texture of their hair was distinguishable from those of the people around them. Ezra found familiarity in their faces but not recognition. Where were the Levites? The people of his own tribe. The ones he worked with and learned from as a youth and beyond.
Ezra completed his task and reviewed his work before firmly concluding that those of the tribe of Levi were missing. The absence of the Levites was of great concern to Ezra. First, because his whole mission was based on teaching the Law of God to the people already in Jerusalem. He alone could not accomplish this task. He would need help. And second, this group of returnees NEEDED the Lord's protection and the Levites were the ones who interceded for the people with God. Ezra felt unable to take on the FULL weight of this responsibility alone. He did NOT see himself as Moses. He NEEDED help.
Ezra called several of the leaders together to discuss the situation. They met together in the shade of a grove of trees, far enough away from the main camp so as not to be overheard.
"I am pleased to see the number of families who will be traveling together on this journey" began Ezra. "Indeed the Lord has gathered us for this purpose. We will require His favor and protection on our journey. Which brings me to the reason I called you together. We are without Levites among us. They are the ones called by God to intercede on our behalf."
"What can we do about it? Were they not extended the invitation to come?"
"I believe the invitation was extended to them but I did not personally visit any among them to discuss our journey. I think it is time we remedy this."
"You are needed here though."
"I agree. That is why I'm sending several of you in my place. Eliezer, Ariel, Shemaiah, Elnathan, Jarib, Elnathan, Nathan, Zechariah, Meshullam, Joiarib and Elnathan this task goes to you. Joiarib and Elnathan, I know that you are men of insight. You should be able to counter any resistance that may occur. I'm sending you to Iddo as he is the leading man at the palace Casiphia. It is the job of all of you to impress upon him your desire to return home. Share with him the number of people willing to make such a journey and the sincere wish to honor the Lord throughout it all. Remind him of the Levites call through the Lord to stand in the gap for Israel. We have none to do this for us. Implore him to provide representation for the people before the Lord. More than anything else though, share with Iddo, his brothers, and the temple servants the joy that will be found when they minister before the Lord in the new Temple built for our God in Jerusalem. This should be the dream of ALL Levites."
"It will be done exactly as you instructed" chorused the appointed group. They broke up and set off for the palace immediately.
On the way they discussed how they would divide up the work assigned to them.
"We should meet with Iddo first as a group. Then we can speak to the others that Ezra outlined."
"Should we ask for a group meeting of all or meet with them individually?"
"Ezra did both. We should be prepared to do likewise if none will agree to accompany us immediately."
"How should we begin?"
"I think starting with a few personal stories as to why we chose to return to our homeland would be good. Then we can move to the people's needs and finally the honor of serving in the house of the Lord" offered Joiarib.
"What if they have not heard of the king's decree that we may leave? Should we not start there?"
"That is a good point. It is likely that they have heard but we should ask first before moving into our arguments as to why they should accompany us."
This plan was quickly agreed to and a few men chosen to share their reasoning. Most of the men shared a common core of reasons they wanted to leave Babylon. Chief among these reasons was the desire to see the land that the Lord had given His people and be free to worship Him as He commanded there.
They reached Iddo about midday. He was just finishing his duties in the classroom set up to teach young Levites the Law.
Joiarib addressed him for the group. "Rabbi Iddo, may we speak with you?"
"Speak child of Israel."
Joiarib smiled at this greeting. "We bring a message from Ezra, the king's scribe. We would ask that we be allowed to deliver it before an assembly of your fellow Levites."
"What is this message in regard to?"
"It concerns the king's decree to allow the children of Israel to return to the Promised Land."
"I had heard of this but put little stock in it."
"It is true Rabbi and Ezra seeks your presence on this journey."
"I have much work still to do here in this place as I serve the Lord by continuing to teach the young Levites the Law and their role before Him. But I will assemble the others and you may speak before us."
"Thank you Rabbi. This is all we ask."
Iddo called the leading men of the tribe of Levi together to hear what the men from Ezra had to share. He made certain to include leaders from every branch of the service.
The meeting began with posing the question to all present as to if they had heard of the decree from King Artaxerxes. All agreed that they had heard talk of it but didn't know if it was true. The men shared Ezra's assurance that it was indeed true. "The king has made provision for us on our journey in the form of offerings to the Lord and authority to Ezra to access the treasuries of his representatives beyond the river. He has even authorized Ezra to set up judges for the people who will follow the Law of our God."
"This is indeed good news" remarked Iddo. "We would hear the rest of what you have to say."
Eliezer had been chosen as one of the men to present his reasons. He stepped forward and spun a tale that left his listeners breathless.
"From as far back as I have memory, my father implored me to find a way to return to the Promised Land. My grandfather was one of the last men brought here by the evil king Nebuchadnezzar. He used to work in Jerusalem, the city of David. There he made and sold all sorts of items made with tallow. His renderings were used in the best houses as their taste was exquisite. His soaps and candles were bought by the king himself. And his salves were in demand from all the healers and midwives. The whole year that Jerusalem was under siege he was locked within her walls. Each night he prayed that he would see the hand of the Lord deliver the people in the morning. He clung to the old stories of battles fought by the Lord for His people. But His people had forsaken him. My grandfather was but one of a few who had remained true to the God of Israel. He refused to bow down to the Baals or serve at the Ashera poles.
When each morning arrived and the enemy was still at the door my grandfather did not lose faith. He held fast to the hand of the Lord. He also came to believe that this was God's just judgment on His people for their abandoning His Laws. After months of the siege he stopped praying for deliverance and began to pray for obedience instead. Obedience to the will of the Lord and the lessons He had for His people.
Finally the day came when the walls fell and the men of Babylon rushed in. Hundreds lay slain in the streets by the end of that day as the soldiers killed without thought or mercy. Old men, pregnant women, children, the poor, and anyone who dared cross their path were swept aside as easily as a gnat. Somehow my grandfather survived the carnage.
When the city was secure and there was NO resistance the soldiers began rounding up the survivors. They were placed in chains, linked together in long lines. Tears flowed but no one uttered a word or raised a hand in protest as it would mean certain death. They were led outside the city and made to watch as the soldiers went throughout the town looting and burning it to the ground. The most devastating moments were when Nebuchadnezzar himself brought out a cart filled with vessels from the Temple of our God. He held them high for all to see and spoke of how he had gained victory over the Lord. My grandfather expected him to be struck down right then and there for the words he used but he wasn't. God's anger with His people was greater than His anger with Nebuchadnezzar.
For two days the captives watched as their city was decimated. The magnificent Temple Solomon had built was torn down before their very eyes. When everything of value was removed from that great city, EVERY structure was set ablaze. Temple, palace, shops, even the wall itself burned. The last sight my grandfather saw of his great city was smoke rising above it as he was led away in chains to this foreign land.
Here my grandfather was subjected to forced labor. He dug in the pits for ore the rest of his days. My father was born in captivity here as my grandfather was given a wife from the captives who had accompanied him. Together they served the Lord as best they could in this land of many gods. They had to be careful but they were always faithful.
When the decree of Cyrus was issued over one hundred years ago my grandfather LONGED to be one of the captives who returned to the land. But his health had declined severely in the mines and he was unable to go. My father was too young to make the trip. My grandfather made my father swear that, if the opportunity presented itself again, he would go.
My father never got that opportunity. He remained a slave his whole life. His labor was not as harsh as some but it was also not freedom. He also had to hide his worship of the Lord God of Israel from those who would not tolerate our ways. He was beaten on more than one occasion for not bowing before the idols but he would rather die before dishonoring his God.
From the time I could walk my father prepared me for this day. He KNEW the Lord would one day free his people. He believed EVERY WORD his father had passed on to him. He taught me the Law of our Lord and how to honor Him without the neighbors' knowledge. He had me swear the same promise he made to his father that if the opportunity presented itself I would return to the land of his father.
That day has come! I have moved my family into the camp of Ezra and will raise my sons in the land my God has sworn to His people to give us as an everlasting inheritance. My children will know freedom. I will know freedom also, unlike my father who passed last year. We stand ready to go. Will you go with us?"
Eliezer made eye contact with several of his listeners before stepping back into the group. Two other men shared their reasons for joining in this journey. By the time they were done many heads nodded in agreement that they too would stand with Ezra.
Joiarib would present the final argument. He would tell of the honor that waited for those who came with Ezra. They would serve as the intermediary between God and the people and also serve in the new Temple once they reached Jerusalem.
"Service to the Lord in His Temple is the highest honor a Levite can hope for. It is a fulfillment of what you were called by the Lord God to do from before your birth. And while you serve in His Temple you will also be supporting Ezra as he teaches the Law to the people in the land. It has been said that their faith has wandered since completing the task of the Temple. They NEED strong leaders to bring them back to the Lord before it is too late. Israel may never recover if taken away in chains again because of turning her back of the Lord. YOU can be an instrument of her repentance. Will you go with us?"
The hand of the Lord had indeed been on the men as they shared before the assembled Levites for many of them committed to go right away. Iddo was moved as well but he knew his task was to remain here and continue to teach those who remained behind.
"I will pray for you my brothers as you make this journey. But I am too old to go and have another mission from the Lord" said Iddo. He then called his most trusted man to his side. "This is Sherebiah. He is a man of discretion and knowledgeable in the Law. He has stood before the Lord as His servant and sought His will. He and his sons and kinsmen will join you. Of this I have no doubt as I saw it in his eyes as he listened to your plea."
Sherebia bowed his head in acknowledgment of his teacher's wisdom. "I had intended to offer my name and family for inclusion. You have saved me the trouble my Teacher."
Hashabiah and Jeshaiah presented themselves and their kinsmen for inclusion also. They were excited about the prospect of serving the Lord in His new habitation. Men who had been assigned from before birth to serve in the temple by King David also presented themselves for such an honor. All told, 258 descendants of Levi committed themselves and their families to join the men with Ezra and return with him to the land of their fathers.
It took a day for the Levites to all make their way to the camp by the river. They came with much provision, as their neighbors were generous to a fault when sending them on their way. Ezra's joy doubled each time another family of the descendants of Levi entered the camp. He carefully recorded every name and ensured they were settled among their brothers.
There was one additional 'task' Ezra had for the people before they set out on their journey and it would take a full day.
(to be continued)
♥ ♦ ♥
Thank You Father God and Holy Spirit for sharing that story with me. I don't know if it was an accurate depiction of this family's struggle but I bet it mirrored that of many others. So many were born and died in captivity. Some may have had good reason, like being too ill for such a journey, but others chose willingly to stay in 'the familiar' rather than step out in faith.
What bondage am I choosing to remain in when the door is clearly open for freedom? Help me see the open door and walk through it. Help me lay down the chains and NEVER take them back up again! YOU are my freedom.