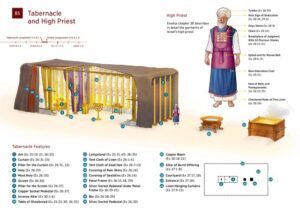 Today we see the actual structure of God's house. It is HEAVY DUTY construction. It is made to last for generations.
As I'm reading our section today I'm trying to imagine what the building God was giving instructions for would look like. No. I hadn't ever looked at a replica before so what I was envisioning was very wrong. I was seeing the beautifully woven curtains running around the tent frames. Nope. They go across the top.
I was trying to figure out how the folded in half eleventh panel draped over the back. After graphing it out on an Excel sheet I realized the direction of the tent. I wish I could purchase a model for my home but there is nowhere for me to put it. And if I had one I would also want a model of Solomon's temple for comparison.
The fabric components of the tent are very durable and thick. This must be why God made the frames so narrow and included reinforcing poles along their length. The woven fabric and the skins were no doubt very heavy. My husband asked if they used ropes to draw the coverings over. I haven't come to that part yet but I would imagine so. I think God had the people make the coverings in two sets of five panels and a set of five and one of six because of the weight. Carrying in as one set of ten and one of eleven panels would be too much to handle. I have a hard enough time when I buy more than five yards of material in one piece. I had to deal with 20 yard pieces two years ago and that was VERY difficult!
Imagine the looms needed to weave the panels. They had to be MORE than six feet wide in order to turn out the size of panels God directed. I wonder if it took two people to operate them. And what did "twisted linen" mean? Was this a special weaving technique? Also weaving in the cherubim was quite challenging. God wanted them all to be the same so I expect that one person was in charge of designing the pattern everyone had to weave to.
My mom does a lot of crochet projects and follows some intense patterns. She has to keep track of each row in her project. Weaving in a prescribed design would require that same degree of attention to rows. Not to mention the fact that the design would have to be reversed for the other end of the piece. When drawn into place you would want your design on both sides to be oriented correctly. Imagine the skill that took! I wonder if they had many pieces that ended up as scrap because they didn't turn out right.
I wonder if the two outer coverings were made in pieces. The one of rams' skin and the other of goats' skin. God didn't give dimensions for these two pieces. If they were made in one piece continuous piece they would have completely sealed the seam of the two inner layers. They would also have SMASHED my "too heavy to carry" in one piece argument for the seam on the first two layers. Speaking of that seam, did they alternated the seam placement to prevent water from pouring through it? Did the clasps used on the two inner layers cinch the fabrics tight together?
I'm no architect but I can guarantee you that the materials dictated for the coverings were VERY HEAVY! This is one layer of linen fabric, one layer of goat hair fabric, one layer of rams' skin and one layer of goats' skin. I cannot imagine the weight this combination generated, but God knew. He prescribed the exact amount of structural integrity with His skeleton design. He prescribed support beams every 1.5 cubits. He also included poles to reinforce the long beams of the frames. His design would withstand all the elements, even heavy rain or snow.
I wonder how the pieces of the tabernacle were transported during Israel's travels. Were carts used or were they carried by hand. I know the furniture items were carried by hand but what about the curtains, the frames, their bases and their poles? Maybe we will answer this question a little later on.
One thing I noticed about God's design was how precise He was with all of it. He didn't tell Moses and the children of Israel to "wing it" and figure out how to construct a place for Him. God gave them every last detail they would need, right down to the materials to use for each piece. He spent time planning this out. He even planned for the way the material would drape on the corners. He prescribed a second frame for each corner that was joined at the top of it but extended out further at the bottom. I believe this made a rounded corner and kept the fabrics from touching the ground. I may be way off base but six frames are not enough to make the ten cubit width of the temple. There had to be something to make up the missing cubit. That was the job of the two corner frames included in God's plan.
God didn't stop at the outside framework. He even detailed where His furniture was to be placed and how the "curtains" would be hung. I wonder what the difference between the "veil" and the "screen" were. Was it their thickness? The veil had cherubim woven into them like the walls did but the screen had "needlework" designs instead. We don't know what those designs were either.
As we stand at the door and gaze at the temple we notice that EVERYTHING within that is wood is overlaid in gold. All the inner clasps and fittings are also gold. There is silver for the bases for the frames within the temple and along all its walls except the entrance where we are standing. Here the bases are bronze. Is this a progression of purity? From entering with "sin on your feet" (bronze) to being cleansed (silver) to the holiness of God (gold). Bronze will be used on the outside furniture. The bronze stops at the door and a layer above (bronze clasps for the goat hair material).
Father God, You are an amazing architect! I wonder how long it would have taken man to come up with this design. It has taken me all day just to figure out a little of it. THANK YOU that I wasn't one who had to actually work on it. I would have most likely made a mess! Just thinking about all the craftsmen and women You entrusted Your design to makes me dizzy. The amount of talent in the camp was placed there by You in preparation for this task. Not to mention all the supplies You had provided in advance. NOTHING left to chance.
I know that You placed that same kind of detail in Your plan for my life but I get in the way of its execution far too often. I wish I knew how to "be still" and also to LISTEN AND OBEY! One area I'm really struggling with is listening to Your guidance in eating. I try to behave each day but I ignore Your instructions far too often. Please help me listen better and shut the voices of disobedience out! Help me follow YOUR plan in this area of my life. Give me strength to stand against temptations. Make those temptations taste like sand in my mouth Lord! PLEASE! Thank You for loving me even when I fail or fall short.