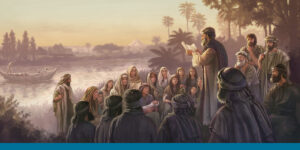 King Artaxerxes has issued a proclamation that those who want to can return to Jerusalem with Ezra. We see that first group assemble for the journey.
The last time we were together we witnessed Ezra's joy at being allowed to return to the land of his fathers. The king has done more than just release him to make the journey. He is actively helping him along in his endeavor by providing funds, permission for others to accompany him, authority to set up new governors and anything else he needed. The king is even sending an offering along with Ezra for the Lord God of Israel.
We last left Ezra making his way to all the leaders of the people of Israel and pleading his case. Some refused to join him out of fear or a desire to remain in their current situation. But others would throw their lot in with Ezra and travel the great distance from Babylon to Jerusalem. Let's join them as the group begins to assemble.
♥ ♦ ♥
Ezra spent three days personally appealing to the leaders of the Israelites. He was prepared to go house to house if necessary to ensure that ALL knew of this opportunity granted by the king. This may be the people's only opportunity to leave captivity.
Ezra's first appeal was from the town square where the majority of the Jews had settled. The afternoon of his final day with the king he had sent out dispatches to the leaders of the town asking them to assemble at midday in the square. He knew that the letter from the king to the people was sent the previous day. He intended to answer any questions the people might have and to begin taking names of those who would accompany him to Jerusalem.
The turnout at the town square was larger than Ezra had anticipated. He was glad to see it though because that meant many of the Jews were interested in the opportunity being offered. He waited until those making their way into the vicinity had reached the group. It was easier to wait than to keep repeating himself. Once the last group joined in Ezra began to speak, pleading his case before his brothers.
"Most of you know me but for those who don't, I am Ezra. "Son of Seraiah, son of Azariah, son of Hilkiah, son of Shallum, son of Zadok, son of Ahitub, son of Amariah, son of Azariah, son of Meraioth, son of Zerahiah, son of Uzzi, son of Bukki, son of Abishua, son of Phinehas, son of Eleazar, son of Aaron the chief priest" (Ezra 7:1b-5). I bring you greetings from King Artaxerxes.
"I stood before the king and requested permission to travel to Jerusalem to see the Temple of my God" began Ezra. "I also asked the king's leave to teach the people there the statutes of the Lord God of Israel. The king has granted my request and MORE! He has granted permission for as many of you as freely choose to accompany me on this journey. He has also provided both authority and financially for this journey." Ezra paused for this information to sink in. "I am here today to answer any question that you might have."
A voice rose up from within the crowd. "Is this some kind of joke? Why would the king let us go?"
Other voices rose in chorus of support for this question. Ezra held up his hand to quiet the crowd before answering. "This is a valid question. First of all, it is not a 'joke' or a trick. The king has indeed consented to let as many as desire to leave permission to do so. He has signed the decree with his own hand and provided said same to me personally. As to why he would allow this, I can only surmise that the Lord our God has been working on his heart. I have had many opportunities to speak with the king privately and share the stories of our God. The king has long expressed interest and wonder in the Lord God of Israel; the God of Heaven and earth. Is it too much to believe that the king has found a way to honor the Lord that does not decrease his own throne?"
Murmurs flow through the crowd at Ezra's words. He has presented a reasonable explanation but not everyone believes it. Another voice rises above the crowd. "Are the people in Jerusalem expecting us? Will we have accommodations once we arrive?"
"As far as I know our plans are not known to our brothers in Jerusalem. But I'm sure we will be welcomed and afforded care while we secure living arrangements for ourselves. We will also be traveling with enough funds from the king to help in that process."
"What of our families here? Will they suffer if we leave? Will the king penalize them for our absences?"
"I believe the king's desire to honor God is sincere. Surely he would not penalize anyone for others following his commands."
Questions continued for some time but they mainly dealt with travel accommodations. By the time the meeting officially broke up Ezra had no idea how many people would be traveling with him. He was determined that even if NONE went with him, he would still go and follow what he believed God was calling him to.
The next two days Ezra met individually with the leaders of several clans. He was able to secure commitments from some. Those who did agree to go were told to gather at the river that runs to Ahava. They were to make camp there and wait until everyone who wanted to come had assembled.
Groups began to trickle into camp. Some brought many members while others brought few. The smallest group was led by Zecharah, the son of Bebai. He brought only 28 men with him. Shecaniah the son of Jahaziel brought the largest group with him, consisting of 300 men. All the groups included women and children but, as was the custom in Israel, they were not numbered.
Three days passed while Ezra petitioned for people to join him and the people gathered by the river. This would be no mass exodus like with Zerubbabel but it was a significant group that had gathered. In all about 1,500 men had agreed to join Ezra with their families.
It was a noisy and excited camp that Ezra returned to on the final day of assembly. He made his way through the camp numbering the people and writing down the families who were in attendance, for the records. As he made his way through he noticed a serious problem.
(to be continued)
♥ ♦ ♥
I wonder why the vast difference in the number of returnees between Zerubbabel and Ezra's expeditions. Were the majority of the Jews already back in their homeland? Were the group with Ezra the 'stragglers' from the first exodus? How many truly remained behind?
How many truly went with Ezra. I went through the list in our reading and in our next reading and came up with a total of 1,785 people. This is counting the person listed separately from the group that accompanied them. But when researching the questions I just posed above I'm told that it was a "major group" who returned with Ezra. Did Ezra only list specific tribal leaders of importance or is this list we see truly complete? We are not given a specific number of returnees anywhere else. It was confirmed for me that there will be another group of returnees though before the time of the New Testament.
The majority of the returnees are from the tribes of Judah, Benjamin and Levi. Only a portion of the people of Israel would ever return but their brothers still made sacrifices on their behalf, as evidenced by the dedication of the temple and the 12 goats for the sin offering. One was offered for each tribe of Israel, no matter if they had members present at the time. Is this why the nation today is called Israel and not Judah? The 'Jews', referring to the people of Judah, continue to hold onto their brothers and 'hold a place at the table' for them. Revelation tells us that each of the tribes will be represented in the 144,000 who come to accept Jesus in the end. So their places will not remain vacant forever.
One last question. Do the people today prefer to be called Jews or Israelites? One feels incomplete to me. Does it to them?
Father God, thank You for Your story today. I have so many questions I want to ask but know that none but You can answer them with certainty. I wait quietly for Your answers.
Thank You for bringing me to the patiently waiting question for the portion of Israel that is accounted for. They are holding fast to Your promises of bringing them all together again. I feel sorry for them that they don't recognize the promises that You have already fulfilled through Jesus. Is their clinging to the one and not the other stubbornness alone? Is their faith only so big that they can't comprehend the answers they have already been given? Is it rejection or blindness? I applaud how they are 'holding a place' for their family. I just wish it was at the 'right table'; Jesus, the TRUE Messiah's table.
I know You are holding Jesus' return until a time when ALL have had an opportunity to hear the truth. Open the eyes of the spiritually blind Father God even now. I'm praying for Jesus to be coming soon but I'm ready for whatever You decide Lord. You have me safely in Your hands and that is a promise I'm holding onto.