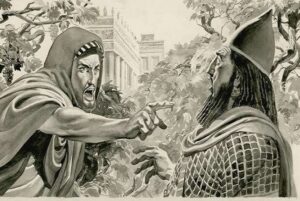 Ahab has let Ben-hadad go free. This was NOT what the Lord had charged him to do. Because of his breach of duty, Ahab will pay the price instead.
God hadn't spelled out exactly what He wanted from Ahab with regard to Ben-hadad but experience should have taught Ahab something. This was the second time Israel had to defend herself against Syria. There had also been hostilities before these two men took the reins of their respective countries. Ben-hadad would always be a problem for Israel. God had decreed his death. Ahab let him go AND entered into a covenant with him. NOT on God's approved list of activities!
God chooses a very interesting way to confront Ahab on his actions. He does a little bit of role play but first He has to set up the scenario.
First, I want to say that I would probably be the man who refused and who wound up eaten by the lion. I wouldn't strike someone, even if they said "please", especially if it was a man of God. From what I can figure from the encounter's description it was one prophet speaking to another. This makes them comrades in arms at least if not friends. I would NOT want to strike my friend.
The first prophet wasn't looking for a playful punch in the arm. He wasn't asking for the "Charlie Horse" game. He needed a wound on his body. One that would be significant enough to fool the king. He also didn't explain any of this to his fellow. He expected him to know of his need without explanation. I suppose he expected God to provide the explanation and motivation. Was the fellow not listening to God or was he averse to hurting his fellow prophet? Whatever the reason, the first man approached refused and sealed his own fate. I wonder how many times he was asked before he was given over to that fate. Hopefully more than once.
The second person approached for this task isn't said to be a fellow prophet. He is simply called "another man." Did he witness what happened with the first exchange? Did he know about it? Was he a prophet and the Lord spoke clearly to him; above his own aversion to hurting his fellow prophet?
We are told that the prophet needing the 'set-up' used the same words with each man; "Strike me, please" (verses 35b & 37b). This was all the instruction we know about. I'm not precluding any other 'instructions' or incentives but this is all we have to go on. For some reason, the second man complied with the prophet's request and 'struck' him hard enough to "wound" him.
Why was this necessary? Couldn't the prophet have pretended to be injured? Did Ahab need to see the sight of blood to be convinced of the prophet's story? Did the sight of a bandaged man cause Ahab to stop where one without blood wouldn't? "Thank you for your service" sort of thing? God knew what it would take when He set up the encounter so I will leave it at that.
Our prophet easily disguises himself, even though he was known by sight to Ahab. Apparently Ahab is looking at the wounds and listening to the story. Maybe that is why he needed the wounds. Even though Ahab can see the man is wounded, he has no compassion on him. He had more compassion on Ben-hadad that he did his own 'soldier.' He could have pardoned him. He could have tried to tell him it wasn't his fault. Instead he said he pronounced his own fate.
In not showing compassion on his own people, Ahab showed where his heart lay. He would 'move Heaven and earth' for someone who could benefit him. The 'wounded man' had nothing to offer Ahab, as far as he could see. But the 'wounded man' held more power over Ahab than Ben-hadad ever would, or should I say the One who sent the 'wounded man' did.
Ahab's condemnation of the man was also his own condemnation. He committed the same offense the prophet pretended he had. When the bandage was removed and Ahab saw who he was speaking with he knew he was in trouble.
I have a question about Ahab's response. "And the king of Israel went to his house vexed and sullen and came to Samaria" (verse 43). Is the "vexed" a confusion about why the punishment or a worried and frustrated. He certainly was upset about it. The "sullen" part of the verse tells us that. His fate would be a while in coming but it would come due.
I'm not surprised that Ahab didn't know God's will because he never followed God. But he KNEW the battle was won both times with Ben-hadad by the hand of the Lord. If he had been ANY kind of smart he would have asked more questions of the prophet before going into battle. He sought his own good and nothing more.
Father God, I NEVER want to get so caught up in my own plans, needs, or designs that I miss Your direction. Open my eyes and ears to Your will. Show me what You would have me to do and where You want me to go.