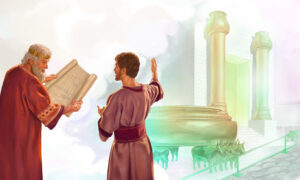 God told David that he couldn't built His Temple but He never said David couldn't get things ready for it. David lays the groundwork for Solomon.
In the past, when I have read about Solomon building the Temple of God I didn't realize how much David had contributed to that project. I knew David had gathered things in the treasury to be dedicated to the Temple. I believed he had given Solomon the general plans. But I didn't know he had materials prepared in advance.
Our text today tells us how involved David really was. David set stone cutters to work preparing the pieces that would be used in the Temple. He gathered great quantities of iron, bronze and cedar that would be used during construction. And he designed the plans that would one day be the Temple.
Did David's design include the pomegranate and grapes decorative carvings? Did he order the size of the bronze basin and design its stand? Were the mobile stands his idea? Or were these touches Solomon's hand on David's design? I don't know if there is any way to know, short of interviewing David and Solomon on the other side of the grave.
I find it interesting how David rationalizes putting his two cents in on the design of the Temple. I knew he wanted to be the one to build it but God said, "No" to him. David could have taken that as a "hands off" command but he didn't. Instead he began designing the Temple he wished he could build. "Solomon my son is young and inexperienced, and the house that is to be built for the Lord must be exceedingly magnificent, of fame and glory throughout the lands. I will therefore make preparation for it" (verse 5a).
David was being a good parent as well as getting as close to his heart's desire as possible. It is our job as parents to help our children wherever we can. We cannot pave ALL the roads for them but we can guide them into adulthood. And we can be there for them when they encounter difficulties along the way. Solomon knew he was not up to the job of caring for God's people after David's death. That was the reason he asked for wisdom when God approached him. Our children need out guidance but they also need to make their own mistakes in life. David could probably have backed off a bit but this project was of extreme importance to him and would impact his people forever. So he helped his son the best way he could.
Of ALL the 'help' David rendered Solomon, I believe the greatest part was that he kept the Lord before Solomon's eyes. David talked about the Lord with Solomon and why he thought the Temple was so important. David passed his love of the Lord onto Solomon with this project. And I'm CERTAIN David shared all the stories of how God had been his constant help in times of trouble. These stories are what helped Solomon form his understanding of who God was (is). THIS is our greatest job as parents; introducing our children to the Lord.
Father God, did I fail in sharing the stories of our amazing time together with my children. I know I talked about Your miracles in my life over the years but did I talk with my children about them? I know I praised You in front of them more than once. I PRAY that the 'introduction' I shared with them will bring them back to Your presence. I PRAY I prepared them for life as adults too. There is no way I could do as much as David did but I did what I could. Thank You for helping me be there for them now too as they encounter struggles. Thank You for entrusting me with their precious lives!