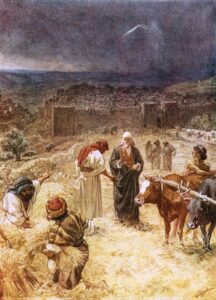 David committed a grievous sin when he numbered Israel. He had to choose his punishment from God. Now God halts it.
David was enticed by Satan into this sin but he still bears responsibility for committing it. He was warned explicitly by Joab but he chose not to listen. He could have halted it anytime during the more than nine months it took to complete the census. But it took an obvious punishment from God to bring David to his knees.
While seeking the Lord, David learns he has three HORRIBLE options to choose from. He takes the shortest in duration and the one that was in God's direct hands. But he prays for mercy anyway. He deserved none but God gave it just the same. Let's rejoin our story as David receives his mercy.
♥ ♦ ♥
As David and the elders of Israel are gathered in prayer for mercy from the Lord, David looks up. The sight he sees takes his breath away. He sees the angel of the Lord hanging between heaven and earth with his sword drawn and pointing towards Jerusalem. This sight both terrifies and convicts him.
He calls out to the Lord on behalf of the people. "Was it not I who gave command to number the people? It is I who have sinned and done great evil. But these sheep, what have they done? Please let Your hand, O Lord my God, be against me and against my father's house. But do not let the plague be on Your people" (verse 17).
The air crackled around David as he stood up on the hill. To David's eyes the angel stood ready to strike and he was ready to take that blow. He stood, spread his arms wide and presented himself to the Lord.
But God had already made the decision to spare Jerusalem. His heart swelled with pride at the words of His servant David. God had chosen well. However, there were still consequences required by sin. A sacrifice had to be made. God spoke again to Gad, who had not left the Tent for the three days that God was judging Israel. Gad came to David immediately with the Lord's words.
"The Lord says to rise up and 'go up and raise an altar to the Lord on the threshing floor of Ornan the Jebusite' (verse 18)."
There was not even a moment of hesitation when David heard the words of the Lord. He jumped up and ran to the site.
While David was making his way to the place indicated by Gad, Ornan was noticing the angel standing over his threshing floor. His mouth hung open in awe and fear. He had been working with four of his sons that day, threshing out the wheat. They too felt the crackling in the air and looked up. His sons saw the angel and they scattered like chickens being chased by a fox. They hid themselves as best as they could. Ornan stood where he was, frozen in place.
David arrived at the threshing floor of Ornan in minutes. Ornan's attention had been drawn away from the angel by the sound of David's sandals pounding the ground as he approached. Ornan recognized his king and he immediately left the threshing floor and went to meet David. As David approached, Ornan fell with his face to the ground to pay homage to David.
David had slowed his pace when he saw Ornan. He stopped in his advance when Ornan fell directly in his path. Those who had been with him trailed behind and came trickling in as David began to speak with Ornan.
David raised Ornan up with a touch. "Give me the site of the threshing floor that I may build on it an altar to the Lord – give it to me at its full price – that the plague may be averted from the people" (verse 22).
Ornan would withhold NOTHING from his king. He felt honored to be asked such a thing. He would GIVE his king what he requested, David need not buy it.
"Take it, and let my lord the king do what seems good to him. See, I give the oxen for burnt offerings and the threshing sledges for the wood and the wheat for a grain offering; I give it all" (verse 23).
Ornan pointed out each item as he offered them to David. He held NOTHING back.
David was touched by Ornan's generosity but it would not do. He would not offer a sacrifice that cost him nothing. His people were already paying the price for his sin. He would NOT compound that.
"No, but I will buy them for the full price. I will not take for the Lord what is yours, nor offer burnt offerings that cost me nothing" (verse 24).
Ornan did not feel comfortable naming a price. He stood before David silent, with his face turned towards the earth. Ornan's sons gathered around him as he waited before David. Ornan's oldest son spoke a price.
"My father is a humble man and has not calculated the value of what he owns. I believe he would be open to whatever offer you believe fair and appropriate."
David nodded and looked around. "I offer you 600 shekels of gold for the site and all that belongs to it. Will this meet with your approval?"
Ornan's son looked to his father to answer but he remained silent. Tears filled his eyes and a peaceful smile touched his lips.
"I believe that is more than fair my king. We accept your offer." Ornan nodded his agreement and the deal was struck.
One of David's officers, who had followed him as he ran, dealt with payment for Ornan. David would not build the altar until he had paid the price. Once the money changed hands David put his own back into building the altar. He broke up the sledges while the elders gathered stones. David bound the grain that was left and prepared bowls of what was already ground. The elders helped wherever David pointed to a task. Gad, as a Levite would perform the actual sacrifice.
When the stones were laid and the wood placed upon the altar the oxen were brought to stand before it. Gad removed the ceremonial knife he wore from the folds of his garments. He looked to Heaven and quickly gave thanks for the mercy the Lord had shown Israel. Then in one swift motion he drew the knife across the neck of the oxen. Blood began to pour from the wound and pool on the ground. David had found a bowl earlier to catch some of the blood and he quickly passed it to Gad who placed it in the stream of blood. The ox fell to his knees and breathed his last as his life's blood was spilled for the remission of sin.
Gad cut the ox into pieces and laid it on the altar. When all was ready, David called upon the name of the Lord.
"Lord God of Israel, holy is Your name and great are Your mercies. My sins are great but Your loving kindness stretches beyond measure and covers them. Please accept this sacrifice from the hand of Your servant and cleanse him from all unrighteousness. Put away Your sword from the people of Israel and lay any future blame only at the feet of Your servant and Your servant's house."
As soon as David had finished his prayer fire fell from Heaven and consumed the oxen on the altar. David knew with this that the Lord had forgiven him. David also saw the angel of the Lord put away his sword. Israel was safe once more in the favor of the Lord.
It took days for the total cost to be counted in terms of lost lives for David's sin. More than 70,000 men of Israel lost their lives during the three days the Lord judged Israel. Davie would carry each of those deaths on his shoulders for the rest of his days.
This altar would become David's favorite place to offer sacrifices. It was the altar the Lord told David to build. It was where the Lord answered David with fire from Heaven. And it was where he felt safe approaching the Lord. He still felt unworthy and guilty. He was afraid to approach the Lord at the Tabernacle. He feared the angel of the Lord would draw his sword against him and take him up on his offer to stand in the place of the people. And the Lord would continue to meet David at this altar.
♥ ♦ ♥
I wonder if the Lord would really have taken David up on his offer if he had gone to the Tabernacle. Was it God's direction that kept David away or was it David's guilty conscience? The blood of Jesus had not been shed yet to completely cleanse our sins. Was he unsafe or unworthy to go to the Tabernacle? The "blood" that was on David's hands that prevented him from building the Temple for the Lord, were these lives a part of that blood?
We have an AMAZING gift that those living under the Law didn't have. We have full forgiveness. Not just a covering of our sins by blood that no longer contained life but a washing away of our sin by Jesus' blood that gives life itself.
God still remembered Israel's sins under the old covenant. He would bring them up to them on many occasions to remind them of how they had tested Him. But the writer of Hebrews 8 tells us of God's own promise that under the new covenant He would remember our sins no more. And Romans 8 tells us that there is NO condemnation any longer for sins we have brought to the Lord.
David didn't have the knowledge and surety that we have, in that God not only forgives but that He puts it out of His mind forever and makes us new. David still had fear because GOD still remembered David's sin. And David was afraid He might act on that memory. I don't know that He would but neither do I know that David wasn't 'tainted' for life because of it. God LOVED him regardless but their relationship was forever changed.
Father God, THANK YOU for Your forgiveness! Thank You that You didn't say, "Good enough" with the first covenant and skip the second. I would be forever separated from You if You had.
Lord Jesus, THANK YOU for paying my penalty for sin. For washing me clean instead of just covering up the 'dark spots' in me. I know I carry guilt over things I have done and asked for forgiveness for. Is this a 'slap in the face' to You? Does my carrying guilt tell You that Your work wasn't enough to clean MY mind? Or is carrying some guilt over my behavior a positive thing? It causes me to think HARD before getting myself into the same situation.
Maybe instead of allowing 'guilt' I should focus instead on the 'lesson' learned. The lesson that speaks of sin having a price and consequences. A remembering of the consequences paid by others for my actions. A recognition of the price You paid on my behalf. And enormous gratitude for what could have been without Your work on the cross. I don't want to lose the lessons just because I receive forgiveness for the sin that brought me to that point.
Thank You God for restoring our relationship. THAT is the ULTIMATE gift of forgiveness!