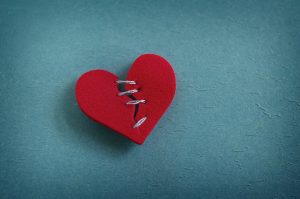 The section we are looking at today is very short and not so sweet. Luke shares with us a very condensed account of Jesus' teaching on divorce and remarriage. It is abbreviated but shares exactly the same message as the other gospels. Don't get divorced, and if you do don't get remarried.
I was wondering why Luke put this topic here, since his writings seem to be topical instead of chronological. When thinking through the possible reasons, I noted that Luke had just shared Jesus' words about the Law being completely fulfilled. Maybe it is here because divorce and remarriage is an important part of the Law. Jesus was sharing what God's original intent was for marriage and what the Law calls for.
We looked at Jesus' teaching on divorce in Matthew 19 and in Mark 10. In these accounts the Pharisees brought up the subject of divorce as a test for Jesus. To me this means that they knew the answer and were trying to trick Jesus into saying something that would either go against the Law or inflame the crowd. Jesus' answered them by asking them what the Law said. Luke skips this question and answer section and goes to the heart of the matter.
Man and woman were originally created as one being. The result was a complete being, but that being lacked companionship. God separated the two after letting Adam look for his companion/helpmate among all the creatures God had made. None were suitable and that is the reason God made the one become two. God's intent from that point was for the two halves to reunite and become one again. This took place in marriage, the sexual union that brings the two beings into perfect harmony and results in new life. The union between male and female is the only one that has this result.
Marriage was to represent the reunification of the two halves. God intended that when they rejoined that it was a permanent union. Separating the two halves damages both parts. They never return to their original condition. They carry those scars of the separation from then on. Reuniting broken pieces results in less than a whole being.
Jesus said that the only reason allowable for divorce is adultery. This action, by brining a third part irreparably damages the original relationship. All three go away damaged. When one of the damaged enters into a new relationship they carry part of the old relationship into the new. The union is damaged at its inception. This is why Jesus speaks against such a relationship.
I know this is a difficult teaching but Jesus spoke what was best for our lives. He also spoke forgiveness and restoration. I believe in His grace and mercy. I believe Jesus shares that through His disciple Paul. Paul talks about this issue in some of his letters. We will get to look at these when we come to them.
Father God, You know this is not an easy subject for me as I been divorced and remarried. My divorce was not due to the reason Jesus allowed, nor was I in favor of it. I resisted to the end but was given no choice in the matter. I know I carry scars from this and that my current marriage carries imperfections in our union. We both are damaged, but because of Your love we are whole through You. You have patched our broken places. Thank You for Your mercy in my life.