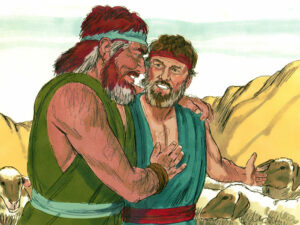 Jacob and Esau finally have their reunion. And a joyous one it is. God has fulfilled Jacob's request and brought him back to his land "in peace."
We don't get to hear the story of what went on with Esau while Jacob was away but from their meeting we know God had blessed Esau too. Jacob wasn't the only one God was looking after. Esau acquired much, including forgiveness, without his father's special blessing.
When Esau was first brought news of Jacob's return, he set out to meet him. He brought help with him. Esau's heart was to bring help to assist Jacob on his journey. Jacob thought the extra hands were to punish him for how things stood when he left home. He wasn't counting on God fulfilling his request.
In all truth, God hadn't answered Jacob's request with a firm and specific 'yes' or 'no'. What God had done through was to provide Jacob with evidence of a 'yes' answer instead. Jacob had asked God to watch over him and be with him, for food, clothing, and to return to his father's house in peace. God gave him EVERYTHING he had requested while in the land of Paddan-aram. He even made sure he got to keep it as he left there with Laban hot on his heels. But Jacob still wasn't convinced God was ready to keep the last part. He still held doubt, even after wrestling with an angel.
So Joseph did what he did best; made a plan. In his plan we see what he valued most. The order in which he placed his children and his wives speaks of what he valued most. The two servants and their children were in the front of this group, Leah and her children next, and finally Rachel and Joseph. But he went ahead of them all. He had already sent his gifts before him and everything else he had. All that remained were what he held dearest; his family. His own life was of less value to him than that of his children. If Esau was still angry with him, he would offer himself first and hope that at least Rachel and Joseph would be spared.
But Esau wasn't angry. He was overjoyed to see his twin again. It had been AT LEAST 20 years since Esau had laid eyes on Jacob. And God had softened Esau's heart.
So many families today have what they think are irreparable hurts. They hold grudges over past offenses for life. Brothers and sisters, fathers and children, mothers and children don't speak to each other or even care about the welfare of the other because of some act from the past. This ought not to be! I had someone in my life that had hurt me and those I love VERY much. I wanted to forgive but every time our paths crossed, that person dug deeper into the behavior that couldn't be tolerated. So many times my heart softened towards this person but her attitudes and behavior never changed. Out of preservation for those I love, this person was excluded from our lives. I realize that I always did care for her and wanted her to be part of our lives, but couldn't risk her continuing her behavior towards those I love. She has finally passed without any resolution. I honestly wish it could have been different. I also have to confess that I didn't pray for her nearly as much as I should have.
Esau did what many of us don't. He forgave completely. He told Jacob that he had enough of his own possessions and didn't need his gifts. He offered him a place to stay and help along the way. All he wanted was his brother back. But Jacob didn't trust the change in him.
Jacob first insisted that Esau take his gifts. He knew he had wronged his brother and he wanted to clear his conscious. His gifts were to ease his guilt more than to bless Esau. Next Jacob politely refused Esau's offer of help. He claimed had to move slowly, too slow for Esau's group, and didn't want to inconvenience them. And finally, instead of going to where he told Esau he would meet him, he turned another way. Maybe distance between these two brothers wasn't a bad thing but Jacob didn't even attempt to talk to Esau about it. It is possible that this conversation or sending of word isn't included in our story but did take place, but I don't know why it wouldn't be included if it really did happen.
I think it didn't happen because Jacob really didn't believe Esau had truly forgiven him. He felt so guilty about what he had done that he didn't see how anyone could truly let it go. When he parted ways with Laban they set up a marker and boundary between them. There would be no going back and asking for forgiveness by either party. They built a wall between them physically and emotionally. That was what Jacob was expecting with Esau. But Esau tore down the wall that had been between them. I wonder if a new one was erected when Jacob never showed up. Did Esau get angry or sad over his brother not trusting him? Did he reconcile himself to the truth that it was better not to try and put such a great number of people's together?
Father God, what did Jacob and Esau miss out on later in life as separated brothers? We know YOU called Israel to be separate from the rest of the world. Was this Your plan that the brothers not reunite completely? It's just hard for me to see families not together. But then there are elements of my family that are better loved from a distance. Thank You for that love AND that distance. Is this how Jacob and Esau came to view their relationship? Did they even visit one another occasionally? We know they would later reunite to bury their father. At least they did that together.
Thank You for forgiveness. Even though I don't deserve it and don't know how to give it as fully as You do. I WILL continue practicing it though and trusting YOU to do the work in me that makes it complete. This is something You demand of me. And I want with my whole heart to follow Your will in this. Help me Lord to emulate You. To forgive FULLY. Even before the other person repents; like Esau did with Jacob. Thank You for this example.