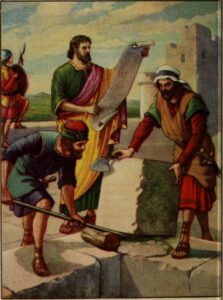 Nehemiah revealed his plans to the people and they are all on board. They work with all their might and get it half done before the neighbors become a problem.
Word has gotten out that the Jews are actually making progress on rebuilding the walls of Jerusalem. We left them last time as they were at the beginning of the project. Sanballat was already making noise and brought a few friends along to help him. Today he steps up his game because his earlier efforts had no effect. Let's join in the construction crew and see how they are doing now.
♥ ♦ ♥
Returnees have been flowing into the city for days. Everyone wants to help in rebuilding the wall for the city of God. As soon as another group arrives, Nehemiah assigns them to a section of the wall to work on. He doesn't waste a minute or an able pair of hands. There are even children laboring alongside their parents. The pride in their faces as they gather the smaller stones and put them in heaps. THEY are building God's city! And they know it well.
Nehemiah moves between the groups making certain they have all the tools they need for the task, answering any questions, encouraging especially the children, and making sure the task is being done properly.
The people working on the wall are not architects. Most have little building skill beyond what is used in everyday farm life. Nehemiah ensures that those who are skilled in such things circulate and teach. The people are eager to learn and are making good progress.
Sanballat is so worried about the progress that the people are making that he doubles his efforts to stop them. He made camp a stone's throw away from the boarder of Judah so he could be close to the action in case he needed to act fast. He has spies that keep him up to date and also carry messages to his allies. Several of them have been summoned to join him in his camp.
Today's report just came in and it has him seeing red!
The chief spy was also a captain of Samaria's army. He reported his findings. "Master, the Jews are approaching closing the gaps and the wall is nearly half the height of a man. And they are showing no signs of slowing."
Sanballat slams his fists on the arms of his chair and propels himself from it. The captain takes a step back in surprise. Sanballat starts pacing. "We are going to see this for ourselves. Ready my chariot!"
Sanballat and Tobiah move within sight of the city of Jerusalem. They are accompanied by a small contingent of Samaritan soldiers. Sanballat spies Nehemiah as he moves among the people. He has an idea but it will take getting within hearing distance of the city and its laborers.
Once they are close enough for the Jews to clearly hear him, Samballat puts his idea in motion. In a voice dripping contempt he spews his disdain of the people of Israel
"What are these feeble Jews doing?" he roars. "Will they restore it for themselves? Will they sacrifice? Will they finish up in a day? Will they revive the stones out of the heaps of rubbish and burned ones at that" (verse 2b).
Emboldened by Sanballat's words, Tobiah throws out taunts of his own. "Yes, what they are building – if a fox goes up on it he will break down their stone wall!" (verse 3b).
The men looking on had a good laugh at Tobiah's words.
Nehemiah most certainly could hear the taunts of the neighbors. He wanted to respond to them in kind but he chose a different path. He took his case to the Lord. In a voice loud enough for his people, those near him at the time, he called out to the Lord.
"Hear, O our God, for we are despised. Turn back their taunt on their own heads and give them up to be plundered in a land where they are captives. Do not cover their guilt, and let not their sin be blotted out from Your sight, for they have provoked You to anger in the presence of the builders" ( verses 4-5).
The people nearest to Nehemiah took comfort in his words. They passed his words onto those laboring next to them. Nehemiah's prayer spread from group to group along the wall until all had heard the words he had prayed on their behalf. His prayer revived their spirits and spurred them on. They continued building, increasing in their speed and ignoring Sanballat and those he brought with him. By the time night fell the wall was joined together and half of its original height.
Sanballat stormed back to his camp after seeing that his taunts were having the opposite effect he intended. He summoned the leaders of the Arabs and the Ammonites and the Ashdodites. Once they all were assembled Sanballat laid out his newest plan.
"Taunting the Jews is NOT having the desired effect. They seem more determined than ever to build that accursed wall. It's time we took direct action. I propose that we attack them directly. We can do this by both sneaking in and causing confusion among the people and directly attacking where they are the strongest. This will show them the utter hopelessness of their undertaking."
"We could do it in waves" offered the Arab commander. "It would wear them down without taxing all of our resources."
They all agreed that this was a good plan. They were going to implement it the following night, starting with the soldiers of Samaria.
Sanballet wasn't the only one who had spies. Nehemiah had sent a small group of men out to see what Sanballed was up to. They were able to get close enough to overhear the discussion through the walls of the tent. Nehemiah needed this information right away!
The spies returned with the bad news. Nehemiah called the elders together to share the report.
"Sanballet and those who follow him have decided to try and stop us by force from building the walls of the city of our God. As surely as the Lord our God could not be stopped by the whole of Pharaoh's army, He cannot be stopped by Sanballet and those who follow him. We are laboring for the Lord our God. He will protect us against them. And we will do our part by being vigilant. We need to set guards. To be ready at all times. 'Do not be afraid of them. Remember the Lord, who is great and awesome, and fight for your brothers, your sons, your daughters, your wives, and your homes' (verse 14b)."
As the people readied for battle the news leaked into the countryside and the people who had stayed in the villages began calling out for the workers to return to their homes. Nehemiah met their envoys every time one was sent. He convinced them that the people had a better chance if they stayed where they were, together as one.
Nehemiah organized the people and put them just inside the walls. They slept together in clans, protecting one another during the night and working on the wall during the day. They were ready for whatever the enemy could throw at them as they were one people trusting in their God with all their hearts.
(to be continued)
♥ ♦ ♥
I'm going to admit that I'm a bit confused with Nehemiah's timeline. I'm not sure how the two sections dealing with Sanballat fit together. Did he leave and come back? Was it all one long protracted visit? When did he get the other groups involved? Was it before the wall was half done or after? How did he really find out about the others planning an attack?
I can understand the people who didn't come to work on the wall being afraid for their relatives. Why didn't they come? Were they not interested in doing the work or were they keeping the home fires burning while the others were away? Why didn't they trust in God to take care of their workers? Did Nehemiah have to sit them down and have a talk with them, like he did with the those inside the wall?
Nehemiah didn't just encourage the leaders. He spoke his words to "the rest of the people" (verse 14b) as well. He built them all up. Together they would trust in their God. Sometimes it takes knowing you have someone standing with you in prayer for your faith to be strong. I know it does for me.
I KNOW God hears my prayers but I wonder if sometimes my requests are 'stuck in the que'. I'm only one voice in a sea of voices calling out. When I have a need that is urgent I often call upon my family to join me in prayer. With so many voices calling out for the same need it feels like God can't help but hear. Jesus tells us Himself in Matthew 18:19 that God pays close attention when two or more agree in prayer. Jesus says that He is actually there with them when they are gathered in His name.
Two examples jumped to the front of my mind. The opening scene of It's a Wonderful Life and Horton Hears a Who. Both are examples of the whole group coming together as one to address a special need. In the first one everyone is praying so fervently for George Baily that it gets God's undivided attention. In the second example one small voice is missing from the whole and their pleas can't be heard without it. Only when ALL join together are they saved from the fire.
Father God, I KNOW You hear me, even when I am alone. But I also know that You use others standing with me to strengthen me in my prayers. Thank You for those who will stand with me in times of trouble. Help me be better at standing with them. Don't let my words of support be only that. Let me lend my heart and faith as they have lent me theirs. Together we are stronger than we could ever be alone. Thank You that I am NOT alone!