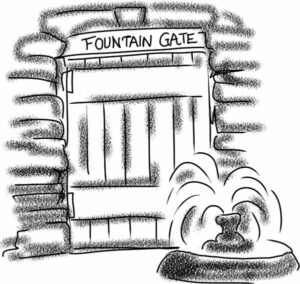 Today we see a list of duty assignments along the wall. Everyone who helped gets mentioned. And there were a LOT of helpers!
I have skimmed through this list a few times while I was trying to find mention of other things. I haven't sat down and dissected it or even really read each name, yet. I'm doing that now. I am as excited to be reading this as I am about reading the lists of genealogy. Any who have spent any time with me know I don't enjoy genealogy so that tells you how I feel about going through this list. BUT God tells us that EVERY WORD of His words are important so let's see where He takes us today.
Ok. I have finished reading the whole list and entering the data into an Excel spreadsheet. It helps me organize the information, sometimes. So here are some of the conclusions doing this brought me.
There were at least five different people or people groups who did more than one section of the wall.
Five men are identified by name and worked on the wall opposite their homes. The priests worked on the walls opposite their chambers too.
The priests and one of the five men listed fit into both the two groups listed above.
Seven rulers are listed as having actually put their hand to the task of building too. Hashabiah, the ruler of half the district of Keilah, is said to have repaired for his district. I don't know if this means that his people didn't help and he did it all alone or if he put in more personal work than any of the other six listed.
The Tekoites repaired two sections but their nobles refused to help at all.
Hanun and inhabitants of Zanoah appear to have done the longest single stretch of the wall at 1,000 cubits from the Valley Gate to the Dung Gate.
There is no single picture that definitively shows us the wall that Nehemiah rebuilt. I found three vastly different, in shape, pictures that are put forth to represent the wall in Nehemiah's time. Scholars are split on which of probably many different configurations would be accurate. I am including the three I found most detailed and linking them to where I found them.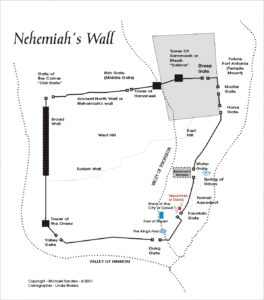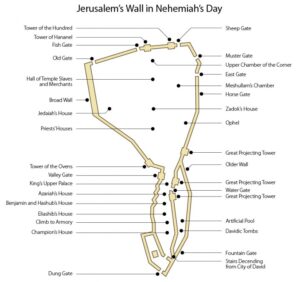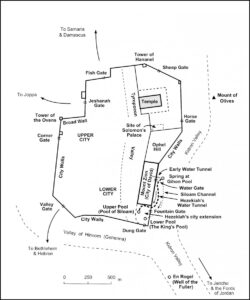 After all this analyzing what can I take away from today's reading? As I began asking myself this question the first thing that popped into my spirit was this: The people who worked on the wall came from many different places. Some traveled from far away while others lived and worked within the very walls they were reconstructing. They came from every walk of life, from leaders to simple merchants to those just wanting to lend a hand. Some did only the portion that directly benefitted them or was important to them while others picked up the slack by doing double duty. But for every person who did come there were probably as many, or more, who didn't lift a finger.
This holds true in the church today. There are those who give everything they can and more. They see a need and respond. They lead worship, drive the bus, organize the potlucks, provide care in the nursery, and even clean the toilets because they desire to serve their Lord in whatever fashion they can. Then there are others who fill the pews and benefit from everyone else's service without having to lift a finger to make it all happen. Nehemiah's wall went up in 52 days under some very unusual circumstances. Can you imagine how quickly the work would have been done if EVERYONE pitched in somewhere somehow? And how much more we would each receive from serving somewhere and somehow in the Body of Christ.
Something else that was spoken to my spirit concerning this issue is the attitude of service. When we 'serve to be seen' instead of serve because we see a need there is a BIG difference in the outcome and the reward. Jesus said that the Pharisees that stood making long prayers and 'serving' people for the purpose of being seen have already gotten their reward. Those who serve for the sake of being of service to God will have to wait until they reach Heaven to receive their greatest reward. The recognition of those around you is not your only reward when you serve the Lord with the right motives.
My take away is: Don't sit on the sidelines and wait for someone else to do the things that need done. Be part of the process. BUT do it because you love the Lord and want to serve Him in whatever capacity you can.
Father God, I want to be part of the solution to the needs of Your people. I want to serve wherever You need me. And I want to have a right heart in whatever I do. Thank You for speaking to me even from a list of who did what. You are ALWAYS faithful!