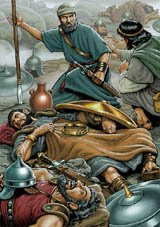 Saul had left David alone after David spared his life. The men from Ziph come to him again with news of David's whereabouts and he can't resist. Fortunately David can resist; resist killing Saul in his sleep.
I would like to know truthfully what this group of people have against David. This is the second time they come to him with David's precise location. Was it a vendetta against David or an extreme loyalty to Saul. I'm inclined to believe it is the first rather than the second. In the story were we previously encountered them I made it about David. I'm going to stick with that for continuity sake. So let's see where the Spirit takes our story today.
♥ ♦ ♥
David and his followers have enjoyed relative peace. They have been able to stay in one general area for a considerable length of time. They moved around a bit due to available pasture land for their animals but they weren't on the run from Saul. David and his men were also engaged in small skirmishes with raiding parties who tried to encroach on the people of Judah. It was a good life but a precarious one.
David didn't trust that Saul would stay away. He kept an ever watchful eye towards the north. David had seen firsthand how Saul's moods could shift with the wind. He was never more than a few steps behind David so David was always listening for the sounds of his army's marching feet.
While David and his followers were enjoying their respite from Saul another group was not. This is the same group who caused David problems the last time he was in the area. This time it took them a bit longer to work up the courage to go against David again. Their last encounter had ended in less than satisfactory results. They hoped this time would be different. The group is the one from Ziph led by Philip.
David's actions are continuing to take a toll on Philip's enterprise. He needs a permanent solution. If it wasn't for the Philistines invading Israel they might have gotten one last time. When David left for the strongholds of Engedi Philip hoped he had seen the last of him. Now that David is back things are going downhill fast, again. Philip screws up the courage to seek help from Saul again.
Philip has to be extra careful because David may have learned of his part in Saul's appearance. Philips men had been careless by letting David's sentries know of their presence. In their capture they may have informed David as to who it was that had set them on him. Philip didn't want David knowing whose hand was behind all this.
Philip called a meeting again with his partners and they agreed that notifying Saul of David's whereabouts was their best option. Some had heard that Saul no longer pursued David but Philip was convinced that given the opportunity Saul would rise to the occasion.
The group set out for Gilgal using the same ruse of taking items to market that they had used last time. They didn't use spies this time to watch David since he had been a fixture in this area for a while. They assumed he wasn't planning on leaving any time soon.
Philip and his group reach Gilead easily and bring their plea to the guards.
"We have news of David's location for the king."
The guards all knew that Saul had stopped pursuing David but thought Saul would probably want this information anyway. Philip and his group were led to an entryway near the throne room and told to wait.
"I will see if the king wishes to entertain your presence."
The guard quickly stepped through the door of the throne room and closed the door behind him. He waited to be acknowledged by the king before speaking.
"Speak my loyal servant. What troubles your mind?" asks Saul.
"Men have come from Ziph again. They have news of David's whereabouts. I did not know if you still sought this information after our last encounter with him."
"Of Course I Seek It!" roared Saul. "Bring them to me at once!"
"As you wish my lord." The guard bowed in respect then backed out of the door.
"The king will see you now."
Philip and his group strode proudly into the king's throne room. At least they waited to be addressed.
"You have news of David. Speak and let me learn of it."
Philip again spoke for the group.
"Is not David hiding himself on the hill of Hachilah, which is on the east of Jeshimon?" (verse 2).
"Guard!" bellowed Saul. He stood to his feet as they entered.
Philip and his partners were startled by the suddenness of the king so they retreated to the side of the room. Saul's guard came rushing in before the sound even reached the corners of the room.
"What is your desire my lord?" called the lead guard.
"Assemble my chosen troops! We march within the hour. We have David at long last." With this said he fell back into his chair. He sat there for several minutes before getting up to join in the pursuit.
Philip and his crew seemed to have faded into the background. They neither spoke nor moved until Saul strode from the room. While they waited their faces all wore identical evil gleams. They weren't tasked with leading Saul and his forces to David this time. Nor had they been told to go back an make certain of their information.
All during the relative quiet time David has been experiencing he had also been making plans. He had decided that if Saul took up the hunt again, he was going to end it by removing himself from Saul's reach. He had decided to go to the Philistines for refuge IF forced to. He was praying that day would not come. He was prepared none the less.
Saul leaves Gilead with his 3,000 best soldiers. He marches them hard. He wants to get to David before he has a chance to escape again. He is tired of the chase and wants it to end. Even with the forced marching it still takes two days to reach the area where David is said to be.
They make the hill of Hachilah late in the evening on their second day. At first light they begin a diligent search of the hill and found evidence of David's camp by the end of the day but David has already departed this hilltop. Before nightfall Saul and his men turn toward the wilderness of Ziph and set out their camp for the night. They will begin searching the wilderness at first light. They will turn over every rock and shake every bush if they have to. If David is here he won't get escape them again.
Abner is determined that David also not get a second chance at Saul's life. David showed mercy once but Abner isn't counting on a second act. Each night Saul is placed in the center of the camp. Soldiers surround him on all sides. They are arrayed in the pattern of a wheel with its spokes and rims for strength. The supply wagons are also set in a perimeter around Saul's inner circle where he is finally surrounded by his choicest generals. He is safe in their charge.
David was alerted to Saul's presence when he neared the wilderness David was occupying. The sentries had done well in sighting him.
"Watch and see where he goes. Take two runners with you so one can be available at all times to bring word if he turns our way. I will prepare the people to move."
The sentry and his runners slip back through the cover of the hills to keep eyes on Saul. They are much relieved as they see Saul turn to the hill of Hachilah. They had been there less than a fortnight ago. He is too close for comfort. One runner returns to David to tell of their current position and number. The second runner and the sentry watch through the night as Saul makes camp. They remain at their post throughout the day as Saul's men search the hill. Saul's men had come upon David's group's previous campsite. Both observers breathe a deep sigh of relief for having left this area some time ago. Their fear returns as they see Saul making his way into the valley where they currently lay. Saul's decision to make camp for the night gives David's men a little more time.
David has been readying the camp throughout the first day. He is pleased with Saul's direction of search but troubled by his numbers. David has also sent supplies back to his sentry through the first runner. He has to know if they turn towards him and his people.
"He is like a dog with a bone and I am that bone" thinks David. He needs to see what he can do to turn Saul's hand again. The Lord allowed him to do so once. Perhaps He will do so again.
The second runner returns with news of Saul's new camp location. "They spent all day searching the hill of Hachilah. They moved down off the mountain just before nightfall and have set camp. As I left they were setting sentries and placed Saul in the center of the camp."
This is too close for David's comfort. It is time for his people to move. He cannot risk their lives. He assembles several of his best men. Among them are Joab, Ahimelech the Hittite, and Joab's brother Abishaia.
"Joab, you will lead the people away during the night. I will stay and visit Saul's encampment. 'Who will go down with me into the camp of Saul?' (verse 6b)".
Abishai quickly offered himself. "I will go down with your" (verse 6c).
As David's camp quietly made their way south, David and Abishai made their way to Saul's camp. They approach their sentry and his runner.
"Return and help with moving the people south. We will join you shortly" orders David.
Both groups of men part company in different directions. David's on his way to Saul and the sentry's on his way to safety. As David and Abishai near the camp they notice that it is unusually quiet. There are no men conversing by the fire. They don't see any patrols either. They watch for a little while.
"There!" whispers David as he points "There is where Saul lies. That is our destination for the night."
Abishai nods in agreement. They stay in place a little longer to assess guard movement and watch transfer. It doesn't take long for them to realize that no one is moving in Saul's camp. All appear to be sleeping. Quietly David and Abishai move into the camp, careful not to disturb any of the sleeping soldiers.
David and Abishai reach the center of Saul's camp where they gaze directly on his sleeping form. At his head stands his spear, stuck into the ground, ready for him to rise and grab it at a moment's notice. Abner and his commanders lay around him. Abishai's eyes are alight with excitement. He whisper's to David; "God has given your enemy into your hand this day. Now please let me pin him to the earth with one stroke of the spear, and I will not strike him twice" (verse 8). As he spoke he reached out his hand towards Saul's spear.
David took hold of his writs and held it fast. "Do not destroy him, for who can put out his hand against the Lord's anointed and be guiltless?" (verse 9).
Abishai did not resist David's grip. He would follow David's command, even if he didn't agree with them.
David shared his heart with Abishai. "As the Lord lives, the Lord will strike him, or his day will come to die, or he will go down into battle and perish. The Lord forbid that I should put out my hand against the Lord's anointed. But take now the spear that is at his head and the jar of water, and let us go" (verses 10-11).
David pulled Saul's spear from the ground and picked up the earthenware jug that rested beside it. With these trophies they made their way back out of Saul's camp. No one saw them or even knew of it for they were all sleeping. "A deep sleep from the Lord had fallen upon them" (verse 12b).
David and Abishai didn't stop until they had put a great distance between themselves and Saul's camp. They stood together on a hill overlooking Saul's men. When morning broke Abishai stood sentry as David began to call out.
"Wake up men of Saul. Rise Abner."
When no one answered him he called out again. "Will you not answer, Abner?" (verse 14b).
Abner shot to his feet, alert and ready to address the intruder who had roused him. "Who are you who calls to the king?" (verse 14c).
David called back to him; "Are you not a man? Who is like you in Israel? Why then have you not kept watch over your lord the king? For one of the people came in to destroy the king your lord" (verse 15).
Anger burned within Abner. Anger at himself and anger at the one taunting him. He had been sleeping but his king is here with him, safe.
David continued. "This thing that you have done is not good. As the Lord lives, you deserve to die, because you have not kept watch over your lord, the Lord's anointed" (verse 16a).
David pauses to let the depth of Abner's failure register. He should have kept watch. David's next words strike fear in Abner and Saul's hearts.
David holds up two items. "And now see where the king's spear is and the jar of water that was at his head" (verse 16b).
Abner quickly looks around him and doesn't see these personal items that he KNEW were there when Saul laid down to sleep in the night.
Saul finally speaks. He has recognized David's voice. "Is this your voice, my son David?" (verse 17b).
David answers without hesitation; "It is my voice, my lord, O king." After  pause he continues to the heart of the matter. "Why does my lord pursue after his servant? For what have I done" What evil is on my hands? Now therefore kept my lord the king hear the words of his servant, if it is the Lord who stirred you up against me, may he accept an offering, but if it is men, may they be cursed before the Lord, for they have driven me out this day that I should have no share in heritage of the Lord, saying, 'Go, serve other gods.' Now therefore, let not my blood fall to the earth away from the presence of the Lord, for the king of Israel has come out to seek a single flea like one who hunts a partridge in the mountains" (verses17b- 20).
Saul's heart was torn once again. "I have sinned. Return, my son David, for I will no more do you harm, because my life was precious in your eyes this day. Behold, I have acted foolishly, and have made a great mistake" (verse 21).
David believed Saul's words of repentance but he would not return to him. Instead he held out Saul's spear towards him. "Here is the spear, O king! Let one of the young men come over and take it. The Lord rewards every man for his righteousness and his faithfulness, for the Lord gave you into my hand today, and I would not put out my hand against the Lord's anointed. Behold, as your life was precious this day in my sight, so may my life be precious in the sight of the Lord, and may He deliver me out of all tribulation" (verses 22-24).
In a loud voice for all to hear Saul called out to David again; "Blessed be you, my son David! You will do many things and will succeed in them" (verse 25a).
One of Saul's men walked to where he and Abishai stood. David put in his hand the king's spear and water jug. The man departed from him without a single challenge. Saul ordered his men to break camp.
David and Abishai watched as Saul and his men made their way out of the wilderness of Ziph. Once they were out of sight David and Abishai turned their faces to the south. They would rejoin their families. David was ready to put his words to Saul into action.
(to be continued)
♥ ♦ ♥
Why did Saul decide to go back out after David? Was he brooding about letting David go and just needed something to push him over the edge? I LOVE how God gives David a chance to give Saul a 'refresher course' in relationships. We don't hear of Saul chasing after David again but David didn't trust him to keep his word. He will take drastic measures to ensure his safety until God deals with Saul permanently.
Father God, You watched over David so carefully. Your care didn't keep him from having to go through trouble. He walked through each of them only by holding fast to You. That is the only way I make it through my life. I know my trials pale in comparison to his but they challenge me. Thank You for keeping me safe in them. Thank You for growing me, no matter how hard some of the steps may have been.