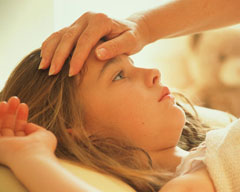 Matthew is an abbreviated story teller. Mark and Luke go into more detail in their accounts of this story. Matthew, Mark and Luke tell this story with the story of the woman with the issue of blood sandwiched in the middle of the story of Jairus' encounter with Jesus. Those two stories are linked forever chronologically, in our minds, and spiritually to some extent. I would like to separate them for our study though. I want to put us in the picture again, like we did with Matthew's first meeting with Jesus. Also, since Matthew was a "get to the heart of the matter" story teller, I will be bringing in details from Mark and Luke's recollections. I'm going to take the liberty of naming Jairus' wife Anna and his daughter Rebecca. This will make telling the story, and reading it, much easier.
Early in the morning Anna hears a sound coming from Rebecca's room. Anna goes in to find Rebecca moving about in her bed. Anna believes Rebecca is having a bad dream. Anna sits down on the side of the bed and puts a hand on Rebecca's arm to calm her and gently wake her from her sleep. Anna notices that Rebecca's arm is very warm. Anna speaks softly to Rebecca to try and wake her. Rebecca responds with a moan and attempts to open her eyes. Anna is now a bit anxious as she reaches for Rebecca's forehead. Rebecca is burning up with fever! As a mother, Anna has dealt with fevers before but this one is very high. She calls out quickly for the servant to bring her cool water and some cloths. Moments later the servant girl appears carrying the requested items. Anna begins attempting to bring Rebecca's fever down.
Jairus comes to his daughter's room because he heard the urgency in Anna's voice as she called for the servant girl. Anna apprises him of Rebecca's condition and tells him that she will let him know if there is any change. She is confidant she will be able to handle the situation. No one else in town is sick, so it is probably just a very bad summer cold. Anna convinces Jairus to go on about his duties.
Jairus goes to the Synagogue where he serves as one of the rulers. (In my story he acts as a judge who is tasked with hearing disputes brought before him each day.) He is a little distracted this morning and occasionally asks questions he should have already known the answer to. Jairus is a good judge, so even with the distraction of his only daughter being sick, he ensures he makes fair and just rulings in each case. By the noon day recess he is exhausted. He sends his assistant to his home to find out how Rebecca is doing. His assistant hurries back and reports that things have gotten much worse and he is needed at home. Jairus runs home, outpacing even his assistant, and arrives to find a frazzled Anna and an unnaturally still Rebecca. Anna is nearly frantic with worry.
Jairus starts thinking about all the stories he has heard recently about Jesus. The Pharisees have been beside themselves trying to quash all the talk of His healing power. Should Jairus approach Jesus and ask for His help? He debates within himself a little longer until a sound catches he ear. It is Rebecca and her breathing has become labored! He HAS to do something. His little girl is near death!
Jairus runs back to the synagogue and ask if anyone has seen Jesus around today or heard where He might be. One of the Pharisees tells him that he saw Jesus just a little bit ago down by the sea. Jairus grabs the hem of his tunic and takes of running. As he approaches where Jesus is, he slows down a bit because he is out of breath. Jesus is in the middle of a huge crowd. Jairus pushes his way through the throng of people until he gets close to Jesus. Jesus is actually busy talking to a few other men. Jairus feels a little guilty interrupting like this but he has no time to lose. He falls at Jesus feet in tears. Please Jesus, I need Your help. My precious daughter is very sick. She is at death's door. PLEASE come and heal her!
Jesus sees this father's heart breaking and agrees to go with him. There is a huge crowd surrounding and following Jesus, so getting back to Jairus' house is taking a lot longer than getting here did. But Jesus' demeanor and presence alone has calmed Jairus' fears.
About half way through the city Jesus stops and asks who touched Him. Jesus starts talking with a woman from the crowd but Jairus isn't paying attention to what is going on. He is focused on someone he recognizes pushing his way through the crowd. This is Jairus' personal servant. What's going on? When the servant finally gets to Jairus' side, he looks at Jairus with tears in his eyes. The servant bows his head and tells Jairus that it's too late. Don't bother the teacher any more. Your daughter is dead now. Jesus hears this statement and speaks directly to Jairus. "Do not fear, only believe" (Mark 5:36).
Jesus tells the crowd that He needs to be alone. Miraculously the crowd disperses. Maybe the disciples who were left behind with the crowd kept them from following Jesus and His small band. In dismissing the crowd Jesus also removed Jairus from anyone who could have been speaking doubt into his heart. Jesus, Peter, James, John and Jairus complete the journey to Jairus' home alone. The mourners can be heard from a block away.
When Jesus, Jairus and Jesus small group get to the home Jesus does the strangest thing. He asks the mourners why they are making all this fuss for a girl who is just sleeping. The mourners think Jesus is crazy and they laugh at Him. Jesus brings Anna into the small group He has created and they go into Rebecca's room and shut the door.
Jesus quietly sits down on the side of Rebecca's bed and takes her hand. He tells her to get up. He doesn't yell. He doesn't make some big production. He simply says, "Little girl, I say to you arise" (Mark 5:41). And she does. She gets up and walks over to her mother and father. They hug her as tight as they can. Jesus leaves them with two instructions: 1) get Rebecca something to eat and 2) don't tell anyone about this. Jesus then leaves the home with His disciples. He passed right by the mourners and heads back to His own town.
Jairus and Anna bring Rebecca to the kitchen to get her something to eat as Jesus has instructed. The servants see her and nearly fall over! Jairus, heeding Jesus' instructions says, "I guess she really was only asleep after all." Anna asks the servant to send the mourners away as they were not needed after all. When the servant goes outside to dismiss the mourners there is a lot of discussion about what just happened. "I know she was dead because I touched her hand and it was as cold as a fish!" "My master said she was just sleeping." "I pronounced her dead myself", said the doctor. Everyone disperses as requested but this discussion did NOT end there. People heard about it far and wide.
Jesus, first off, thank You for caring for this little family. This was their only child. She was precious in their eyes. You saw her father's anguish and responded to his need. You even protected him from doubt by removing him from the presence of those who would try to influence him. You surrounded him with faith! It is so easy to be swayed by the voices around us. You didn't let that happen. I wonder how many miracles I have choked in the process of being delivered by listening to other voices, especially the one in my own head. I know You can do miracles in spite of our doubts, after all You dealt with Gideon and his fleece. I think my constant prayer needs to be, "Lord I believe, please help my unbelief."
Second, I think it is interesting how You often told people NOT to tell anyone what happened. I don't know if it was a crowd control measure or humility or what but it didn't seem to stop the spread of the story. Something that amazing happening right by you, somebody is going to let it slip. Once it is out there, it can't help but spread like wildfire. I think it was pretty cleaver of You to set up the confusion and doubt in this story by telling the mourners, even before You healed the little girl, that she was just sleeping. Plausible deniability for her father. I'm glad You don't ask me to keep quiet about the amazing things You do in my life. In fact, I think sometimes I err on the too quiet side regarding Your work in my life. Maybe this blog is how You are addressing that issue in me.