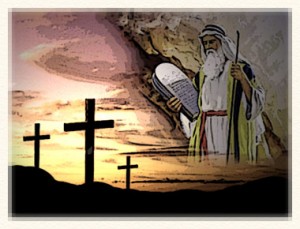 We discussed the issue of fasting while Jesus was teaching on the mountain top, but we are brought back to it again by John's disciples' questions. John was in prison when his disciples approached Jesus. They had been watching Jesus and His disciples. I'm not certain where Jesus was when He was approached at this point. Could we still be at Matthew's house? It would make sense because Jesus and His disciples were eating and that may have triggered the question.
John's disciples were comparing the differences in behaviors and practices between themselves, the Pharisees and Jesus' disciples. There were probably a lot more differences than just fasting, but this was their focus for this interaction. Fortunately Jesus wouldn't leave it there.
John's life demonstrated a long term partial fast. He ate only locust and wild honey. I'm going to assume his prolonged fast was to help him stay in tune with God and God's plans for his life. When men decided to follow John and become his disciple, did they adopt his fasting life style? I'm further going to assume that when John was placed in prison his disciples stepped up their fasting in order to make their petitions weightier before God.
The Pharisees had one fast a year that was commanded under the law. I don't know if they practiced other fasts. I think they probably did, because Jesus talks about their behavior during times of fasting. Also once a year occurrence probably wouldn't rise to the distinction of a practice of fasting noticed by John's disciples. We also know that the Pharisees like to be seen fasting, as it brought them recognition for how "holy" they were.
When addressing John's disciples question Jesus also answered the real question being asked. Not why do we engage in a practice You don't but WHY do we practice it at all. Fasting was/is a form of mourning. Mourning for the missing relationship. John's disciples were missing John's presence. The Pharisees were missing true relationship with God. They may not have understood their lack but Jesus did. Jesus told them that He was the fulfillment of the relationship for His disciples and therefore fasting was not appropriate at that time. He also foretold of a time to come when that face to face relationship would be interrupted and fasting would be practices by His disciples too.
Because Jesus knew the paradigm shift that was happening, He changed the focus of His answer. He used two illustrations to emphasize His point. I wonder how long it took before they understood the underlying meaning. I'm sure I don't understand it fully either but this is what I do know. Both His examples illustrated that the old had to be completely replaced by the new and that they could not coexist together. We know He was speaking of the old covenant under the law and His new covenant of grace.
Jesus doesn't say that there won't be any behaviors or practices these two covenants have in common but that the very foundation for these will be different. The first is based on waiting for a promised relationship and the second is based on the fulfillment of the original promise. Thank God His promise is fulfilled! I know I couldn't make it under the law!
Fasting is no longer a commandment we are required to keep but it didn't disappear either. Jesus Himself said His disciples would fast after He was gone. The difference is that our decision to fast should be based on mourning triggered by our recognition of relationship lows we have with Jesus rather than mourning its absence altogether. Jesus may not be with us in the flesh but His Spirit is to dwell within us. So we have an ongoing daily relationship with Him. Unfortunately we also have the ability to neglect that relationship and weaken its impact on our lives and our behaviors. Close friends growing apart because of distance. Our modern technological solution for this includes phone calls, Facebook and emails. Jesus' solution is reading His words, prayer and even fasting.
Father God, the one time I engaged in fasting was for the wrong reason. I was seeking to curry favor with You and have You move on my behalf. I realize there have been multiple times when I should have engaged in fasting by using the relationship model You shared today. I have realized many times that my relationship with You was not what it used to be or even what it should be. I mourned that loss again and again. I didn't have the understanding then about the reasons for fasting that You have given me today. Thank You for mending our relationship even without this process. You also know my relationship with food and how this could have easily been corrupted in my mind. God, I don't want to ever experience that deep emptiness again, but if (when) I do, remind me of Your tools for dealing with mourning. Strengthen my relationship with You every day to keep me from that empty place. Thank You for bringing me back to You every time. It is never You that moves away or turns around. All I need to do is turn back around and see that You were and are standing right beside me all along. I just didn't see You because I wasn't looking. I was busy looking at something else. Thank You for every time You tapped me on the shoulder or cleared Your throat to get my attention. I want to always be looking right into Your loving eyes.