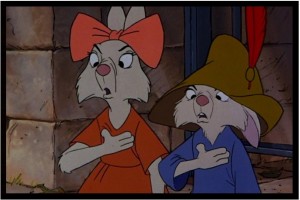 "Spiders, snakes, nor lizard heads; if I tattle tale I'll die till I'm dead." This was the oath Toby (the little turtle) had to swear to Skippy and his sisters (the rabbit children) in Disney's Robbin Hood movie. Even children recognize the importance of a promise or an oath.
I was all set to argue the difference between a promise and an oath with regard to Jesus' teaching today. I had already written a page and a half of this very concept, but was struggling within myself as to how that fit with what Jesus was saying. Then I received a different picture of what Jesus was saying. I don't believe Jesus was distinguishing between swearing to something through an oath and making a promise. I believe He was instead, addressing the character and authority of the ones making the oaths or promises.
Jesus started His teaching by stating what had been the norm up until then. In Jewish society, it was common practice to make oaths. Making oaths involved making a promise, then swearing by something of higher value or authority than oneself as proof that the promise would be fulfilled. When affixing the higher authority's name to the promise, it was meant to provide the Promisee (one receiving the promise) a greater measure of certainty that the promise would be carried out, and to put to rest any doubts about the seriousness with which the Promisor was entering into the bargain.
I don't know if they said the word, "I promise" like we often do today. However, the bible does, at times, talk about an exchange of something personal happening during the bargaining process to make a promise binding. Examples of this are when: 1) Judah gave "the temple prostitute" (Tamar in disguise) his belt, his staff, and his signet to guarantee that he would pay her with a goat for 'services rendered' (Gen. 38:16-18); 2) Boaz received the sandal from the kinsman redeemer who had the first right to redeem Naomi's property (Ruth. 4:4-10). This exchange gave tangible proof that a bargain had been struck. Did the exchange of a personal article elevate a promise to an oath?
After establishing the current and past norms, Jesus addressed what was wrong with this practice. In His explanation, Jesus clearly points out Who has the authority and who doesn't. Man has never had real control over anything with which to swear by. Jesus says man can't even control the color of his own hair. Man had no authority or right to bring God into his bargains unless God Himself told him to do so.
When God swore an oath, He had the authority to back it up. The first "oath" in the bible is when God sword to Noah, his family "and every living creature" that was with them, that He would never again destroy all "flesh" with a flood (Gen. 9:8-13). God even gave a physical symbol of His promise in the form of the rainbow. Because God's always keeps His word, He really didn't have to make an "oath." But He did it anyway to give us certainty of His meaning. And by giving us something tangible as a symbol, we have a constant reminder of His promise and His faithfulness.
At the end of Jesus' teaching on this issue He stated that a man should simply say, "Yes or no." Anything more than that "comes from evil" (verse 37). This 'simple statement' principal was how God had been communicating with man in the beginning. In the Garden of Eden, when God commanded Adam not to eat from the tree of Knowledge, He simply stated the promise of consequences; death; if Adam ignored His directive (Gen. 2:16-17). God didn't say, "I promise" or any formal statement letting Adam know that it was a guarantee that God would deliver on His word if tested. Adam simply took God at His word.
Satin was the one who called God's promise into question when talking with Eve. Satan's attempt to twist God's word/promise into something else brought evil into the world. Eve bought into Satan's 'new understanding' of God's command/promise and took Adam with her. She doubted God's word, and ultimately His character. By her actions, she doubted He would do, or maybe could do, what He had stated. She found out the hard way that He meant what He said, regardless of her doubts or how Satan twisted His words.
As humans, we will fail. Even when we try our hardest, we cannot guarantee we will fulfill the promises and oaths we take. Also, when you break your word, either willingly or through circumstances beyond your control, your whole character suffers. Any future promises or oaths are called into questions. Trust is broken and it is never the same again. You may be able to repair the relationship and restore a measure of trust but the person will most likely always have doubts floating around.
Jesus' admonition to simply answer yes or no doesn't mean that we are never to enter into an agreement to do something, but that when asked or when answering let your character testify to your trustworthiness. Your daily walk should demonstrate that you can be trusted, and by not swearing an "oath" you demonstrate that you know Who is in charge all along. Let your actions demonstrate that your word is your bond, and let God worry about the rest.
Father God, I so often make promises I have every intention of keeping, but fall short anyway. This daily bible study, I pray, doesn't become one of them. I'm afraid of failing! I just recognized my biggest mistake in even turning our time into a promise, even to myself. I don't have control over tomorrow! I don't even have control over right now. I have been trying so hard to make sure I say the right things, be correct with my answers, and NEVER miss a day. I DON'T HAVE CONTROL! You do. I can guarantee that at some point I will fail; I will miss or mix up the message; I will miss a deadline; and I will say the wrong thing. On my own I will do these things repeatedly. I can't rely on myself to do this. I HAVE to release this time together again, and Again, and AGAIN to You. Please help me do just that every day.
This feels so different that just sitting with my bible and journaling every day. I'm scared I'm not giving You the reigns when I start pulling up definitions and running to other parts of the bible to look things up. I trust that You can and will bring me back to the points You have for ME, even when I'm so busy trying to be wise that I lose myself along the way. Keep this time special for both of us. I'm not the expert and I don't want to pretend to be. Please forgive when I try to sound like one.