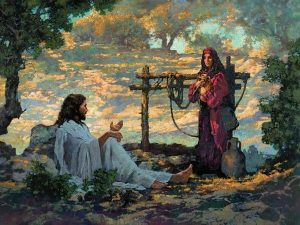 I started to write about this story last night but I got so wrapped up in looking for the book I read on this woman's life that I exhausted my time. I KNOW I have it on my Kindle but can't find it. I would love to recommend it for anyone interested. If I finally find it I will update this post.
So our story tonight is an intimate meeting with Jesus and a woman who felt less than worthy. She was humbled by her circumstances in life to the point that she even went about her daily duties in as much solitude as possible. This was a crushed woman, but Jesus used her to reach her whole town.
The first thing in our story that John points out is that Jesus and His disciples went through Samaria. Most Jews avoided this area like the plague. They considered the Samaritans to be unworthy of their interaction. Jews put themselves above all Gentiles but even more so above Samaritans. Jesus didn't feel this way though and He didn't allow His disciples to behave that way either. Case in point, His disciples were off buying food from the locals while Jesus waited by the well.
The next thing I see is that Jesus was weary and hungry. He was human and had the same kinds of needs we do, but this is the only time I see Him sitting down while His disciples carry on. Surely they were tired too. But none of them stayed behind with Him. Coincidence? I don't think so. I doubt this woman would have approached the well if there had been a group of men sitting there. I wonder if she even saw Jesus before she got to the well.
I truly believe God set up this meeting specially to touch her life. She needed what He had, even though she didn't know it yet. I'm tired of calling her "the woman" so I'm going to give her a name. I'm going to call her Anna.
Anna always waited until evening to go to the well. She was so shamed by her station in life that she only went to the well when no one else would be there. She was too ashamed to be seen by the other woman. It was easier to avoid them than it was to endure their looks and whispers.
As she approached the well this night she thought about waiting for the Man to leave, but she was tired and decided to simply slip in and back out as quickly and quietly as possible. As she got closer she saw that He was Jewish. This made her even more hesitant to approach, but she was nearly out of water. She had no intentions of starting up a conversation with this stranger. Jesus had other intentions.
Jesus approached her on the level she could easily relate to. He didn't try to teach her or confront her about her life. He quietly asked for something He knew she had the ability to give Him.
Anna is shocked by Jesus' request. First of all He is talking to her. Secondly He is asking her to do something personal for Him. She doesn't say "Who do You think You are intruding on my time", but "You must not know who I am. I'm the last person You would ever want to even associate with."
But Jesus did know who she was. He knew everything about her. When He told her to go get her husband He was about to prove it to her. I can hear the shame in her voice as she says she doesn't have a husband. But He didn't leave her with her shame. Instead He quickly took her to awe! "How does He know that?" She quickly acknowledges that Jesus must be a Man of God; a Prophet. She also tells Him that she is eagerly awaiting the Messiah too. She wants to learn of God from Him.
Jesus surprises her once again by telling her that He is the one she is seeking. She is so excited that she runs away without her water jar and goes straight into town. Anna, the woman who avoided others at every turn, now seeks out everyone she can to share the news of Jesus. He changed her life that fast! I almost said that He really hadn't done much at all, but to her it was everything! He asked for her help. He offered her hope. He didn't judge her. And He proved that He cared about her in spite of all her flaws.
Jesus used Anna to reach the whole town. Who else would be so moved by a simple gesture of acceptance? Who, but someone who knows no welcome, could testify to Jesus' unconditional embrace? The town's people knew that something extraordinary must have happened for this woman to come seeking people. They knew her history and how she avoided being a bother to anyone. So what she was sharing must be so remarkable that she would break her own self-imposed isolation to bring them this news. The HAD to go check it out for themselves.
Anna's simple testimony brought the towns' people to Jesus. His teaching did the rest of the work. That's one well trip Anna would NEVER forget. I wonder if she was restored in the town's eyes. I believe Jesus would have made a point to do so in His teachings there.
God meets us at our point of need. He doesn't ask us to clean up first or tell us to go learn and follow a list of rules before interacting with Him. Instead He asks us for the one thing we have the ability to give Him, our heart, in whatever shape they are currently in. Also, like He did with Anna when He asked for a drink of her water and offered His water instead, when He asks for our hearts He offers His to us too. He freely gives us all He has in exchange for the little we bring. "Worthy or not, here I come!"
Lord Jesus, thank You for using "Anna." You showed her Your unconditional love. You knew everything about her, yet chose to ask her for help anyway. You also showed me while thinking about this story how You were able to sneak past her defenses and touch her life. Anna didn't ask for help from anyone. She went about her tasks, simple or hard, on her own. She "bore her own burdens" in solitude. But she didn't refuse Your request for help. She marveled at it, but I'm sure she would have met Your need if You hadn't changed to offering to meet hers instead. I have a hard time asking for help too, but when You present me with an opportunity to help You, I want to jump at it. I do the, "Who, me?" thing like she did too. You used her in a way she never expected. You use EVERY life. There are no worthless or unsuitable people. Thank You God for calling me worthy!