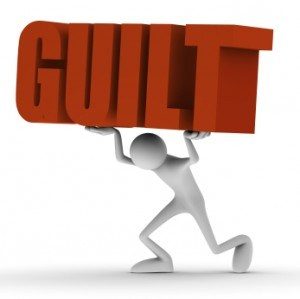 Today we read about Herod and his thoughts about Jesus. This, again, is a familiar story, but Luke doesn't include the history between Herod and John the Baptist. Luke simply uses a quote from Herod concerning how he beheaded.
While reading the above mentioned quote I noticed something. Herod took personal responsibility for beheading John; "John I beheaded" (verse 9a). He didn't say, "John who I had beheaded." I agree with Herod's assuming personal responsibility. His ego got him into trouble which resulted in John's death.
Luke shares with us the prevailing ideas of who Jesus could be, according to the people. Some were saying He was Elijah, some one of the prophets of old risen, and some were saying that John the Baptist had risen from the dead. Matthew tells us that this last idea was the one Herod subscribed to. I believe it was his guilt that led him to that conclusion.
Have you ever done something that you felt guilty over? If you have lived more than a year, I'm betting you have. Have you ever felt so guilty that you KNEW everyone knew about your "crime?" Or so guilty that you knew EVERYONE condemned you for your crime, including God? That was where Herod was. He KNEW he had sinned from the moment it happened. Even before really. He knew for certain that he had sinned he first time John the Baptist confronted him. But after having John beheaded, he was waiting for the ax to fall. He felt so guilty about what he had done that it permeated his life.
Herod had been hearing reports of someone in the area doing great miracles. Does this mean that John the Baptist was doing miracles during his ministry or did Herod think the miracles came from being resurrected? Herod wanted to know more about this Person performing miracles. He wanted to see for himself if it was John.
All three of our authors so far tell us that Herod wanted to see Jesus. But he would have to wait until Jesus' final hours before death to have that happen. Jesus didn't feel the need to appease Herod's curiosity or conscious. Jesus never met with Herod to point out his sins or to perform miracles for his amusement. Herod already had his chance at hearing the gospel and he threw it away. He wasn't going to get another chance from Jesus.
John was Jesus' cousin. Was part of Jesus' refusal to see Herod based on his murder of John? John's death touched Jesus deeply. I know I wouldn't want anything to do with any person who hurt or killed a member of my family. Did Jesus feel this same way or am I putting "words in His mouth?" I'm certain Jesus would have, or maybe did, forgive Herod if he would have repented. He even forgave those who killed Him, without them repenting of their involvement.
So why didn't Jesus go to see Herod? Probably because he wasn't part of God's plan. Israel's religious leaders were the ones Jesus needed to influence as part of God's plan. If Herod had gotten to hear Jesus, would he have stopped the execution? What impact would he have had?
Father God, thank You that You forgive me of my sins when I bring them to You with a repentant heart. I know that the guilt I feel doesn't always leave, even after I've been forgiven by You. Sometimes that is a good thing and sometimes not. Satan gets hold of my guild sometimes and uses it to batter me. The only way to combat his taunting it to keep reminding him of my forgiveness. "When Satan reminds me of my past, I need to remind him of his future." I don't remember where I heard that from but it is exactly what I should be doing. Father, please help me remember this DURING those encounters.
Other times, my guilt is good because it drives me to make right what I have broken. It prompts me to apologize to those I have hurt. It reminds me to NOT engage in that behavior again. Thank You for prompting me to change. This keeps me from having to come for forgiveness as often.
Sometimes the "guilt" I feel is actually "conviction" from the Holy Spirit. This is the most productive kind of "guilt" because it prompts me to make things right with You. Thank You for Your Holy Spirit. Without His presence in my life I would be TOTALLY lost. Help me listen more closely to His urgings every day.