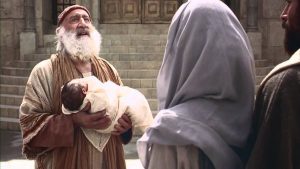 Mary, Joseph and Jesus head to Jerusalem. The family has requirements of the law that have to be fulfilled. Mary, for purification following childbirth, and both parents, have to present Jesus as a gift to the Lord.
According to the law, Mary was unclean following Jesus birth for seven days. On the eighth day Jesus was circumcised. Mary remained "in her purification" process from the eighth day until the thirty third day. She was then required to present herself and an offering at the temple in Jerusalem. The local synagogue was not acceptable for this purpose. The sacrifice she was to bring depended on her financial status. If she could afford it, she was to present a year old lamb for a burnt offering. If she could not afford the lamb, she was to bring either two turtle doves or two pigeons. One bird was for a burnt offering and the other was for a sin offering. Mary brought birds.
According to the law regarding a firstborn son, Jesus had a part to play. It wasn't actually Jesus doing the work or sacrifice but His earthly parents. This sacrifice was related to the plague of the firstborn on Egypt, which resulted in Israel's freedom. The firstborn son of any Israelite is to be "redeemed" by the Lord. God is not telling the parents to surrender the child to Him physically, like Hannah did with Samuel. He is instead requiring that each firstborn son be surrendered spiritually to Him. He will direct their life. He has bought them with a price. That purchase price will be paid in full for all in 33 more years through Jesus' blood.
While at the temple Mary and Joseph have two unique encounters. The first is with Simeon. I noticed from Luke's description that this man was not a priest or of the religious party. He was simply referred to as a "righteous and devout" man. He also had the Holy Spirit upon him. I noticed that the Holy Spirit was not "in him" but "upon him." I'm assuming that this was the same kind of relationship with God that the prophets of old had. God's Spirit rested on them and shared with them the future of Israel and God's directions for the people. Simeon though, wasn't given directions for others but a promise from God for himself. He was told he wouldn't die before meeting "the Lord's Christ" (verse 26).
Simeon was not the least bit surprised to find the Lord's Christ and the future savior of Israel was a baby. He was not perturbed that God's salvation would involve bringing His Son into the world in the form of a human child. He was not fooled by Jesus' "wrapper" one bit. I also noticed that Simeon was only in the temple because of the urging of the Holy Spirit. He was not part of the regular purification and dedication team. So how is it that he got to hold baby Jesus? Did he simply ask Mary if he could hold Jesus? Did he simply reach out and take Him from His mother's arms? Was Jesus lying on some sort of bedding during part of the dedication process and Simeon stepped forward and picked Him up? Or did Simeon have some role to play in the process? I'm thinking that their meeting was away from the religious leaders and trappings. With all that Simeon said to Mary and Joseph, if it was within the hearing of the religious elite they would have been alerted to His presence. They may have tried to intervene earlier in His life.
Their next encounter was with one of the greatest prayer warriors ever mentioned in the bible. This prayer warrior was named Anna. She had been married for seven years. After the death of her husband she came to the temple and she never left. We are not told how old she was when she got married, but she was a young virgin at the time. When she meets Jesus she is eighty four. I'm going to say she spent AT LEAST sixty years in the temple. What did she do all those years? She prayed, worshiped, and fasted NIGHT AND DAY. So this woman was most certainly close to God. She knew when God entered the temple in the form of Jesus. She began giving thanks to God for His salvation that very hour and also started spreading the word that Israel's salvation had arrived.
I wonder what these two precious people of God would have done, had they still been alive, at the time of Jesus' death. Simeon obviously had received knowledge from God that Jesus would indeed be "appointed for the fall and rising of many in Israel" (verse 34). Did he realize that "fall and rising" would come at the cost of Jesus' own blood? Anna knew that Jesus was Israel's redeemer, but did she know the cost of that purchase? Would they have stood by and watched or spoken up?
Regardless of what else these two visitors in Jesus' life were, they were a blessing and a source of wonder to Jesus' parents. What was spoken to Mary and Joseph that day would stick with them for the rest of their lives. We don't get to hear a lot about Joseph and how his duty to his Savior worked itself out in his daily life, but we do hear how Mary "treasured in her heart" all the words of prophecy spoken about and over Jesus. I do not doubt these two proud parents watched their child with eyes of wonder. Wondering how they could possibly have been chosen out of all others on earth. Wondering how they would ever live up to the responsibility of raising the Child of God. Wondering what lay in store for Him. Did they search the scriptures looking for the prophecies He would fulfill or did they simply flow wherever God directed them? Would they look back at times and see fulfilled prophecies throughout Jesus' growing years?
Father God, thank You for the gifts you bestowed on Simeon and Anna. Two ordinary people who had extraordinary relationships with You. You didn't have to share this moment with them, but You chose to anyway. Your "bragging" time. A lot like sharing baby pictures of Your precious child. I can certainly relate to that. I'm sure Mary and Joseph both appreciated every confirmation they received throughout Jesus' life that they were on the right path. I know how difficult it was/is with my kids; praying I was raising them right and not doing too much damage. But to be tasked with raising YOUR Son, the burden of getting it right would have crushed most of us. I wonder if that is why Joseph seems to have died before Jesus began His ministry. Was he weighted down with worry or had he simply finished what You had for him to do and taken him home to allow Jesus to step onto center stage? I pray it was the second.