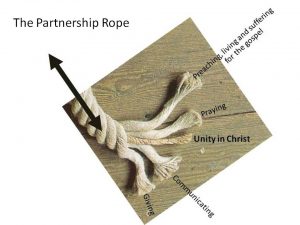 We are starting a new book! We get to read Paul's letter to the Philippian church. This letter is not a corrective letter but one of thanks giving. It is also one of praise for what God has been doing through all that Paul is enduring.
Paul starts off by saying hello from himself and Timothy. I'm assuming the Philippian church is familiar with Timothy because Paul isn't introducing him but conveying his greeting.
Paul also makes a point of addressing all the levels of partakers in this body. He starts with a general greeting to "all the saints in Christ Jesus who are in Philippi" (verse 1) but then specifically mentions the overseers and deacons. This, to me, says that this church is well established and set in order.
The church at Philippi has been a great supporter of Paul, both spiritually and financially. Paul didn't put this burden on them; they chose to take it up willingly. Paul was very grateful for their "partnership" and support. He praised God for them and prayed for them continually. He watched what God was doing in their midst because of their faithfulness and willingness to be used by Him. "And I am sure of this, that He who began a good work in you will bring it to completion at the day of Jesus Christ" (verse 6).
This group was proclaiming the gospel to any who would listen. They were meeting opposition, as Paul did, but they didn't give in to it. Paul praised them for their steadfast pursuit of the work of Jesus. Paul was very close to this group. Their shared mindset and experiences bonded them together stronger every day. Paul prayed for them specially. He prayed for all the churches but this one held a special place in his heart. I wonder if he considered this his "home" church.
Paul knew that this group wasn't perfect and they had room to grow, but their progress and devotion to Christ was remarkable. He prayed that they would continue growing in knowledge and discernment they finally stand before Jesus.
Father God, I want to say thank You for Paul for giving him such a strong friendship/bond with this group. Everyone needs someone to stand with them and understand what they are going through. You gave Paul the Philippians. You gave me my family. Thank You for them! They don't all know what is going on in my life all the time. Sometimes I try and keep the tough times hidden or glossed over, yet You bring my family word of my needs anyway. I can't hide my hurts or joys. I am NOT alone. You are always with me and You bring to me those who You know are needed; in triumph and tragedy. Thank You for knowing my needs. Thank You for my family; both physically and spiritually. Help me remember to thank them and pray for them always as well as be there for them in return.