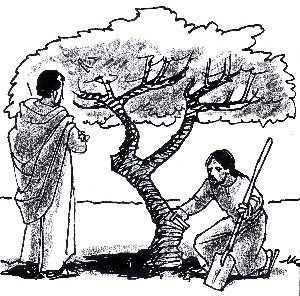 Jesus shares a story with us today. He tells His listeners about a vineyard owner and his fig tree. Luke is the only one who shares this parable with us. Jesus has other encounters with fig trees, but this one is unique to Luke's gospel account.
I have a question I want to ask Jesus concerning this story when we have our bench time. What I want to know is how old this fig tree was. I want to know if it was a well-established tree or a newly planted one. The fig tree doesn't usually fruit for the first five years. This farmer had only given this tree three years. His vinedresser asked for one more year. That would have still been too early for most fig trees to be bearing fruit. The added manure might have speeded up the process, but I don't know for sure on that point.
Because Jesus is using this parable to teach about bearing fruit, I'm going to assume this is an established tree. It may be a young tree still because of having three barren years, but I can't see Jesus requiring fruit before maturity.
So, beyond the age of the tree, what does Jesus want to portray with this tree parable? I see two different lines of thought. The first possibility is that Jesus is talking about fruits of repentance. The second possibility is Kingdom fruits. Let's look at each idea, then you can decide which one you think fits best.
When the Pharisees and Sadducees came to John the Baptist he was very skeptical of their motives. He told them to "Bear fruits in keeping with repentance" (Matthew 3:8) before he would baptize them. This meant that they had to show by their actions that they were truly sorry for their sins and turn away from those sinful practices. This is how we show God we are truly sorry for our sins. We are granted forgiveness when we confess our sins to Him and ask for forgiveness, but when we run right back out and do the same thing, I know He is hurt by it. I don't know if He withholds His forgiveness until He sees the fruits though. I think that is going to be a BIG bench question. Looking at Jesus' parable, if this was His meaning, then I believe the answer to this question would be "yes." The "fig tree" was given time to produce fruits, but none were evident. So the person who asked for forgiveness was given time to show that they really were sorry for their behavior and to change that behavior, including making amends whenever possible. Without true turning from the sin, the person really isn't repentant; just sorry they got caught. I found a blog article that talks about "fruits of repentance" that you can check out if you are interested.
The second option mentioned was Kingdom fruit. I just realized that "Kingdom fruit" can have two meanings. The first meaning would be the fruits of the Spirit. The second meaning would be increasing God's Kingdom with more souls.
The fruits of the Spirit are supposed to be evident in a person who truly has a relationship with Jesus Christ. "But the fruit of the Spirit is love, joy, peace, patience, kindness, goodness, faithfulness, gentleness, self-control; against such things there is no law" (Galatians 5:22-23). These fruits are not immediately evident in a person as soon as they surrender to Jesus. It usually takes time for the life to reflect these fruits. Some people claim to be Christians but never exhibit these fruits. Are those the trees that the vineyard owner wants to cut down? Are they really Christians if they never develop any of these fruits? That is another bench question. Judging from Jesus' words in Matthew, I would say that answer would probably be "no." "Therefore by their fruits you will know them" (Matt. 7:20).
The last interpretation I want to present is bearing fruit as in new souls for God's Kingdom. Jesus tells all of us to share His love and His gospel. This doesn't mean that we will all become missionaries in a foreign country. It also doesn't mean we all will become preachers or evangelists. But we all have a story to tell about how Jesus has changed our lives. If we don't, then He didn't and I would honestly question if you really gave your life to Him. He wants us to share that good news with others. There are so many hurting souls in this world and maybe your story is the one that will show them that Jesus really cares about us. That doesn't mean you will certainly be the one to lead this person to Christ, but you have contributed to the process none the less. We each do a part; planting the seed or watering it; but God causes that seed to take root and grow in a person's heart. Once that seed has sprouted a new soul is added to the Kingdom. "So then neither the one who plants nor the one who waters is anything, but God who causes the growth" (1 Cor. 3:7). He lets us plant those seeds in MANY different forms, but He expects us to plant something. Anything you give God is precious; your story, your time, your talents, or your money. He uses them all to increase His Kingdom. Thank you for giving to the Lord!
Father God, I love that You let me see so many things in Your word. Jesus, You have an amazing way with stories! Thank You for sharing them with us. Thank You for helping me see some of Your meanings. I can hardly wait to sit down with You in Heaven and discuss all that I missed between the lines.
Lord Jesus, please help me to live my life with PLEANTY of fruits worthy of repentance. I am so sorry for my sins that I hung onto for far too long. Thank You for releasing me from their hold. Thank You Holy Spirit that You keep working with me on others that I haven't turned loose of yet. Help me see them as You see them and finally walk away for good.
Holy Spirit, thank You for cultivating my heart and growing Your fruits there. I have seen a LOT of changes over my life in regards to Your fruit. Thank You for those changes. My life is richly blessed by Your work. Thank You for continuing to prompt me to grow in these areas and helping me move forward to true fruit. I still have a LONG way to go in several areas, patience being my biggest, but I trust You to continue to work in my life and bring those fruits out too.
Father God, thank You for letting me invest in Your Kingdom in all the little ways. I will probably never have the impact of a Billy Graham, but I will still continue to sow and water. Thank You for the opportunity to share seeds in this forum. You opened the doors. I pray that the stories I share from Your word will touch lives and bring others into Your Kingdom. I may never know the impact here on earth, but thank You for the opportunity anyway.