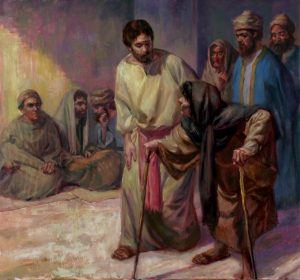 I love coming across new stories! This is another story that is only shared by Luke. I love the familiar ones too, but find it harder to write something new each time we encounter them. God doesn't run out of insight to share though, no matter how many times we read His word.
This story's theme is similar to others we have encountered. But there is a subtle difference here I want to focus on. In our story today a woman was healed on the Sabbath day. This always gets the Pharisees up in arms and Jesus never fails to put them straight. We saw this reaction in the story of the man with the withered hand too from Mark 3 and Matthew 12. When we read John's gospel we will encounter another story of Jesus healing on the Sabbath. Jesus' love for those in need did NOT depend on convenience!
Jesus was teaching in the synagogue when He encountered the woman in our story. She didn't go seeking Him out, but came to Sabbath services just as she always did. We are not told what town Jesus was visiting that day and this could have been the first time He encountered her in the synagogue. It does not appear that she sought Him out.
For 18 YEARS this woman had walked doubled over in pain. My bible says she "had a disabling spirit" (verse 11) for that whole time. I don't know if it was a spirit as in demonic spirit or an emotional sorrow for the pain she endured every day. I have a feeling it was something like osteoarthritis. In Jesus' days most illnesses were attributed to spiritual possession and oppression. I won't deny that there is a spiritual component to illness but also recognize physical components too. So when Jesus healed her he told her she was "freed from your disability" (verse 12).
I seriously doubt she would have had the strength to go seeking Jesus in the streets. The crows pushed and shoved in on Him wherever He went. In her condition she most likely would have been trampled underfoot. For her own safety, she only met Jesus in a controlled setting. Even here though she didn't seek Him out but was called out by Him from the crowd. Another interesting thing is that the woman's section was screened in and private from the men's section. In order to see her Jesus had to be intentionally looking for her. I believe He knew her need before even coming into the synagogue that day. SO like Him!
Jesus called her over to where He was. He didn't heal her in private but publicly shared her struggle and victory with all those in attendance. This woman's plight was probably well known in this town. We aren't told that Jesus asked her to share her story before He healed her. He KNEW her story. He KNEW how long she was like this too. He opened His heart to her and instantly healed her.
Here is where the distinction between this story and the others comes in. When Jesus healed the woman the "rulers of the synagogue, indignant because Jesus had healed on the Sabbath, said to the people, 'There are six days in which work ought to be done. Come on those days and be healed, and not of the Sabbath day.'" (verse 14). The difference is who the rulers of the synagogue addressed. In the story of the man with the withered hand they confronted Jesus. This time they confront the crowd.
In essence, they accused the woman (and anyone else in the crowd) of coming to Jesus on the Sabbath day for their healing instead of seeking Him out on any other day of the week. First off you creeps SHE didn't seek Him out! He singled her out! She couldn't come any other time and she didn't come this time with the intent of receiving a miracle. She was resigned to her fate. She never asked for her healing but she welcomed it with open arms and a heart full of praise when it was given to her.
I LOVE how Jesus puts the rulers in their places once again. He said that they treated their own animals better than they were treating this woman. If they could be kind enough to provide water for their donkeys or oxen then shouldn't this woman receive at least that much consideration?
I wonder if Jesus healed several more people in that church service. "All the people rejoiced at all the glorious things that were done by Him" (verse 17). Jesus was accessible on the Sabbath day now because of how He shot down the opposition. He KNOWS our needs and is willing to meet them ANYTIME.
Lord Jesus, thank You that You love so freely. Thank You that You know our hearts and our needs. Thank You that we don't have to follow a formula or keep within prescribed "office hours" to approach You. We can come to You ANYTIME about ANYTHING! You ALWAYS welcome us.
Thank You for looking for this woman. She didn't even have to seek You out. I wonder if she longed to go to You in the streets. Did she wish she could have come to You as You ministered during the week? Was she holding back from approaching You on the Sabbath for the very reason the rulers quoted? Was she resigned to her continued bondage because she couldn't reach You anywhere else? Was she praying that You would come to her instead? Thank You SO much for showing me that You are seeking me out just as earnestly. Thank You that You meet my needs in the most unexpected places and in the most unusual ways. I love seeing what You will do next! Thank You for knowing my heart, even when I can't express it to You. Thank You that NOTHING stands between me and Your love.