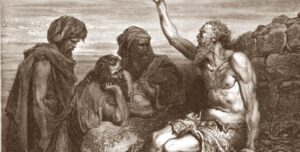 Job answers Eliphaz's first response to his distress. "Some friends you are! Tell me what you claim I have done wrong. I am tormented in innocence."
Job's words are not easy for me to always understand. I LOVE poetry and writing it is often the only way I can express what is burning in my heart but he loses me several times. The section about the caravans has me scratching my head. Although I may not fully understand the illustration he is trying to paint, I hear his heart.
His friends show up to 'support him' and instead they throw baseless accusations! "Teach me, and I will be silent' make me understand how I have gone astray. How forceful are upright words! But what does reproof from you reprove?" (verses 24-25). "Is there any injustice on my tongue? Cannot my palate discern the cause of calamity?" (verse 30).
In other words, "I already examined my heart. I have searched and found nothing. Don't you think that I would have admitted to my fault if I found one, if for no other reason than to end this torment? Do I look that dense or deluded to you my 'friends'?"
I have no doubt that Job's predicament sent him searching his soul. Unlike me, he found nothing to bring to God as sin to be forgiven. His life had been exemplary. With all his experience counseling others I'm pretty sure he knew what to look for in his life.
Job instead wishes that God would go ahead and just finish him off. He has no strength left in himself. He has endured all he can take. "Oh that I might have my request, and that God would fulfill my hope, that it would please God to crush me, that He would let loose His hand and cut me off!" (verses 8-9).
He sees no hope. If he were to discern a reason he would have some hope of relief but he sees none. He also sees no end. He has no idea how long God will continue his current state of misery. And his friends haven't made it any better. Only more bitter.
Do you notice in all this though that Job does not say "he" will end his suffering? As horrible as what he is going through is, he asks that God do it instead. He won't lift his hand to end it himself. He hasn't given up completely. He also hasn't asked his friends to end it for him. To do so would be to rob God of His purposes.
I cannot say I have never considered ending the 'lessons' I was going through. There was a time I seriously considered this alternative. I had even come up with a plan for how to exit this world. The ONLY thing that prevented me from enacting it was the impact it would have had on my children. I couldn't say with any certainty that they would be alright or who would raise them after I departed my distress. THAT distress made mine bearable.
Here in the state where I live, our laws allow for physicians to assist a terminally ill patient to end their life. There are a lot of requirements that have to be met, or so I hear, for someone to take this route.
But what about God's requirements? Does He figure into His plan this 'option'? Does He ever allow someone ending their own life? Is this an 'unforgivable sin' because the person is no longer alive to ask for forgiveness? Will suicide keep you out of Heaven?
Having struggled with this myself, my heart breaks when considering this. I KNOW God KNOWS our pain. How does the thought of one of His children ending their life affect Him? Does His heart break? Does He get angry? Does He understand and forgive? Does He hold it against them?
And what of those who see what is going on in the person and do nothing to help? Yes, the warnings signs can go unnoticed, but what of the ones who knew and did nothing? Is it laid up against them?
I have no firm answers. All I do know is that God loves EACH of His children. He knows us better than we know ourselves. And He is NOT done with this child of His! Nor is He done with Job yet. Only He knows what lies on the other side of your pain too. Don't give up! He has something more in store, if you will just endure a while longer.
Father God, thank You for sustaining me in my darkest times. YOU gave me the reasons and unction to wait. You held onto my hand as I walked through the valleys. You carried me when I could walk no farther. You held me in the night when tears flooded my pillow. You woke me in the morning to face another day. You are my rock and my redeemer. THANK YOU that You NEVER turn loose of me! Even when I don't see You, You ARE there. Even when my troubles mount up higher than I can see, YOU stand with me. And You gave me beauty for ashes. My life is nothing like I had planned out in my youth but it is beautiful because it is filled with Your love!
Hold on Job; joy comes in the morning! Hold on all who have lost hope. God has NOT forgotten you! Hold on a little longer and see the beauty He has in store for you!
Father God, I have no idea how I got here other than Your Spirit taking me. I pray You are bringing hope to the hopeless with my journey. Speak Lord for Your servant is listening, and sharing Your encouragement.