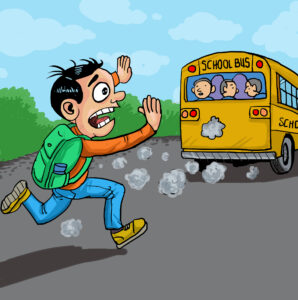 Jeremiah is proclaiming the words of the Lord as He commands. Trouble IS coming. God asks Judah, "What will you do when the end comes?" Good question!
God has given Jeremiah some really hard words to speak. They are full of warnings of what is to come. There is some comfort in them, but most of God's words proclaim judgment. Jeremiah has boldly proclaimed ALL that God has given him. God KNOWS He can trust him with even harder words.
Jeremiah's words are like "fire" to Judah's "wooden" hearts. They will be "consumed" by these words. They will NOT tickle the ear or warm the heart. They are meant to put the fear of God back in the people's hearts. They have gone so far astray that they don't even think about God, let alone listen to His voice.
But judgment IS COMING! And what will they say when it does happen? Will they say, "But we didn't know." Will they cry out that they are ready now to walk in His ways? Will they blame God for their predicament? Or will they own their own sins and the consequences thereof?
God had been promising judgment for some time. It wasn't that He wasn't sincere in His words but that He was giving the people chance, after Chance, after CHANCE to change their ways. They kept putting off the change, thinking that God would wait forever. Their lives would be fine. Maybe that is something that would happen to the next generation. Surely not them!
News Flash: God WON'T wait forever!!!
We have no way of knowing for sure when the final bell will ring. It can ring for any of us at any time individually. And it can ring for the whole world at any moment. The people in Judah kept expecting to have more time to get their lives in order. But they didn't. The generation that heard Jerimiah's voice were the ones that God brought the nation of Babylon down to conquer. Will THIS be the generation that God releases the Anti-Christ upon?
When that time comes, what will you be doing? What will you do? For those who are not part of the family of God, what will they do? Will they recognize the truth and try and hide it? Will they ask for one more chance and for Jesus to take them too? Will they blame Him for their situation? Will they bow with face to the ground in repentance? Or will they try and cover up what has transpired? "It was a mass alien abduction!"
Whatever excuses Judah, and our future world, makes it will not stop God's judgment for sin. It has stacked up to Heaven and MUST be dealt with! DO NOT fool yourself. God could come at ANY moment. Be ready NOW so as not to miss that call.
Father God, THANK YOU for the warning! I know I have been hearing it all my life, and You may wait until after my life is done here on earth before bringing about the end. But I KNOW the end is coming. Period. I want to be ready Father. I don't want to miss even a moment with You. I trust You to have it all worked out perfectly. I WILL listen to the warnings and straighten up what needs tended in my life; with YOUR help. THANK YOU that I can rely on Your help and don't have to fix it all myself. I can't do it alone! Only with You do I have any hope at all.