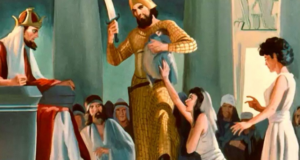 Solomon puts the wisdom God granted him to work. Two women are fighting over one child. Solomon says to divide it; WITH A SWORD!
This has always been one of my favorite stories, even as a child. Not because of Solomon. As a child, he actually scared me. It was because of the true mother. The mother who would willingly be separated from her child to save his life.
As a child I wondered how anyone could wish the death of a child AND order it to happen. Deep down I knew that Solomon wasn't mean. My mom probably explained to me that he was just trying to get at the truth. But his order still confused my child's brain. As an adult I see the wisdom in his command. His decision had to be SO harsh that it would provoke desperation from the true mother. Sharing 'custody' of a living child wouldn't have done the trick.
Today, in divorce cases we often have to 'split the child'. Not literally but figuratively. There would probably be a lot less squabbling if it was literally. Children are used now as a weapon against one another in divorce cases. That is one of the ugliest things a couple can do to one another. I suppose I was lucky in that respect as my ex walked away from all of us and never looked back unless he was made to.
What still baffles me today is the reaction of the second woman. She was upset enough over the death of her own child that she stole the living child, yet she wished him dead. Personally, I would have rather the child live, even if it wasn't my child. That woman should NEVER be allowed to have children again! I pray God saw to that.
I know, this is supposed to be Solomon's story and I'm not focusing on him. This is just one extreme example of cases he had to judge every day. What strikes me today is that ANYONE could come to him with their issues. The women brought to him today were prostitutes. The dregs of society yet their struggles were still important enough to be brought before the king.
I don't think the simple cases made it before him as there were probably lower judges for those matters. But Solomon ruled fairly and wisely for all. He couldn't be bought. And he genuinely cared about each person who stood before him.
THIS is my Father God. He is wise and just. He looks at the heart in each matter. His decisions always bring about a healing result. Even when that healing is accomplished through trials. He is no respecter of persons. EVERYONE can come to Him. Unlike Solomon, who was human, He desires for us to bring EVERYTHING to Him.
He expects us to learn how to handle some of our own matters but He still likes to hear about them. He trains us through the little challenges to prepare us for the bigger ones. I'm pretty sure Solomon didn't arrive at this big case on his first day, but being that the his wisdom came from God, it could have been very early on. I believe the Spirit of the Lord gave him this answer and he had learned to listen to Him over time.
Can you imagine what ran through his mind when the Spirit whispered this solution to him?
♥ ♦ ♥
Solomon is seated before two women who are going back and forth with one another without any end in sight. Both claim, and want, the exact same thing. Their voices are rising in intensity. Guards are standing off to the side as the verbal battle intensifies. The baby, being held by one of the soldiers, is in the middle of a crying fit. The sound of his mother's distress is stressing him out. The throne room is in chaos.
In the middle of all this, Solomon hears in his spirit, "Divide the child in half."
"And just how am I supposed to do that" he ponders.
"With a sword" comes the answer.
The shock of this idea is missed by those in attendance. They are focused on the battle raging before them. Then a sly smile begins to form as Solomon hears the 'why' of this answer to the dispute. "Love will prevail and reveal the truth."
He is ready. "Enough" he roars. The room silences except for the infant. "Bring me a sword" commands Solomon as he rises to his feet.
All eyes are fastened upon the king. "What is he going to do?" "Who is he going to strike?" "This is a bit drastic don't you think?" These are the thoughts and whispers filling the throne room now.
A sword is quickly brought to the king. He examines its edge. It is a fine sword. Heavy and sharp. He hands it back to its owner. "Cut the child in half and give half to each of the women" he commands as he points directly at the child.
The whole room is rocked by his words! The true mother falls to the floor in terror. "No my king! Please! Give the baby to her. Just don't kill it. I will withdraw my claim immediately."
The second woman sees the pain in the first woman's face and wants to inflict a little more. Besides that, who is to say that she won't try and take the baby back as soon as they are out of sight of the king. "Cut it in half like you suggested. Half is plenty for me."
Solomon's heart has an 'ah-ha' moment as he sees the wisdom the Spirit whispered into his heart bear fruit. The real mother wants the child to live, even if that life doesn't include her. Her love moved her to release him. The other woman is a vile person. She would rob both mother and child of life, for killing the infant would also kill his mother.
Solomon puts out his hand and rests it on the arm of the soldier holding the sword. "Stay your sword." He looks to the soldier holding the crying baby and motions with his chin. "Give the child to the first woman for she is his mother."
The mother looks up from the floor where she has fallen and sees her unharmed child. The soldier kneels down and passes the baby to her. Tears stream down her face as she gathers him into her arms. She holds him firmly to her chest and he begins to settle. He knows he is safe in his mother's arms.
Solomon looks to the other woman who has a shocked look on her face. "Pray you stand before me again. I will not be so forgiving of your sins next time. For today, leave. And find other lodging."
Solomon turns his attention back to the mother and child. "Care well for your son. Your love has saved his life this day. It may be tested again as he grows but I have no doubt it will again rise to his defense."
The women leave the throne room and the next case is brought before Solomon. His day is far from finished. But this case will be one that stays with everyone within the walls of the throne room that day. It will also reach farther than any other case brought before the king. Nations and generations will hear of the wisdom whispered in Solomon's heart and the love of a mother.
♥ ♦ ♥
I played the part of the true mother once in a Sunday School class. It was an adult class and was for demonstration purposes only. I poured my heart into my favorite story. I was told I was a great actress. It's only because my heart identified so well with my character.
The take away for me today is to learn to listen. God didn't start out speaking HUGE things to Solomon. He trained him to listen by speaking in the small things and letting him see the results. When they could trust one another (Solomon trust God's words to bring good fruit and God trust Solomon to listen no matter what) then amazing stories like this one could take place. Lives changed and justice prevailed.
Father God, thank You for letting me see the story a little different today. I will probably always be moved by the mother's love in this story but today You showed me Solomon's trust in You. Only by listening did he learn to trust. Only by acting on what he heard was he entrusted with more. Help me to listen. I want to be different; a woman after Your own heart in all my ways.