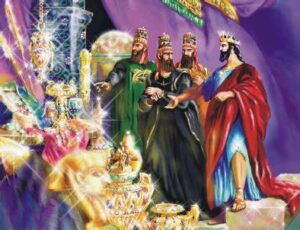 Hezekiah has recovered and an envoy from Babylon comes to wish him well. He is so proud of what the Lord has blessed him, he starts showing off.
This story reminds me a bit of the story of Gibeon who came to Joshua with false pretenses. They made it appear as if they had come from a great distance and made a pact of protection with Israel. They were one of the nations God had on Israel's 'to do list'.
In our story today the envoy from Babylon might not have had immediate false pretenses. But what they learned from their visit this day would come in handy FOR THEM later on. Their supposed 'well wishes' became a 'spy mission' instead. Let's jump into the story and see where the Spirit takes us today.
♥ ♦ ♥
It has been a week since Hezekiah rose from his sick bed. Every day is special to him. It is another day that he would not have had if the Lord had not listened to his prayers. He goes about with a little extra spring in his step.
While he is listening to the matters of the people and judging between them one of his guards approaches him. His face tells Hezekiah that he has an urgent matter he wants to discuss. Hezekiah finishes with the matter he is currently addressing, then has the doorkeeper wait before sending the next matter to him.
"What news do you bring me" he asks his guard.
"An envoy has arrived at the gates my king. They wish an audience with you."
"Where are they from?"
"They state they are from the land of Babylon."
"And have they given you a reason for their visit? Do they come in peace?"
"In peace my king. As to their purpose that ask that they be allowed to reveal that to you alone. They did say that they are bearing gifts for you."
Hezekiah is intrigued by this. "Bring them before me" he orders.
The guard bows and then leaves to fetch the visitors. Hezekiah turns his attention to the doorkeeper. "Send the people away as we have guests. I will hear their matters tomorrow."
The doorkeeper informs those waiting of the king's change in schedule. Some were disappointed, some were angry, but most of them were curious. They moved out of the way but stayed within the outer courts so they could get a glimpse of the visitors. They didn't have long to wait and neither did Hezekiah.
A group of four men, dressed in fine robes with turbans fastened with gold, are led by the king's guards through the outer, middle and finally inner courtyards. Their sight is magnificent. They appear to fall just shy of royal status but it is clear that they are important men in their country. Instead of quenching the people's curiosity, this sight heightens it. Whispers ripple through the crowd as to who they might be and why they have come.
For those outside the palace, they will just have to wait to have their questions answered. For the king, his answer is quickly approaching.
A guard announces the group and they enter the throne room.
"Welcome" intones Hezekiah from his throne.
The visitors all bow deeply before speaking.
"Our great master Merodach-baladan, son of the king of Babylon, sends his greetings. He had heard that you were ill but had recovered. He was very pleased to hear of your recovery. He sends you this letter." the first envoy offers up a letter he is holding by extending his hand with it towards Hezekiah.
One of the guards takes it from the envoy's hand and brings it to Hezekiah who takes it.
"Our master also offers these gifts to you to use in good health." The third man of the group was holding a small trunk. He places it on the floor near the feet of the guard so it too can be brought to Hezekiah.
Hezekiah nods to the guard who opens the trunk. Inside are vials of aromatic spices sitting atop brightly woven linen fabrics and gold and silver armbands. Gifts designed to appeal specifically to Hezekiah. He smiles brightly as each is extracted from the trunk and held up for his inspection.
Once the trunk is repacked Hezekiah turns his attention to the letter he has been holding.
"Honored king of Judah,
I trust this letter finds you well. I recently heard of your illness and recovery. May the gods be praised that your nation was not deprived of such a leader as yourself. Please accept these gifts as my token of respect.
I would be honored to name you among my friends as a sister nation of peace. I would also welcome a visit from you, if you so choose.
I have heard also of the power and blessings of the God of Judah. I would like to learn more of Him and all He has done for you. I hear tell that He is also responsible for your renewed health. May His name be ever praised by all who hear it.
Your faithful servant,
Merodach-baladan,
Son to the great king of Babylon"
Hezekiah was very pleased to have such a greeting. He was proud of all his God had done for His people. Hearing the prince of Babylon praise his God made Hezekiah want to show him EVERYTHING God had done for Judah.
"Your master is most kind in his praises for the God of my people. I would be honored if you would take a report back to him of what our Lord has provided for his people."
"That would please us greatly O king."
"Then let us walk together as I show you the blessing of our God. There is none like Him in all the world."
Hezekiah, his guards and the four men began with a tour of the palace.
"This palace was built by king Solomon. He was the last king of Israel when it was a united kingdom. I am his direct descendant. His father was king David. He served the Lord with his whole heart and as a reward for that devotion the Lord promised him that his descendants would reign forever."
Hezekiah took his visitors to see his storehouses, his vineyards, his fields, his armory, even the hall of Lebanon. He saved the best for last.
"I would now like to show you the Temple of our God. It too was built by the great king Solomon. Some things have changed since then but it still remains the most glorious place in all of Judah and Israel."
Hezekiah took the envoy everywhere except the Holy places.
"I am sorry but none but the priests may enter beyond here. Our God is a holy God and his people must be holy. He has commanded that none but the Levites may enter into His most holy places. To do otherwise would mean death to the one who disobeyed His command. Beyond this place is one more where our most precious possession of our Lord is kept. It is the Ark of the Testimony. Only the high priest can enter there and it is only once a year that he may do so. Even he would suffer death if he were to disobey the Lord's command."
"What does the Ark you speak of look like?"
"It is a chest made of the purest gold. It has poles attached to the sides through rings. Its lid is also of the purest gold and is fashioned with cherubim on either end. The Lord's presence rests between the cherubim."
"Your God lives in this temple?"
"A portion of His Spirit does and it bears His name. But it is not large enough to contain Him. He is the Creator of all the universe. And He chose us as His people from among all the nations."
"His fame has certainly been proclaimed throughout even our land. Is He the one who cured your disease?"
"He is. I was near death when He sent me His prophet. Initially he said that he was told by the Lord that I would die but I cried out to Him and He heard me. The prophet returned to me and told me that the Lord would heal me and the Lord gave me a sign to seal that promise."
"What was that sign."
"I thought you would never ask! The Lord made the shadow go back ten steps."
"What does this mean?"
"Let me show you."
Hezekiah took the group to the steps of Ahaz. Here he showed them how the time piece worked.
"This was built by my father, king Ahaz. He studied the heavens. He designed this building and the staircases on either side to mark time. As the sun moves across the sky it illuminates portions of the staircases. The length of the shadow signifies the time of day. God made the shadow go backwards up the steps by TEN steps. He moved the sun! Name me another god of any nation who could do that."
"That is a feat I have never heard of before or of any god who claims they could do such a thing."
"Only the God who made the universe could so control it."
The visitors were amazed by all that they had seen. They left for their own country first thing the following morning. They had quite a report to bring back to their master.
After the envoy from Babylon departed Hezekiah resumed his duties. Isaiah was the first to enter the throne room this day. He walked past the doorkeeper without a word and went to stand before the king. Before Hezekiah even welcomed him Isaiah launched into his reason for being there.
"What did these men say? And from where did they come to you?" (verse 14b).
"They have come from a far country, from Babylon" (verse 14c).
"What have they seen in your house?" (verse 15a) asked Isaiah with a scowl.
"They have seen all that is in my house; there is nothing in my storehouse that I did not show them" (verse 15b).
Isaiah shook his head. "Hear the word of the Lord: Behold, the days are coming, when all that is in your house, and that which your fathers have stored up till this day, shall be carried to Babylon. Nothing shall be left, says the Lord. And some of your own sons, who will come from you, whom you will father, shall be taken away, and they shall be eunuchs in the palace of the king of Babylon" (verses 16b-18).
"The word of the Lord that you have spoken is good" (verse 19a) replied Hezekiah.
Hezekiah thought only of the peace that meant for his reign. The envoy of Babylon said they had come in peace. Hopefully they would treat whatever sons he had in the future with peace too.
(to be continued)
♥ ♦ ♥
It is interesting that this story happens to fall on the day we celebrate fathers in the United States of America. I don't think I would have seen Hezekiah's remarks the same had it been any other day.
My dad and I were discussing Hezekiah's response to Isaiah a while back. I remarked that he was a selfish man but today I see him as an empty man. A man who has not known the joy of fatherhood. One who has not held a new babe of his own and thought about its future.
Hezekiah doesn't contemplate a future beyond his reign because he has not yet had a child who will carry on after him. He has no sons, yet. And his heart hasn't been opened to the responsibility that comes with being a father.
Fatherhood is a privilege that not all men get to experience. It is not just the act of procreation. It is the daily process of guiding that new life. Of sowing into it good seed. Seeds of love, responsibility, generosity, kindness,… It is investing time, energy, dreams, and money into the life of your child, whether that child be your natural child or one that has been bestowed on you. It is wanting a better life for your child and being willing to accept that child NO MATTER WHAT. Your child may not be what you would have envisioned but to his/her father he/she is perfect. That's what a father sees when he looks at his child.
NOT that the child can do no wrong but that the father has the love necessary to guide the child back away from the places of danger. That the father NEVER gives up on the child. And that the father seeks the best for his child at all times.
Father God, THAT IS YOU. There is no greater Father. I am SO HONORED to be Your child! I am also honored to be the child of my earthly father. He has taught me what a real father is. Thank You for giving me to him and him to me.
Happy Father's Day God. Happy Father's day Daddy.