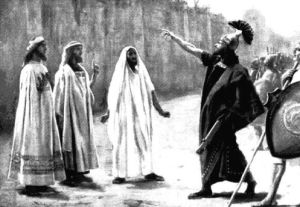 Ten years after Israel fell to Assyria Judah is also attacked by them. The kings have changed but the mission is still the same; wipe out the people of God.
Several different associations with Assyria have developed over time between the two parts of the nation of Israel over the years. I'm not certain how things stand at this point in time. I want to back up and take a look at the progression before going into our story today.
What we DO know:
Assyria attacks Israel and takes a LOT of territory including the land of Naphtali. They carry off the people.
Israel and Syria band together and repel Assyria but then also turn their attention to Judah.
Ahaz calls on Assyria to help him fight off Israel and Syria. He becomes the vassal of king Tiglath-pileser. Assyria defeats the coalition besieging Judah.
Hoshea reigns in Israel in place of Pekah. Assyria comes against Israel again. Hoshea makes a deal to become the vassal of king Shalmaneser. He honors this agreement for six plus years.
Hoshea seeks help from Egypt and Assyria takes Samaria after a three year siege. Shalmaneser is still king and the fall of Samaria is attributed to his reign.
"Hezekiah rebelled against the king of Assyria and would not serve him" (verse 7b).
Ten years after the beginning of the siege on Israel, Assyria attacks Judah. Sennacherib is king of Assyria at this time.
I was going to say we didn't have a timeline for the Assyrian kings but I found one on Google. It is on a Wikipedia site so I don't know how reliable it is. It fits fairly well with the timeline of Israel's kings that I have. With all this laid out, let's get into what happens with Sennacherib and the most godly king the divided kingdom of Judah ever had.
Things have been sailing along for 14 years. Hezekiah has reopened the temple, restored it to its former use and beauty. He even redid the gold overlay on the doors and doorposts of the Temple. We are told that "the Lord was with him; wherever he went out, he prospered" (verse 7a). We aren't told at what point in time he stopped serving Assyria but he refuses to be their vassal.
Sennacherib was able to conquer the "fortified cities of Judah" (verse 13b). Who knows how many of them he took before setting his sights on Jerusalem; the capital city of Judah. Hezekiah was justifiably concerned but he did something that God chastised a previous king for. King Asa of Judah had looked to an earthly king for help instead of turning to God. God had delivered Asa from armies MUCH larger than his own on at least two occasions but when confronted by Israel, he turned to Ben-hadad of Syria for deliverance. Hezekiah is going to make a similar 'mistake'.
Hezekiah had rebelled against Tiglath-pileser and Shalmaneser. He refused to be Assyria's vassal. But when Sennacherib came against him, he apologized and tried to buy his freedom. "I have done wrong; withdraw from me. Whatever you impose on me I will bear" (verse 14b).
Music to Sennacherib's ears! Judah's king was cowering before him. He would make him pay through the nose. THEN he would come in and attack anyway.
Sennacherib demanded more gold than was in the possession of the king, even when he counted all the gold in the treasury of the Temple. Hezekiah had to strip down the doors and doorposts of the gold he had previously overlaid them in order to satisfy the payment demand. How it must have hurt Hezekiah to do this to the house of his God.
AFTER paying what was agreed upon Hezekiah and his people were still not safe. Sennacherib sent his 'enforcers' to intimidate Judah but this was going to backfire on him.
Sennacherib's 'enforcers' threatened and taunted Judah. "No one can save you. You might as well surrender to us before we lay waste to you." These aren't their exact words but the general meaning. They even discounted God's ability to save His people. They made certain that ALL the people of the city could hear and understand their words. This was not a private conversation between two leaders but an attempt to intimidate the people and spur them into rebellion against their king.
Their words greatly distressed Hezekiah's intermediaries. Hezekiah didn't present himself to Sennacherib's 'hench men' but sent Eliakim who was over the household, Shebnah the secretary and Joah the recorder to meet with them. The report they brought back was punctuated by the state of their clothes. They were terrified and they ripped their robes in despair.
Hezekiah had prepared his people beforehand for this encounter and they did him proud. The people of the city stayed mute in the face of the taunts. They trusted Hezekiah to lead them. He would put his trust in God where it belonged from the beginning. But that is a story for another day.
Hezekiah stumbles in his reliance on God but he isn't left there. I fully believe that God caused the Rabshakeh to be so bold in his taunts that Hezekiah was outraged for the Lord at their words. If Sennacherib had sent messengers saying, "Good enough. Now you are mine" Hezekiah might just have fallen in line. But Sennacherib challenged the One true God. He challenged the very foundation of the nation. THIS was a line not crossed! Hezekiah needed a kick in the rear to refocus his faith. God would punish Sennacherib for his words against Him and save Judah in the process if for no other reason than to prove His name superior to ALL others.
Sometimes God lets us 'paint ourselves into a corner' before answering. It usually isn't that He hasn't answered until that spot but that we haven't been desperate enough to call on Him until that point. I wonder how many dire circumstances we would miss if we called on Him continually. Paul tells us to do that; "Pray without ceasing" (1 Thessalonians 5:17). But he also tells us to "Give thanks in all circumstances" (1 Thessalonians 5:18a). So even when 'painted into the corner' give thanks for God's got this!
Father God, thank You that I know I am NEVER alone. Even in the most dire circumstances in my life YOU are there with me. You hold me securely in Your hands. And You bring a song into my heart to sustain me. I KNOW I can trust You in EVERY situation, even the ones of my own making.