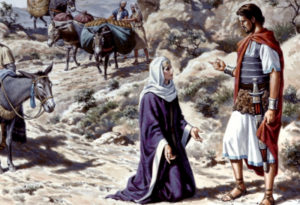 David takes a second wife. Michal is not on the run with him so this is his only wife, for now. She was almost a casualty of her husband's disdain for others.
Abigail is locked in a loveless marriage. She is a "discerning and beautiful" woman who is married to a "harsh and badly behaved" man. She was also a faithful servant and wife to her husband. She would be set free of this union by the hand of God. And David would benefit in many ways because of her.
I wonder how many women were in this kind of relationship in bible days. During this time women were thought of as property and valued only for adding sons to the lineage. This isn't to say that every woman was treated or 'valued' in this manner but it was the prevailing custom. A woman was NOT known or sought after for her brain or wisdom.
Abigail was smart. She knew how to read a situation and turn it to her advantage, or her husband's. She gave wise counsel to those willing to accept it from her. Her husband should have for it ended up costing him his life. I hope David valued her for ALL of her assets.
♥ ♦ ♥
David and his band had left the strongholds of Engedi after turning Saul back by power of his kindness. They traveled several days until they reached the wilderness of Paran. This area is much easier on the herds. There is plenty of grasses and available water. There are also other shepherds and flocks in the area. David is careful with his herds that they do not take the resources the shepherds from that territory may need. And in exchange for the resources that he did take, he paid by ensuring the shepherds and sheep's safety from raiders. David and his men have been providing that service to the shepherds for some time now.
The beginning of sheep shearing season is at hand. The shepherds are about to receive a well-deserved reward for their hard work. Most of these men were paid for their labors but there was still a custom of a HUGE feast offered in thanks to the Lord. They look forward to this feast every year. The majority of shepherds and sheep in this area belonged to a man from Moan named Nabal. This man set a fine table for his shepherds, once the work was done.
David is in the wilderness one morning and he hears several of the shepherds of Nabal talking about shearing the sheep. They have been left in the fields with the sheep waiting their turn. The shepherds are excited. The work should be completed soon and then it will be time for the annual feast.
David heard this and felt his people's labors throughout while here with these shepherds should earn them a seat at the table of Nabal. Many a time David's men had kept Nabal's shepherds from danger. They had brought back any who had gone astray. And they kept the peace between all the shepherds. David's men were also keeping watch over the sheep that remained or returned to the field. A fair reward for their hard work.
David is excited about the prospect of the upcoming feast. He and his people have been hard pressed from one place to another and have had little joy in their daily existence. A feast for their hard work would be MUCH welcomed. David calls Joab, his cousin to him.
"Joab, I have need of you and several of your fellows. I want to send a delegation to Nabal. Round up nine of your fellows and return here to me."
Joab ran and got nine of his closest comrades. He didn't even question what David had in mind. He trusted him implicitly. When they stood as a group before David, he set out their task.
"Go up to Carmel, and go to Nabal and greet him in my name. And thus you shall greet him: 'Peace be with you, and peace be to your house, and peace be to all that you have. I hear that you have shearers. Now you shepherds have been with us, and we did them no harm, and they missed nothing all the time they were in Carmel. Ask your young men and they will tell you. Therefore let my young men find favor in your eyes, for we come on a feast day. Please give whatever you have at hand to your servants and to your son David'" (verses 5b-8).
This was a pleasing message to bring to Nabal reasoned Joab. He would be honored to carry it to Nabal in David's name. Joab and his comrades took no time in reaching Nabal and presenting ALL the words David had charged them with.
Joab watched Nabal's face as he related David's words. It grew angrier with each word that was retold. Joab was confused. Why was Nabal angry? Did he doubt their words? He need only ask his shepherds to hear their words were true. Finally the last of David's greeting hung in the air. All Joab and his men could do now was wait for Nabal's answer.
Nabal kept them waiting too. He drew out his answer as long as he could. He offered them nothing to drink after their journey. He didn't even welcome them into the place where he was staying. After several minutes Nabal is ready to give his answer. With a sneer and disdain in his voice Nabal answers back.
"Who is David? Who is the son of Jesse? There are many servants these days who are breaking away from their masters. Shall I take my bread and my water and my meat that I have killed for my shearers and give it to men who come from I do not know where?" (verses 10b-11).
Nabal's answer couldn't have hurt more if he had used his fists. His response oozed venom in every word. Nabal's mention of David's lineage meant he knew full well who David was and where he came from. Yet he spoke as if David were an obscure escaping slave. Without another word Joab and his group turned as one and left. They went straight to David.
David knew something was wrong by the determined step of the men who approached. Their feet met the ground as if smashing it into submission. David steeled himself to hear their news.
"David, Nabal openly rebuffed us! He acted as if he knew not your name or your struggle. He acknowledged none of your works on his behalf. He was rude and arrogant. These are the words he spoke; 'Who is David? Who is the son of Jesse? There are many servants these days who are breaking away from their masters. Shall I take my bread and my water and my meat that I have killed for my shearers and give it to men who come from I do not know where?' (verses 10b-11)."
David was furious at Nabal's behavior! He had treated his men shamefully and dismissed their efforts on his behalf as easily as one might dismiss a child's digging in the dirt while erecting a structure. David and his men had a right to repayment for their deeds. Nabal would see the other side of David's hand now.
David called out in a loud voice so all could hear. "Every man strap on his sword!"
These men loved David and felt his hurt deeply. They immediately did as he bid. After they were all armed, including David, four hundred of David's six hundred men set out to mete out justice to Nabal and his household. The remaining two hundred stayed with the camp as protection.
While David's men were on their way back to relay Nabal's abysmal attitude one of Nabal's own servants went off to report his answer to another. His heart had seized in terror as he listened to Nabal's answer. He knew there was danger coming and he needed help. He went to his mistress Abigail. She was a wise and kind woman. She would know what to do. He was nearly in a panic as he relayed the situation to her.
"Behold, David sent messengers out of the wilderness to greet our master, and he railed at them. Yet the men were very good to us, and we suffered no harm, and we did not miss anything when we were in the fields, as long as we went with them. They were a wall to us both by night and by day, all the while we were with them keeping the sheep. Now therefore know this and consider what you should do, for harm is determined against our master and against all his house, and he is such a worthless man that one cannot speak to him" (verses 14b-17).
Abigail was not surprised by her husband's hubris and she heeded well the words of danger shared with her by the servant. She knew she had to act FAST if she was to prevent the bloodshed that was surely to come. There was no convincing Nabal to change his mind and no time to clear her actions with her husband. He would doubtless forbid her actions if she had. Instead she set about gathering an offering of peace to David.
Abigail hurriedly emptied the tables prepared for the feast. She "took two hundred loaves and two skins of wine and five sheep already prepared and five seahs of parched grain and two hundred cakes of figs, and laid them on donkeys" (verse 18).
Servants flew in waves behind her and snapped up anything she pointed at to prepare it for transport. After all the donkeys are loaded Abigail sends her servants on to meet David.
"Go on before me; behold, I come after you" (verse 19b).
Before leaving Abigail set her servants to work replacing the items she had hastily gathered. Nabal must not know of her actions. He might try and stop her. If he did, their lives would be lost. She will confess her actions to him, when the time is right. And THIS is NOT that time!
Abagail rode another donkey on her mission to meet David. She took the way that kept her under cover of the mountain, so as not to alert Nabal. She suspected this would be the way David would come being that he meant to exact justice without first raising the alarm.
David had stewed on his anger and hurt the entire way. He had his mind set on revenge. He said as much to his men and validated his anger with his words.
"Surely in vain have I guarded all that this fellow has in the wilderness, so that nothing was missed of all that belonged to him, and he has returned me evil for good. God do so to the enemies of David and more also, if by morning I leave so much as one male of all who belong to him" (verses 21-22).
Abigail met up with her servants before they reached David. She then took the lead. As soon as she saw David she hurried and got off her donkey and came and fell to her face before David.
David stopped in his step. He did not know the woman before him but he sensed her urgency in addressing him. Instead of dismissing her as some men may have, he pricked his ears to listen to her need.
"On me alone, my lord, be the guilt."
David wonders what 'guilt' she is pressed under.
"Please let your servant speak in your ears, and hear the words of your servant."
Abigail rose to her knees at this point to address David more easily since he had not thrust her aside.
"Let not my lord regard this worthless fellow, Nabal, for as his name is, so is he. Nabal is his name, and folly is with him."
Now David knows of what she speaks. He will listen but he makes no move to absolve the debt, yet.
"But I your servant did not see the young men of my lord, whom you sent. Now then, my lord, as the Lord lives, and as your soul lives, because the Lord has restrained you from bloodguilt and from saving with your own hand, now then let your enemies and those who seek to do evil to my lord be as Nabal."
David's heart was quickened when he heard the words of Abigail speaking of saving with his own hand. His life was in the Lord's hands, not his own. He felt the guilt of what he was planning to do. Yet he listened on.
And now let this present that your servant has brought my lord be given to the young men who follow my lord. Please forgive the trespass of your servant. For the Lord will certainly make my lord a sure house, because my lord is fighting the battles of the Lord, and e4vis shall not be found in you so long as you live. If men rise up to pursue you and to seek your life, the life of my lord shall be bound in the bundle of the living in the care of the Lord your God. And the lives of your enemies HE shall sling out as from the hollow of a sling. And when the Lord has done to my lord according to all the good that He has spoken concerning you and has appointed you prince over Israel, my lord shall have no cause of grief or pangs of conscience for having shed blood without cause or for my lord working salvation himself. And when the Lord has dealt with my lord then remember your servant" (verses 24-31).
Abigail bowed her head in respect to await David's answer.
David was VERY impressed by this woman's discernment and wisdom. Surely the Lord had sent her to save him from this grave mistake. He would tell her so!
"Blessed be the Lord, the God of Israel, who sent you this day to meet me! Blessed be your discretion, and blessed be you, who have kept me this day from bloodguilt and from working salvation with my own hand! For as surely as the Lord, the God of Israel, lives, who has restrained me from hurting you, unless you had hurried and come to meet me, truly by morning there had not been left to Nabal so much as one male" (verses 32-34).
Abigail remained on her knees while making her plea to David. With his words she felt the band of fear loosen around her chest and she could breathe again. Abigail rose from her knees and motioned to her servants to bring the donkeys to her. She grasp the tether of the lead donkey and held it out to David. He opened his hand and she laid the strap across his palm before withdrawing her hand.
David smiled and bade her return home.
"Go up in peace to your house. See, I have obeyed your voice, and I have granted your petition" (verse 35b).
Abigail and her servants returned the way they had come while David and his men returned their own way. The hearts of both parties were much lighter, except Abigail's. She still had Nabal to face. She knew he would discover her actions and it would be MUCH better for her if he discovered them from her and not another.
When Abigail and the servants finally made it home, Nabal was in high spirits. He had not missed her nor what she had taken. He was enjoying a feast fit for a king, thanks to the servants who remained behind. Abigail was very grateful for their efforts. She would need to thank them for their assistance. The only black spot upon the whole scene was the state of Nabal. He was clearly drunk. But his state gave Abigail a reprieve for now. She would not address what had transpired until tomorrow.
When morning broke Abigail drew up her courage to face Nabal. She did not care if he beat her, she would have her say. She would tell him how close he had come to death. How close his whole household had been due to his arrogance and vile treatment of David's messengers.
Nabal rose is fair spirits. His head was a little fuzzy from the night before but he was otherwise well. When he arrived at table to break his fast of the night Abigail was waiting. She set out a bowl of stewed grain for his meal. Usually she would leave him in peace to consume his meal but she stayed. She was determined to speak her peace before the day's tasks parted them.
"I saw you had an enjoyable feast last evening my husband."
"I did! The meal was fine indeed."
"And what of the company my lord?"
"It was excellent also."
"Did you notice my absence my lord? Did you consider where I might have been?"
"Only for a moment. I assumed you were occupied with ensuring our guest's comfort."
"Actually, I was tending to the needs of an uninvited guest."
"Someone dared enter my home without invitation!"
"No my lord. I speak of a guest who should have been extended an invitation but was rebuffed instead. I speak of David."
Abigail could see the anger beginning to rise in Nabal's face so she hurried on.
"This is the same David who will one day be king of all Israel. The one whom the Lord fights for. The same that was on his way here last evening with 400 armed men in response to your answer. His heart was intent on exacting from the house of Nabal payment for the disrespect shown to him. He would have not left one male alive in your entire household had I not intercepted him and plead with him on your behalf. He received from my hand what he had requested from yours and was satisfied. I took of the feast that was prepared and laid it in his hands. As you can see, the feast before you suffered not. It should have been your gift to him, not mine."
Abigail narrowed her eyes before delivering her last words.
"Know that the Lord will judge between you and David. David's hand was stayed but the Lord fights for him and will avenge him on his enemies."
Nabal's face paled and he clutched at his chest. He couldn't move after that. Abigail recognized this as the Lord's vengeance for David. As his wife she would render him care but her heart knew he was in the Lord's hands.
Abigail called two of the servants to carry Nabal to his bed. For ten days he lay there. He neither ate nor drank the full time. He lay still as a stone until the final breath left his body. Abigail would mourn his passing as required by Israeli law but her heart would not miss his foul moods and frequent beatings.
David, being he was still in the region, heard of Nabal's passing. He expressed his thanks to the Lord for avenging him and keeping him from making a huge mistake. "Blessed be the Lord who has avenged the insult I received at the hand of Nabal, and has kept back His servant from wrongdoing. The Lord has returned the evil of Nabal on his own head" (verse 39b).
David's heart went out to Nabal's widow. She was an amazing woman and with Nabal's death she was vulnerable. She may inherit all of Nabal's holdings but she would not be allowed to conduct business as a woman. An added advantage to anyone wishing to marry Abigail would be if she did indeed inherit Nabal's goods. These would pass to her new husband. This was on David's mind but it was not his prime concern. He wanted to offer security to the woman. She would be a very worthy wife. He would send her an offer of marriage.
David called again on Joab to deliver his proposal. Joab was very honored to perform this task. Joab stands tall as he delivers David's words.
"David has sent us to you to take you to him as his wife" (verse 40b).
Abigail was more than willing. In fact she had been praying for this moment to come. She could think of no where she would rather be than at David's side. Yet she did not consider herself worthy of such an honor. In her response to Joab she offered herself in the role she felt she deserved only. She bowed her face to the ground and answered.
"Behold, your handmaid is a servant to wash the feet of the servants of my lord" (verse 41b).
Abigail quickly got up, gathered her five young women who served her, and mounted her donkey. She and her servants followed Joab and those who accompanied him back to David.
David had been waiting for their return and had seen them from afar. He came down to meet them as they neared the place where David and those who followed him stayed.
"Welcome Abigail. By your presence I take it your answer is favorable" questioned David with a gleam in his eye.
Abigail tucked her chin in a moment of shyness then raised her eyes to meet David's.
"Yes my lord. My answer is most favorable."
As soon as the time required for her mourning was completed David and Abigail wed. She was betrothed to him the day she accepted his offer but they would wait the proper time before coming together as husband and wife.
Abigail was very pleased to be David's wife. She was also pleased when David expressed interest in another. Her name was Ahinoam. She was from Jezreel. She too became a treasured wife of David. The two women worked well together and became as close as sisters. They knew of David's first wife, Michal, and how David had been robbed of her by Saul. They trusted David with their futures and their lives. David longed to bring Michal back into his household and these two women would welcome her. Time would tell how their relationship with one another would develop. That they would leave in the hands of the Lord and their lord.
(to be continued)
♥ ♦ ♥
I personally don't think I could share a husband. This is yet another of the aspects of being a woman in bible days that gives me pause. It also makes me VERY grateful for the time in history in which I live! I wonder too if Abigail did inherit Nabal's property. If he had sons they would most likely have inherited it. If the sons were from another wife she could have been out in the cold. Is this why she accepted David's proposal so eagerly? Was her property an enticement to David? Just wondering.
What I do believe is that she had a MUCH better life with David than with Nabal. David appeared to appreciate or at least acknowledge her intellect. He commented on it when they first met. I pray this is what drew him to her but I won't know until I ask him in Heaven.
Father God, thank You for giving me opportunities that the women in the bible never had. Thank You for giving me opportunities that women 100 years ago didn't even have! Thank You for giving me an imagination, understanding and a teachable spirit. I know I have a long way to go before I have learned all the lessons You hold for me. I enjoy learning at Your feet. Some of those lessons I wish we could skip over or at least shorten but then I wouldn't be where I am today without them.
Thank You for the husband You brought into my life. He is NOTHING like Nabal! I'm GLAD the only one I have to share him with is You. His mother, children, grandchildren get a part of him too but that is as it should be.