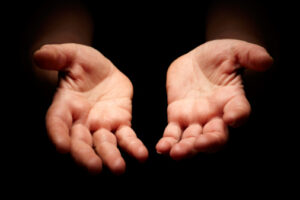 Paul concludes his letter to Philemon. He doesn't make "one last plea" for Onesimus. He leaves the matter in Philemon's and God's hands.
Paul gave his final plea for Onesimus in verse 21; "Confident of your obedience, I write to you, knowing that you will do even more than I say." That confidence, faith, allows him to close his letter in his usual style. He sends greetings from all those around him and prays for Jesus' grace to be on Philemon's spirit.
That last prayer, so typical of Paul, could also be taken as a reminder too. Jesus showed extraordinary grace for each of us when he made His ultimate sacrifice. Is Paul reminding Philemon of that grace and asking for the same kind of grace from him?
Philemon didn't have the "New Testament" to reference on this matter like we do. Instead he had the teachings of the apostles themselves. I'm sure he had heard of how, while hanging on the cross, Jesus forgave those who physically placed Him there. Matthew, in his gospel account, relates Jesus' words concerning forgiving others. "For if you forgive other people when they sin against you, your heavenly Father will also forgive you. But if you do not forgive others their sins, your Father will not forgive your sins" (Matthew 6:14-15). This was at the conclusion of Jesus' teaching on how to pray.
Something to note in Jesus' statement is that it wasn't just for the disciples. It was part of His sermon on the mountain where MANY people were gathered. He meant this to be a practice for ALL of us. Philemon would certainly be aware of this teaching of Jesus.
Paul was confident of Onesimus' safety as he sent him out. He KNEW Philemon's character and faith. He also knew that God had everything in control and would see to the outcome. No P.S. or P.S.S needed.
Father God, thank You for Your forgiveness. Thank You Jesus for purchasing that forgiveness for me. Help me ALWAYS extend that same gift to others. Philemon had every legal right to demand punishment, but he had even more reason to extend mercy.
When we started looking at this letter, I wondered what the outcome was in real life. I feel like You have answered that question today. I believe Onesimus received the same mercy that Philemon did. No doubt remains on that issue. I do have other questions regarding these two men that I will save for bench time. So I won't forget them though, here they are: 1) Did Onesimus deliver this letter himself? and 2) Did Philemon immediately forgive him before even reading the letter?
Thank You for providing these stories for me. I know there were amazing lessons to be learned from this letter but someday I want to write this story from Onesimus' point of view; including before and after. I feel that story calling to be heard.