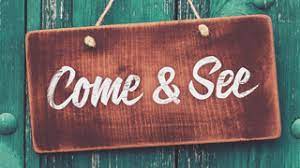 David is excited to share the testimony of all God has done for him and His people. From the times of old until the days of David, he sings out. "Come see!"
I would LOVE to be able to do just that; go back to the sites of God's AMAZING miracles and see them firsthand. Can you imagine walking on the DRY bed of the Red Sea with the water standing on either side of the column of people as they pass by? I wonder if anyone tried to touch a fish as it swam by. The moment the walls of Jericho fell and Joshua and all Israel rushed in would leave anyone's head spinning. That wall was thick enough to be used for housing! How about standing to the side as God called all the animals forth to fall in line and walk onto the ark with Noah. There was NO conflict as the herbivores and the carnivores slept next to one another that night or for the rest of that year. Talk about the lion laying with the lamb! Imagine watching the widow of Zarepath every morning as she drew out more oil and meal from containers that should have been empty. Marry Poppins' bag had nothing on this woman's jars! Maybe we could stand concealed as David and his mighty men performed battle heroics that NO human on his own could do. I don't care how strong or trained you are, it is IMPOSSIBLE for a man alone to perform the victories recorded in the bible APART from God. Goliath was amazing but taking down hundreds at the hand of one beats even Goliath's story.
You could also seek to see some of the sad stories and how God restored the people after they repented. The time Israel started complaining of the "giants in the land" and didn't want to go in and take the Promised Land was NOT their finest hour. God allowed them to be defeated soundly when they decided to try it on their own and force God to protect them. He let natural consequences play out in full measure here. Then He took them on a journey until the last of them died who had been in that rebellious group. I would have been picking up my jaw from off the floor if I had witnessed Abram act as Sarai's brother instead of his wife. Watching as she was hustled off to the palace. Talk about red faces all around that night as Sari was brought back to Abram.
These are just a few examples of the moments that call out "Come and See" what wonders God has done. David calls us to sing, shout, and offer praise to God for ALL He has done. I wouldn't be surprised if he had added dancing in there too.
David didn't reserve these praiseworthy moments only for Israel to see but ALL the earth. "All the earth worships You and sings praises to You; they sing praise to Your name" (verse 4). God is watching ALL the nations and is aware of EVERY heart's cry. Can you imagine what a miracle that alone is?! To be able to hear one single voice, crying out in the night, maybe even to a God he doesn't really know yet. Sit for a moment and let that sink in. One voice reaches His ears and He answers that single call. If that's not enough to make you either get down on your knees in praise or jump up shouting "Hallelujah" nothing will. Our God Hears Us!!!
"Blessed be God, because He has not rejected my prayer or removed His steadfast love from me!" (verse 20). He never will remove His love from those who give Him their lives. And He will ALWAYS answer our prayers. Maybe not exactly like we want them answered but answered nonetheless. There is not a single promise that God has made that He will not fulfill. And one of those promises is to care for EACH of His children. To call to them when the wander from home. To seek them and bring them back with rejoicing as the Good Shepherd does with his sheep. YES! Jesus LOVES Me!
Father God, THANK YOU that I have something to sing about! Thank You that You ALWAYS hear my heart. Thank You for Your AMAZING love! I want to call out to EVERYONE else to "Come and See!" I place my children and grandchildren in Your hands again. I know; I keep trying to hold onto them instead of letting You do Your work. I want them to "come and see" and KNOW You so bad it hurts. I can't do it but I KNOW You hear my cry and WILL answer it IN YOUR TIME AND YOUR WAY. I hold fast to that promise Father.
I hope there is something in Heaven that will let me experience the moments of Your great works. Will it be something like virtual reality? I just can't imagine man coming up with anything that You can't top. And I would really like to see those moments. But maybe that won't even matter to me anymore when I see You face to face. However You work it all out, I trust You to do it as is best for my heart.