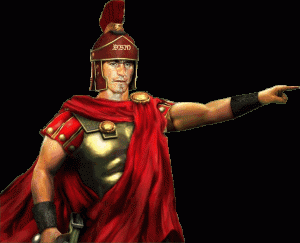 Jesus entered into Capernaum. I wonder how long after the mountain top teaching this was. Was this still early in Jesus' ministry? Did He enter in with a crowd or just Him and His disciples? Was He famous enough by now that even the Roman army knew of Him and were keeping watch on Him? Did the centurion come to Him right away or after He had been in town for a bit? Was Jesus teaching and doing miracles before the centurion approached Him?
The centurion came to Him asking for His help. Luke records that the centurion sent his request through another one of his servants. Regardless of who delivered the message, the request came from the centurion. Something must have convinced the centurion that Jesus could, or would, help him. Maybe the centurion had heard of Jesus' compassion for the sick and he was appealing to Him on those grounds. Maybe his servant was Jewish and he thought that would motivate Jesus to heal him. The bottom line was he was desperate! He loved this servant and his servant's suffering had touched him so deeply that he would do whatever it took to take away his servant's pain. Just like God and Jesus loved us and were moved by our suffering.
When Jesus said He would go to the centurion's home to heal the servant TRUE faith came into play. The centurion recognized Jesus as having authority. I'm betting this was built at the same time as his courage to approach Jesus was growing. Jesus had to have been teaching or healing within sight or reporting distance of the centurion to generate such a response. Was Jesus under observation by the Roman guards, maybe even while on the mountain top? Were the guards reporting back to the centurion? That would make sense to me as to how the centurion knew of Jesus' authority AND ability to heal.
As a Roman centurion, this man had authority over all the Jews within his assigned territory. He could have simply ordered Jesus to do as he wanted. But he recognized that Jesus was not subject to him but he was actually subject to Jesus' authority. He recognized Jesus' authority because he lived a life completely governed by authority. Even on the mountain top the people recognized that Jesus had authority because of how He was teaching. Everything Jesus did and said, spoke of His authority and His assignment from God. The centurion recognized this and acted according to his training. With superiors, NEVER presume to tell them what to do. Make a request only if necessary and don't impose on him any more than is absolutely necessary to get the job done. Fly under the radar as much as possible. With subordinates, expect EVERY command to be carried out to the letter. Expect allegiance and obedience at all times. Be firm but fair in all your discipline and your men will willingly submit to your authority. In all actions, follow the chain of command.
Jesus was seen by the centurion as his superior and was addressed accordingly. Jesus was blown away by this man's insight and faith. Not even the religious leaders, who clearly should have recognized Jesus as their superior, behaved in this manner. Unshakable faith in Jesus' ability to do ANYTHING He chose to do. I wonder if the centurion would have been surprised by Jesus when He calmed the storms.
The fact that the centurion's servant was healed the moment Jesus spoke the words was a no brainer for the centurion. The servant might have been amazed at how it all went down. Did he even know the centurion had sent to Jesus for help? What a testimony he had to share! What became of him after his healing?
I wonder where our centurion was during Jesus' trial and crucifixion. Did he even know what was going on way down in Jerusalem? If he did know, was he standing ideally by, still following the chain of command and following orders? Did he have to take part in the actual events? Was he the one who said, "Surely He was the Son of God?" Was he on his knees weeping? I pray he was spared of having to take part in Jesus' suffering. Ray Boltz song "The Hammer" comes to mind here. He and I were both there that day then.
Father God, I am undone by the part I played in Your Son's death! I have something I wish I could say to that centurion who stood at the foot of the cross that day. Not WAS but IS! Jesus IS the Son of God. His Sonship didn't end that day. He's ALIVE and continuing that relationship today! Thank You for Your amazing love displayed that day!
I am awed by every account of love poured out by Jesus while here on Earth. Jesus displayed His relationship, His authority, and His mission so clearly that even those outside "His family" could clearly see it. Yet His own refused Him. For my own sake, I'm so glad they did. Their rejection opened the way for my acceptance. You had it all well in hand all along. After all, YOU hold absolute authority. Not that You forced facts to fit Your design at every step but that You knew Your creations so well You KNEW how we would react. Thank You for including me in Your plans from the beginning. Help me to recognize and respect Your authority in my life as clearly as the centurion did. I want to go where You send me. Speak when You call me. And wait when You say to. You created me, so You know how hard that last one is. Still, I'm willing to learn.