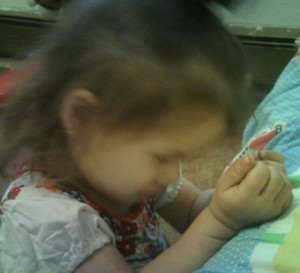 Jesus starts out His teaching on giving, praying and fasting with the same admonishment. Don't do it just to be seen by others! These are personal interactions between you and God. Turning them into public displays, robs you of the real reward of these activities; personal relationship time with God. Jesus though this was important enough that He started EACH teaching with this crucial command.
Jesus next words on prayer are interesting. He talks about how the gentiles go on and On and ON in their prayers. Jesus is fully God and fully man so as God, I guess He heard enough of the Gentiles prayers to know what they sounded like. He says to keep it sweet and to the point, because God already knows your need, even before you come to Him.
But if God already knows what I need why do I come in the first place? This reminds me of a story I once heard. A wife of 50 years has been talking with her friend down the street who was bragging on how many times her husband told her he loved her. That night at dinner, the wife confronts her husband. "We have been married for 50 years. You barely talk to me anymore. I don't think I can even remember the last time you told me you loved me." His response is, "I told you I loved you once. That was when I asked you to marry me. If anything had changed since then, I would have told you so. Besides that, I eat what you cook and wear what you wash. What more proof do you need than that?"
I don't know if her cooking and washing was so bad that it took love to make it through the ordeal, but he was neglecting their relationship. Actually, they both were neglecting their relationship. She probably should have come to him with her needs before 50 years of near silence built up. He certainly should have recognized the one sided nature of their conversations.
The same is true for our relationship with God. He wants a relationship with each of us. And ANY healthy growing relationship includes communication. Prayer is communication with God. It is telling Him how much you love Him and how AWESOME it is to be in a relationship with Him.
Father God, You are so AWESOME (Our Father in Heaven, hallowed be Your name)! You have such AMAZING plans for me. Please help me stay out of Your way while You work them out in my life (Your Kingdom come, Your will be done, on earth as it is in Heaven). I want to truly know You. Please help me know You better each day as I read Your word (Give us this day our daily bread). God, I don't want anything between us. Please forgive me of my sins. Help me demonstrate how grateful I am for Your forgiveness by truly forgiving others whom I feel have done me wrong (and forgive us our debts, as we also forgive our debtors). God, I KNOW I'm bound to mess up again. Please help me see the pitfalls in front of me BEFORE I fall into them again. Please don't let me fall for Satan's tricks again (And lead us not into temptation, but deliver us from evil). I know YOU alone have the power to do all this in my life. I ask for Your help in everything we do together today, and remind me to turn all the glory for our successes over to You (For thine in the Kingdom and the power and the glory forever). Let's get this day started together! Lead on; I'm following You (Amen)!
You may think that sounded flippant, but it wasn't meant to. It was my heart reaching out to His. He loves to hear from us in any form. He even loves the shortest prayer; HELP! He answers that one too. He simply wants to hear from His children and hear how they are doing. What father wouldn't? Talk to Him. You don't have to use any "script" or special words. You don't have to be in "your prayer closet" for Him to hear you. You simply have to talk to Him. He understands. He meets us where we are.
One last issue Jesus addressed here was forgiveness. Most of us when we first came to God, it was because we recognized we needed forgiveness for our sins. Somehow someone had shown us the truth about where we stood in life without God. Our first prayer probably went something like this: "God, thank You for Jesus. Please forgive me for my sins. Please come into my heart."
Another common first time prayer is: "God! Please help! I'm sorry for everything I have done. If You will just help me right now, I promise I will change." Both prayers recognize our need for God's forgiveness. I believe God honors both requests for forgiveness, although I tend to think the second one's commitment to change might be a little less than the first ones. But that is for God to judge, not me.
Jesus says that since we recognize our need for forgiveness that we need to also extend that same gift to others who have hurt us. God gave us forgiveness as a free gift. We HAVE to do the same. It may not happen the first time you pray, but if you truly recognize how undeserving you were of God's gift, you can't help but feel different about those who have hurt you. Jesus is saying that without that softening in your heart, God can't or won't be able to forgive you of your sins either.
I don't believe this applies to the first time you come to Him asking for His forgiveness, because we are a work in progress. But if you continue to hold this unforgiveness attitude towards others, you are throwing God's saving work back in His face and saying He didn't do enough to pay for what that other person did to you.
God, I'm so grateful that You love me enough to keep bringing me back to the issues I need to work on. Thank You first of all for even wanting a relationship with me. I know I have not earned a place in Your presence but You invite me there anyway. You have shown me again today (and yesterday) that I still have room to grow. I need to continue to bring my heart and mind back to Your work table where You can address the areas that need to be fixed. I have been holding onto unforgiveness for certain acts from a certain person. I need Your help in turning lose for good. I thought I had moved past it but You showed me just the other day that I haven't. Please help me forgive this person and give me Your heart towards him. Thank You God that You love me enough to bring these hard lessons to me. Please keep me open to Your instructions, no matter how hard they may be. With You beside me, we can do anything!