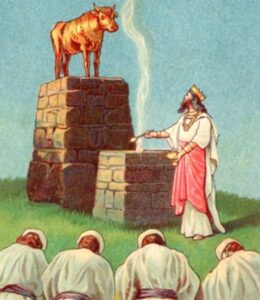 We get a quick wrap up of Jeroboam's life. It is the end of the first king of the northern tribes of Israel and the beginning of the second.
When reading this section I was curious as to how Jeroboam died and if he was buried. I went looking but couldn't find an answer. I did get directed to 2 Chronicles 13 for the story. But we aren't given the answer to my questions there either. We see his final battle but he survived it physically but not politically. We will get to that story when the time arrives.
I did find out that Jeroboam's son Nadab is the end of Jeroboam's royal dynasty. Nadab is assassinated shortly after taking the throne. I have no doubt his body is left unburied. But what of Jeroboam himself?
In the prophecy Jeroboam's wife is given she is told, "The Lord will raise up for himself a king over Israel who shall cut off the house of Jeroboam" (verse 14a) and "Anyone belonging to Jeroboam who dies in the city the dogs shall eat, and anyone who dies in the open country the birds of the heavens shall eat" (verse 11) and "I will bring harm upon the house of Jeroboam" (verse 10b) and finally, "And all Israel shall mourn for him (Abijah) and bury him, for he only of Jeroboam shall come to the grave, because in him there is found something pleasing to the Lord, the God of Israel, in the house of Jeroboam" (verse 13).
This prophecy doesn't specifically list Jeroboam as a receiver of this fate but the rest of the men in his family would be. But it doesn't specifically exclude him either. God says that Abihah would be the only one OF Jeroboam who would be buried. Does this mean Jeroboam's descendants and those he owns or from him on down?
I suppose the most telling verse is the last one we read for today. "And the time that Jeroboam reigned was twenty-two years. And he slept with his fathers, and Nadab his son reigned in his place" (verse 20). In this verse we do NOT see that he was "buried with his fathers." This is a familiar phrase for the end of a ruler's life. Its absence, to me, is glaring.
I'm taking the LONG way around to say that God doesn't lie. When He gave Jeroboam his judgment through Ahijah He would fulfill EVERY PART of it. I, or we, may not fully know ALL the details and conditions of His promises but we KNOW He is faithful. So I'm laying my last two questions down at His feet. They are questions I could add to my list but Jeroboam will definitely NOT be in Heaven to ask. His abandonment of God makes me more than willing to let his story move on without looking back.
Father God, thank You that You DO keep ALL Your promises. I may not understand everything that is to come or even what has already passed but I trust in You. I trust You to keep everything exactly how it is supposed to be. AND to bring it about.