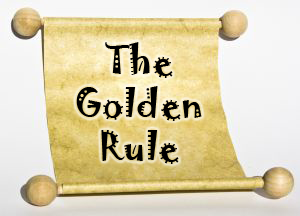 Jesus' teaching today gives us what we now call "The Golden Rule." No it's not he who has the gold makes the rules, although that often is the case. But it is "Do unto others as you would have them do unto you." Jesus says this sums up all the law and all the prophets.
This is such a straightforward concept. I sounds simple too, but this is where all those tough parts we have gone over lately come back to us. Concepts like forgiveness, loving your enemies, retaliation, judging others, and giving to the needy are contained in this single command from Jesus Himself.
I know I am going to mess up and need forgiveness. If I expect it from another, or from God, I have to give it to others; even when they don't deserve it or don't even ask for it. If they don't say "I'm sorry" do I still have to forgive them? Jesus said, yes you do. Unforgiveness hurts you more than it hurts anyone else. The other person may not even know that you are angry with them. Your unforgiveness may not impact them at all. But it is eating you alive and putting a block in your relationship with God. If you can't forgive, you won't truly believe that God can forgive. You can't accept His FULL forgiveness. You expect Him to hold back and hold onto something He has against you. You know in your head that He says He forgives you but your own heart can't get hold of it. This also happens when the person you can't forgive is yourself. Think on this a while. I know I did and I'm still going to do it some more.
I am no angel and someone out there is going to see me as their enemy. I know of a few someones right now. I have a hard time when people don't like me or are angry with me. I want everyone to like me! When someone actively and persistently tries to hurt me, my family, or someone close to me, that person move to my enemy list. It is not easy to get on this list. Jesus didn't say I couldn't have enemies but that I have to love them. He didn't say I had to lay down and let them walk on me either, but that I have to pray for them. Being able to do either of those pieces comes from recognizing that this is what I would want them to be doing for me. I WANT them to make peace with me. I want the hate to stop! I want them to love me. So I have to do it first. Does this mean that someday we will be friends? I don't know. Does this mean that they will stop treating me badly? I don't know that either. But what I do know, is if I want them to treat me with respect and forgiveness, I have to be willing to offer it to them first. And this brings us back to forgiveness, like we just talked about. To be an enemy there has to be offenses that require forgiveness, and lots of them.
Retaliation is the opposite of forgiveness. For the enemy, or the one who wronged you that didn't make it to the enemy list, retaliation is not an option for Jesus' followers. If you have truly forgiven someone there is no need for retaliation. Besides all that, God says that when there is a need for payment to be exacted on someone for their behavior, it is His job to take care of it. God knows exactly what will be required to balance His scales of justice. I have to trust that He will take care of it. If I want to be free from retaliation from others, I need to free them from retaliation from myself.
I hate it when people think they know everything about me and pass judgment on me. My acti000000000.14
.01000ons are not always shining examples of a life given over to Jesus. I also come off "preachy" more often than I care to admit. As a result, I often find myself doing the very thing I want others to refrain from doing to me. Judging. As you probably noticed a couple of lessons ago, this is an area where I struggle for balance. I try not to judge at all, but find myself doing it anyway. I also struggle with when I am supposed to step forward and call sin, sin. Discernment v Judging will be my struggle for a long time. I want others not to judge me, so I HAVE to live by that same standard. This is probably the place I need God's forgiveness and direction most clearly. Not my only area of need but one of my biggies!
I have physical, emotional, and spiritual needs. I have a hard time asking for help with them and often don't even want to admit I actually am in need of anything. But my heart wants someone to reach out to me in those times anyway. Jesus' command to do unto others as I want them to do for me says that I need to reach out and help, even when not asked to directly. I hide my hurts, so others probably do too. God knows each heart and He orchestrates answers to each prayer, often through His people. I'm not expected to fix every problem I come across, but I am to meet the needs of the people God prompts me to. I wish I could fix everything for everyone, but then there would not be a need for God. I am not to take His place but I am to be His hands and feet. Go where He sends me and do what He tells me to do.
Father God, You touched my heart so clearly this morning when You spoke to me about if I can't forgive that I don't trust You fully to forgive me. I know that learning to forgive others and myself doesn't happen overnight. It is a process You are working out in me. You are also working out in me the realization that You DO FULLY forgive me. My head knows that. Please work it out in my heart. Keep me learning from You every day so I can live the life Jesus called me to live. I sincerely desire to TRULY love my enemies, to trust God to bring HIS justice when I have been wronged, to recognize when I am judging others and STOP immediately, to serve WHEREVER He sends me, and to forgive with my WHOLE heart. Thank You Lord that You never give up on me and that You promised to see me through to the end.