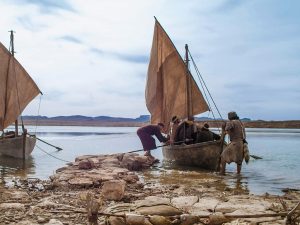 Jesus chooses His first disciples today in our reading. Three of these four would also become His closest disciples. This doesn't mean that the other nine were any less important, but that Jesus developed a closer bond with three of these men than He did with the rest of His followers.
Whenever I think about Jesus calling His disciples I wonder what it was that prompted Him to call these men. I had always pictured Him walking by the sea and out of nowhere deciding to invite these men to share His life. Today I got a different picture of this event. I want to paint the picture for you too, but in order to do so we are going to have to back up in time just a little bit. We are going back to when Jesus first entered into His public ministry. Mark tells us that He "came into Galilee, proclaiming the gospel of God" (verse 14). This is where we are going start our story.
Jesus entered Capernaum last night and went to have a look around. He has been on the road for four days now, preaching about the Kingdom of Heaven. He had headed this way after returning from His 40 day wilderness experience and hearing that His cousin, John the Baptist, had been arrested.
This town is a fishing village, so it "rolls up its streets" pretty early. Jesus walks down by the sea shore and stops to enjoy the view. Several men have decided to go night fishing and Jesus watches as they ready their boats. After they put out to sea Jesus leaves and decides to walk to the city square. He wants to have a look around so He can choose the best place to deliver His message tomorrow morning.
Jesus also walks through the residential streets in search of a suitable home for His mother. He wants to make Capernaum His home base and having His mother here will make it easier to care for her. Jesus finds a couple of good options and has a quick word with the owners before returning to the sea shore. Jesus wants to sleep by the sea tonight and enjoy the breeze blowing off of it.
Bright an early the next morning Jesus is in the square talking with the people. He is engaging those passing by with His almost firsthand knowledge of the Kingdom of God. He is speaking like someone who has studied this topic in depth. Many of the people are listening to what He has to say while others simply pass on by.
Andrew has run into town to pick up some more twine. Peter, James and John are down by the water mending the nets. They ran out of twine after mending a large hole caused by an extremely feisty fish. They were able to salvage most of the catch, but they have a lot of work to do before they can put back out to sea again. Their favorite time to fish is VERY early in the morning; around 2 AM. This way they can be back on land in time to meet the morning marketers.
Andrew notices a group of people gathered in the center of the square. The stall he intends to visit is near where the crowd is so he decides to have a peek and see what is going on. Andrew hears the conversation as he approaches. "These men are discussing the Messiah and Heaven. I wish I had time to listen in", thinks Andrew. As he passes he notices the man at the center of the group. He recognizes him as the Man John pointed out as being the Messiah! Could this really be Him? Andrew stops to listen for a couple of minutes.
Jesus looks right at Andrew and smiles. Andrew is so surprised by this that he stumbles and bumps into another listener. "I'm so sorry", says Andrew. The man nods and turns back to listen to Jesus. Andrew is torn. He really wants to stay and listen but he knows Peter and the others are waiting for him to get back. Andrew tears himself away and runs over to the stall selling mending supplies. He quickly makes his purchase. With one last longing look at Jesus, Andrew heads back down to the sea shore.
"What took you so long", grumbles Peter. "I could have been there and back twice over."
"Do you remember me telling you about the Man John the Baptizer identified as the Messiah?"
"Yah, I remember you telling me something about it? What has that got to do with anything?"
"Well, when I was in the market picking up the twine He was there too. He was talking to people about the Kingdom of God! I had to stop and listen for just a moment. He even looked right at me and smiled!"
"What would He be doing here? I figure any Messiah would probably be down by Jerusalem. There's nothing important up this way. Maybe you were mistaken", remarks Peter.
"I don't think so Peter, but you could be right. If we get done here in time I want to go have another look."
James and John have remained silent during Peter and Andrew's discussion, but at the mention of having another look, John speaks up. "I would like to go with you Andrew. If He really is the Messiah I want to meet Him."
"Me too", says James.
Peter shakes his head and sighs, "I'll go with you all too then, IF we ever get this net mended!"
The four sew as fast as they can without sacrificing the quality of their stitching. Several hours later the net is ready for another day's work.
Peter and John load the nets into the boats while Andrew and James pack up the mending kits. Andrew ponders out loud, "I wonder if He will still be there."
James replies, "I don't know but I sure hope so."
All four men head off to the market together. Peter has brought the remainder of their morning catch, hoping to sell it to one of the venders too while they are there. "No use wasting a trip if He is already gone."
As they near the market they can see there is a fairly large group gathered near one wall. This is the same wall Andrew noticed the crowd by when he came earlier. "It looks like He is still here!" says Andrew.
"Don't get too excited yet brother. It could be someone else has taken His spot", cautions Peter.
As soon as they are within sight of Jesus Andrew pokes Peter in the ribs and says, "I told you it was Him. He is right where I left Him this morning."
The four men join the crowd and begin listening. Jesus once again makes eye contact with Andrew and smiles. "I see you have brought along some friends. Welcome." Jesus continues talking about God's love and how He has promised to send a redeemer to Israel at the proper time. Jesus says that that time is now.
All four men from our group are listening to every word coming out of Jesus mouth. Andrew is ready to stand up and shout, "YES!" but he is restraining himself. Peter feels his spirit identifying with this Man's message, but he is not sure how what He is saying is supposed to play out in real life. "It all sounds well and good, but what does that mean for us", ponders Peter.
James and John have been asking questions of Jesus while He has been speaking. His answers are amazing! They are anxious to hear more, but the sun is setting. Most of the crowd has moved on by now so Jesus tells the few remaining people that He would be happy to talk with them again tomorrow if they like.
Andrew invites Jesus to share their hospitality and He accepts. Peter reminds Andrew that they have a fishing business to run. Crestfallen, Andrew turns to Jesus and tells Him that He is still welcome to stay but they will be heading out about midnight for their fishing trip. Jesus assures them that He will be fine spending the night by the sea shore again. That way He can see them off as they start their trip. Jesus also informs them that He is in the process of acquiring a home in the area and will be moving into it with His mother in a day or so.
The four fishermen return home and try to get some sleep before heading out. None of them sleep very well as their minds are occupied by the events of the day.
Midnight comes too soon and our four tired men make their way to the sea shore. As Peter and James ready the boats, Andrew and John greet Jesus. He bids them farewell as they push off for another night of fishing.
Jesus stays in Capernaum for several days teaching in the town square. Andrew and John come every afternoon to hear Him. Peter and James come as often as possible, but have taken on a bit more of the daily work to allow both their brothers the freedom to meet with Jesus every day.
All four of these men's hearts have been turning over everything Jesus has been saying. Peter is the biggest holdout in the group. He is very excited by Jesus' teachings but he still has a business to run. Andrew already had one foot out the door on his way to following Jesus. James and John have remained behind to help Peter with the business, but they long to join Andrew. To help meet the demands of the business, James and John's father, Zebedee, has been lending a hand.
Jesus left town for a couple weeks to teach in some of the nearby towns. When the towns were close enough that Andrew could get there in an hour he would still come to hear Jesus speak. When it was too far, Andrew would help more with the fishing business, but his mind and heart were definitely not in it.
A month after first meeting Peter, Andrew, James and John in the town square, Jesus came walking down the sea shore. Andrew and Peter are standing on shore doing a little fishing from there while a little way away is John, James and their father, Zebedee in the other boat mending the net. Jesus walks up to Peter and Andrew. They didn't notice Him until He reached out and put a hand on each man's shoulder. Peter looks over at Jesus and a wide smile breaks out on Jesus face. "Follow me. I'm going to make you fishers of men", says Jesus.
Peter's heart finally gives in completely. He doesn't know what Jesus means by fishers of men, but he can't deny the pull of this Man any longer. Andrew is instantly ready to go. He doesn't care what is involved; he is ready to go with Jesus wherever He leads. Peter and Andrew join Jesus as He walks a little further down the shore. When the three men approach the second boat, Jesus calls out to James and John, "Come follow me."
James looks at John and they both break out in the biggest grins their faces can hold. It takes them both less than five seconds to scramble over the side of the boat and make their way to Jesus. Zebedee sits in the boat watching his sons join this Man. He has heard so much about Jesus from his boys and he can't help being proud of the decision they just made.
As the five men walk away from the sea shore there are a thousand questions floating through their minds but only one makes it to their lips; "Where to now Jesus?"
Lord Jesus, thank You for showing me that there was a relationship cultivated before Jesus actually called Peter, Andrew, James and John. Their willingness to listen and eagerness to learn of You was important. Their doubts were also important. You chose simple ordinary men to do an extraordinary job and You trained them every step of the way. You didn't call these men because they had some special talent that You knew You needed for Your work. You called them because You saw in them a heart hungry for the truth of God. Men who were willing to do whatever You asked of them. Men, who even though they didn't understand, were ready to follow wherever You led them.
They had no idea what they were getting into. Their on the job training would, at times, blow their minds! They would have a firsthand account of miracles unlike any other ever known. If they had understood what lay ahead, would they have still said yes?
They would also stand helplessly by as You gave Your life for all of us. John watched up close as You hung, enduring public humiliation, on the cross. He took Your mother as his own. For three days they waited in the gloom of the dark and shuttered room while Your body lay waiting in the tomb. If they had known of this price, would they still have signed on?
They listened as the women recounted the message from the angel. They ran to view the place where You lay only to find Him gone, just like they were told. They rejoiced at Your appearance in the very room where they hid. They joined You by the fire for a meal of fish and forgiveness. They watched as You rose into Heaven, promising them a comforter. If they had realized that this lay ahead, would they have said something else instead?
They received fire from on high in the form of the Holy Spirit. They spoke of everything Jesus ever did and watched thousands come to believe in Him. They mediated struggles between believers. They functioned as the church's first leaders. They made mistakes and had triumphs along the way. They were each beaten, persecuted, and eventually died for the sake of the gospel. If they had truly known what lay ahead, on that day on the beach, what would each have said?
Looking back on their choice, I'm pretty sure if they knew ALL that lay ahead they would still have said "YES" as You called them that day. I'm so grateful though that You don't show us ALL the costs we are going to have to face along the way, but that You promise to walk beside us through whatever comes our way. I'm also glad that You still call us for the same reason; because You see in our hearts what we can be with You, instead of what we are on our own. Remind me always to take one day, and one lesson, at a time. Remind me also that with each new day You will be right beside me, no matter what lies ahead. In the end, it WILL be worth every step along the way.