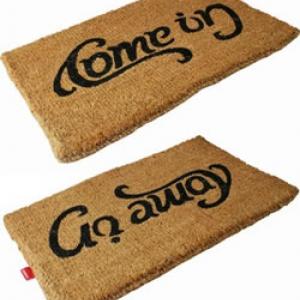 I have a confession to make. I am not familiar with today's story. Luke is the only one to tell this story in his narrative. I have read through Luke's gospel before but for some reason this story did not stick with me or stick out in my mind. I really can't explain it and have no excuse for it. So let's jump into this new territory together and see where we go today.
Luke tells us that this happened while Jesus and His disciples were on the way to Jerusalem for the last time. Nothing was going to prevent Jesus from reaching His final destination, but it was a long journey. This was probably a night's stop over on their journey.
When traveling from Galilee to Jerusalem you had two choices. You could either take the shorter route and go through Samaria or take the longer route and bypass it. This longer route included twice crossing the Jordan River just to avoid the Samaritan territory. Most Jews chose to longer route because of the animosity between the two people. Samaritans were considered inferior to "true" Jews. Samaritans were a mix of races, Jew and pagan people, and therefore not "true" Jews. Jesus chose the shorter route and actually stopped in Samaria on another occasion.
Another difference in the two people was where they worshiped God. They both worshiped the same God, but did so in different places. Probably because the Samaritans weren't welcome in Jerusalem. This was a point of contention between the two people too.
Jesus does not avoid Samaria nor think badly of the Samaritans. He ministered to one of their towns directly for three days. He also used them as an example in the parable about the neighbor. But in our story the Samaritans of this town are not welcoming to Him. My bible helps suggest this is because He was heading to Jerusalem for Passover.
Passover was also celebrated in Samaria but it was done on Mt. Gerazim. They believed this was the place to meet with God. For them it was, but not for Jesus. He had to go to the original temple to complete His redeeming work. A substitute temple wouldn't do.
So when Jesus' disciples entered the Samaritan town to seek out lodging for the night they probably let it be known who they were seeking lodging for and where they were going. Jesus' fame had spread in Samaria the same as it had in Jerusalem. The Samaritans would have probably been very honored to have Jesus celebrate the Passover with them, but He was passing them by instead. This probably hurt. "Are we not good enough for Him either now?" Because of this the welcome mat was rolled up. Jesus and His disciples would have to seek lodging somewhere else. I wonder if they had to press on until they were back in Jewish territory.
James and John were very offended by the behavior of the Samaritans. Jesus had ministered to these people! He treated them with kindness, and this is how they repay Him?! How dare they?! "Lord, do You want us to tell fire to come down from Heaven and consume them?" (verse 54).
That was pretty harsh! They didn't even ask Jesus to consume the religious leaders who were blatantly opposing Him. Yet they were willing to entertain the thought of wiping out a whole town because they were not welcome for the night. Did this idea come from how Jesus told His disciples to deal with towns that wouldn't receive them on their first missionary journey? Jesus told them to shake the dust off their feet as a testament against them. He said that God would see this act and would judge them for their refusal in the end. But NEVER had Jesus called down fire to consume anyone.
Jesus reacted very quickly and firmly. Luke says He "rebuked" James and John. My bible put Jesus' remarks in a footnote that I almost missed. Jesus told James and John that He came to save lives, not to take them. Rather than getting angry about being refused lodging, Jesus simply presses on towards His final destination.
I noticed something earlier about this story. When the runners went out to try and arrange accommodations, Jesus Himself had sent them. Luke doesn't specify if Jesus sent them to the Samaritan town or just simply sent them ahead of Him. Did Jesus expect them to go to a Samaritan town? Did Jesus know what their answer would be? Was this a test for the people? Will God remember this and hold it against them on Judgement day? This isn't the first time there was "no room at the inn" for Jesus.
These people were waiting for their Messiah just like the Jews. They expected Him to confirm to their standards too. When Jesus didn't fit their mold they rejected Him as well. Do I accept Him on His terms or do I also try and make Him fit my mold and expectations? Do you? Many people do today. They try and make His word fit their lifestyle and beliefs instead of the other way around. God won't change who He is for our convenience or comfort. It's up to us to do the changing. He is more than willing to help us in this process, if we are willing to let Him.
Lord Jesus, I'm so sorry You weren't welcome in Samaria that night. You weren't welcome in many homes and hearts in Israel. Unfortunately the same holds true with many homes and hearts today. If only… Lord Jesus You are welcome in my heart and home. Please help me to welcome EVERY aspect of You. Help me to tear down my ideas and expectations and welcome Your full truth, no matter what. Even when it is uncomfortable. Help me to take You at Your word; Your FULL word.