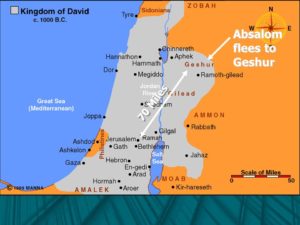 Absalom has killed Ammon. The intent to murder was two years old in Absalom's heart; coinciding with the date Ammon raped Tamar. Now Absalom has to flee for his life.
When we last left our story David had been told by a messenger that "all" his sons were dead. But Jonadab spoke up and told him that Ammon was the only one among them that had died and confirmed that Absalom had done the deed. He also told David why Absalom had done this deed.
Knowing that one of your children has killed his own brother must be heart wrenching. David's grief would be lessened by a degree because of most of his sons had survived this day but that didn't erase the pain he felt for two of his children.
Something new I learned from my Bible Helps today is that the person Absalom fled to was his maternal grandfather. I wonder if he told him what happened from beginning to end. And what his grandfather thought of the issue. We are told Absalom stayed in Geshur for three years but not that he stayed with his grandfather that whole time.
Let's join our story where we left off last time.
♥ ♦ ♥
David hears Jonadab's words but doesn't respond to them immediately. Jonadab watches him as he lies on the ground, crying out in grief. Jonadab looks around while he waits for David to quiet himself. Did he not hear that only one of his sons had died? Didn't he hear the reason for Absalom's actions?
As Jonadab looks around he sees a group of men riding fast on donkeys approaching. He is certain it is the surviving group of David's sons. He alerted David to the group. "Behold, the king's sons have come; as your servant said, so it has come about" (verse 35b).
David raises his head and sees his sons rushing towards him. He jumps to his feet to meet them. Everyone is talking at once and crying out from their grief. No one expected this! Ammon murdered before their eyes. And at the order of Absalom.
The cries of the king's house fill the night air. Father and sons fall on one another's necks weeping in sorrow, fear and relief. Sorrow for what has been, fear of what might have been, and relief that no other lives were lost this day.
Miles away Absalom makes his way to his mother's father. He feels certain he can find refuge there. His name is Talmai and he is the king of Geshur. His grandfather probably won't go to war against David over him but he doesn't believe things would come to that. David has been a 'hands off' father for most of his life. Even when Tamar was violated David did nothing beyond voice his displeasure. Absalom also believes that Talmai will support him further as Tamar is also his flesh and blood. "Harm one of mine and you harm me" mentality.
Absalom's choice proved to be correct. He is welcomed into Geshur. He misses being home with Tamar. Her safety was assured before he left because of placing her in Mijamin's hands. He keeps his ear to the ground so he will be ready to return when the time is right.
In Jerusalem time passes too and with its passage wounds begin to heal. David has resigned himself to the facts of Ammon's death. He is 'mourned out' over it. But he is daily reminded that one of his sons is still missing. He worries about Absalom. How is he faring? Is he reconciled with the Lord? Does he still love, or at least respect, him? Is he still living? Things any father with a wayward son worries about. David's heart longs to go to him and bring him home. But what kind of message would that send to his other sons and the people of Israel? For now he will love him from afar and pray that one day the Lord will return him to his father's side and to Himself.
(to be continued)
♥ ♦ ♥
I don't know where to stand on Absalom's actions. First I truly believe his actions were cold blooded murder. He bided his time and created an opportunity to strike his brother down. But Ammon had committed a vile crime against his sister without the least bit of justice being demanded. David SHOULD HAVE acted to make this right. Since no one else would, Absalom did. I believe he OVER acted but in bible days penalties were much stiffer.
I understand Absalom's decision to run too but in doing so he was avoiding the consequences of his own actions. Exactly what he was ensuring ended from his brother Ammon. Why should one be held responsible while the other excused? Vigilantly justice is no justice at all, in my humble opinion.
David had a LOT of work to do as a father. I can understand his pain on all levels but he brought much of this about himself. He was busy running a country and didn't take time to raise his children. He apparently remedied this with Solomon but it was too little too late for his older children. Probably why they were not chosen to be his successor on the throne.
Father God, I know my children fought as they were growing up but I'm SO GLAD it didn't rise to this level! There is distance between some of them even now but still much below what boiled in David's home. I would LOVE to see You put them together as fast friends. I wonder if our society now breeds this distance because the children are expected to strike out on their own instead of becoming part of the family business. This didn't used to be. Families grew up and grew old together as they stayed in the same area and continued to care for one another. Is this how You want our Spiritual family to be? Knit together even as we grow? I would love to see that happen. In Heaven it WILL happen.
Knit my family Father God. Bring the 'dropped stitches' back into the tapestry You are weaving. I leave them all in Your hands.