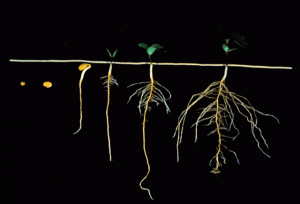 Today we are going to look at Jesus' disciples' prayer. This should be our prayer too.
Luke is famous for putting thoughts together instead of timelines. We are not told if this lesson follows on the heels of the previous one. But the topic matter certainly does. In yesterday's reading we looked at temptation to sin. Today we are looking at faith.
We are told that the apostles asked Jesus to increase their faith. Just in case you are wondering, the apostles were Jesus' inner circle disciples. When He called twelve of His followers out by name they became our twelve disciples. But He also called them apostles. This elevated them above the rest of Jesus' followers by a step. The rest of those following Him, who were committed to learn from Him, were also His disciples. But these twelve are the ones who made this request of Jesus.  
They knew they couldn't walk the way He called them to do on their own. They had heard Jesus speak of the works faith could do on more occasions than they could count. Faith was involved in healings. Faith was used to calm the storm. And faith even made walking on water a possibility. Nothing happened without faith. So naturally, Jesus' disciples wanted as much faith as they could get. Me too!
But Jesus said that it isn't the amount of faith that makes the impossible possible, but the strength of it. Even the smallest amount of faith, when planted, watered, nourished, and tended brings AMAZING results.
Faith is not an ethereal concept. It is a deep conviction. It isn't repeatedly quoting some bible verses that MAKES God act in the way you want Him to. It is trusting Him with every fiber of your being to do what is best in Your life. Even when "His best" doesn't line up with our wants. Hebrews 11:1 says, "Now faith is confidence in what we hope for and assurance about what we do not see."
Jesus told His disciples that if they "had faith like a grain of mustard seed" they could move the mulberry tree. So what is that kind of faith? What does the mustard seed have that I don't?
First of all, we know that the mustard seed is very small. We covered that in several of Jesus' parables. We also know that it has enormous growth potential. From the size of its beginning to size of completion there is more than a 10,000 fold increase. (I didn't look that number up, just an analogy drawn from what I have looked up.) Mustard is a very hardy plant and depending on the variety, can even reseed itself.
These qualities are what I want in my faith. My faith started small. "Jesus loves me this I know, for the bible tells me so." I believed that Jesus was the Son of God and that He loved me enough to die for me. That was all I knew. Then my faith started to grow as my understanding of Him and His word grew. I am FAR from finished growing, but what I have learned has strengthened my faith in His plans for my life. I KNOW beyond a shadow of a doubt that He has my life in the palm of His hand. How that walks out in daily life, I don't know. But I trust Him. I have faith that He won't abandon me. No matter what life throws at me, HE is still my Lord.
This doesn't mean that I never worry or have doubts about what is going on in my life. It means that in the end, I know I can rely on Him. I don't have any idea what lies up ahead for me. Someone once gave me this analogy. "When you come to the edge of the cliff, either God will give you wings or He will catch you when you fall." I think it may be a little more complex than this. I can see Him doing one or more of several things:
Give me wings
Make a way for me to return from the edge, especially if I placed myself there outside of His will
Make a bridge for me to walk on
Catch me when I fall
Help me walk through life after the hard lesson
Meet me at the Gate.
Any and all of those are acceptable to me. Personally, I would prefer the first three, but if any of the others happen I will NOT lose my faith in Him. THAT is what mustard seed faith means to me.
Father God, I would love to have the kind of faith that moves mountains. I don't think I'm there yet. I don't know how to get there. I don't know if I personally am supposed to get there. But what I do have is genuine, deep rooted faith in You and Your abiding love. Sometimes I wonder about the question: "If you were the only one to accept Jesus and His sacrificial work, do you believe He still would have done it?" I don't count myself worthy if I were the only one, but I have enough faith to trust You to know the answer to that question and to quiet my heart with Your answer. Jesus, You are my personal Lord and Savior. Continue to show me every day how to exercise the faith You gave me. I pray my children and grandchildren find that same mustard seed faith. I think that is where I need to start exercising my mustard seed. Reseeding. Thank You Lord for that word.