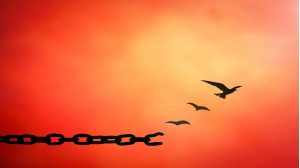 In our reading today Jesus talks about sin. He specifically addresses the temptation to sin, the heavy burden for those presenting the temptation, and forgiveness.
As long as Satan is free and has dominion over this world there will always be sin. There will also always be temptations to engage in sin. Those temptations can come from any number of sources. Today one of the biggest tempters is our media. We see ads for everything from chewing gum to high end cars, each with their own agenda of getting the consumer to buy their produce. Many of them count on questionable appeals. One that pops in my mind is Orbits gum; "It cleans a dirty mouth." The innuendo in their commercials is unmistakable and when you see their gum on the grocery store shelves, those images come back to you. But our media isn't a faceless machine turning out ads designed by other machines. It is living, breathing individuals who are trained to find avenues into our minds. And these trained individuals didn't come by their knowledge of how to get into our minds by operating in a vacuum. They study our behavior and our choices. We are responsible for creating this "monster." WE made offering temptation a highly profitable art form.
Jesus pronounced a woe against those who bring the temptation to sin. I am not trying to say that He is going to judge everyone in the advertising industry and pronounce them guilty of causing one of His little ones to sin. What I am saying is there is a consequence for those who bring temptation. I believe there is another factor in pronouncing judgement against those who bring temptation, and that would be their intent. If a person inadvertently brought temptation to another, I don't believe they would be guilty of causing another to sin. But someone who knowingly entices another to do something that they KNOW is sin, then they are guilty as charged.
Let me throw out a couple of examples. Suppose a famous athlete invites a group of underprivileged kids to join him for the day. He shows them all his trophies and takes them to the best pro shops around. During their outing one of the kids pockets something from the store. The athlete introduced him to a world he could never enter on his own and provided access to goods he couldn't afford. The kid made the decision to steal something and the athlete wouldn't be responsible for that choice. He had accidentally or inadvertently introduced temptation into this situation.
Now assume we have the same situation but when the kid pockets the item, he turns to his friend and tells him that no one will notice if he too takes something too. That child would then be purposefully offering up temptation to another to sin. He would be responsible if his friend acted on that temptation.
Jesus told His disciples to monitor their own behavior so they wouldn't be guilty of offering temptation to others. Jesus also told His disciples to watch one another. Not to try and catch them in every little stumble but to be there to pull them back from the brink. He wants us to call one another on our sins, but to do so with the intent of restoring the person. Jesus says that if they repent they are to be forgiven. Not after they demonstrate their ability to walk sin free but right then. Jesus says that if they sin against you SEVEN TIMES IN ONE DAY and turns to you and asks forgiveness seven times, you MUST forgive them. Jesus doesn't offer a second option.
Jesus' reason for this firm directive is that we are to offer the same gift that God gave, and gives every day, to us. He gives us His forgiveness for our sins. "As far as the east is from the west, so far has He removed our transgressions from us" (Psalm 103:12). He doesn't hold them over our heads or keep them in a box to bring out later, in case we weren't really sorry when we came to Him. He removes them forever. He will even forgive the one who caused on of His to stumble, if they repent.
Turn to Him. He loves you and wants to restore or begin a new relationship with you. He is waiting to hear the words "please forgive me" from each of us. Don't put it off until it's too late.
Father God, thank You for Your grace and mercy. Thank You for Your forgiveness. Thank You that I don't have to be perfect or cleaned up before coming to You. You accept me just as I am. Then You work with me on what needs changing. Thank You for not leaving me in my original condition too. I love You Lord and I want to follow Jesus' command to forgive others. It is not always easy for me and I don't know where to draw the lines. I don't believe we are called to lie down and let someone repeatedly trample us, but neither are we allowed to hold unforgiveness against those who do repent.
This is how I see this issue. Please do not take this as gospel. I believe that when someone is repeatedly sinning against me, especially if it is the same sin every time, I have every right to distance myself from them. If they are repentant I am to forgive them, but that doesn't mean I have to put myself back in their path to be trampled again. If they refrain from sinning against me then we can work on the relationship after that. If someone sins against me and never asks for forgiveness, I still need to forgive them, but I am NOT obligated to restore the relationship. But for my own sake, I have to turn the issue over to God and be willing to accept their offer of repentance, if it ever comes. He forgave me, I can do no less for others.